Implementasi dan Analisis QoS pada Smart Door yang Terintegrasi dengan Aplikasi Telegram
Aidah Khuriatul Mujtahidah

Departemen Teknik Elektro dan Informatika, Sekolah Vokasi, Universitas Gadjah Mada

Unan Yusmaniar Oktiawati

Departemen Teknik Elektro dan Informatika, Sekolah Vokasi, Universitas Gadjah Mada
Keywords:
smart door, ultrasonic, web camera, raspberry pi, solenoid door lock
Abstract
Home security is a mandatory requirement for every homeowner. With home security, homeowners will always feel safe leaving the house for a long time. In this final project, the author made a smart door with its main components are the HC-SR04 ultrasonic sensor and web camera. The function of the ultrasonic sensor and webcam is to detect a movement in the area around the access of people. In this system, not only can it detect movement, but also send notifications in the form of text and videos through the Telegram application so that homeowners can find out if someone tries to enter the house even though the owner of the house is away from his house. The author also adds dual security in the form of a remote control system, where when the homeowner knows of theft, the homeowner simply sends a "close" message through the Telegram application, so the door automatically locks and keeps the thief for a while until the homeowner arrives at location. This remote control system can also be used when the homeowner forgets to lock the door so that when the owner of the house is away from home, he simply controls the door through the telegram application.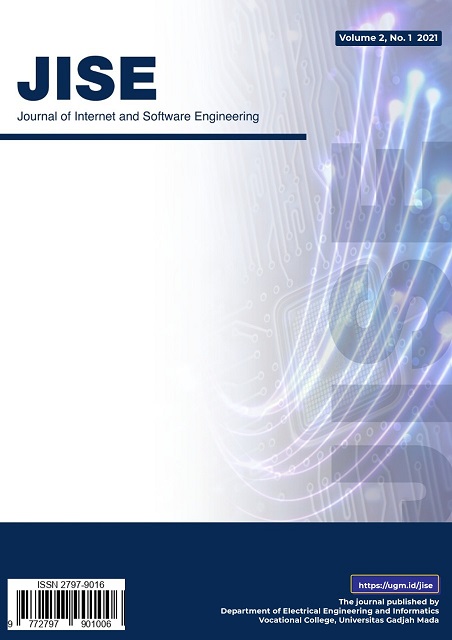 How to Cite
[1]
A. K. Mujtahidah and U. Y. Oktiawati, "Implementasi dan Analisis QoS pada Smart Door yang Terintegrasi dengan Aplikasi Telegram", JISE, vol. 2, no. 1, pp. 17-23, Jun. 2021.