Analysis and Implementation of Raspberry Pi Based Wireless Access Point and User Access Notification Using Telegram
Nashruddin Putra Pratama

Departemen Teknik Elektro dan Informatika, Sekolah Vokasi, Universitas Gadjah Mada

Unan Yusmaniar Oktiawati

Departemen Teknik Elektro dan Informatika, Sekolah Vokasi, Universitas Gadjah Mada
Keywords:
WLAN, USB modem, Wireless Access Point, QoS, Telegram
Abstract
Internet network technology has become a human need in almost every activity. Communities in areas experiencing a lack of fiber optic network infrastructure need a tool to access the internet that can be used together in an affordable and efficient manner. This study tries to provide a solution to these problems. Raspberry Pi-based Wireless Access Point uses a USB modem which functions to build a Wireless Local Area Network. Then, a network quality test is carried out by calculating QoS on network traffic including packet loss, throughput and latency with scenarios based on a distance of 0 meter, 4 meter and 8 meter between the Wireless Access Point and the client by conducting online meetings and video streaming. Furthermore, to make it easier to monitor the Raspberry Pi device that acts as a Wireless Access Point, it will send user information that is connected via the Telegram bot.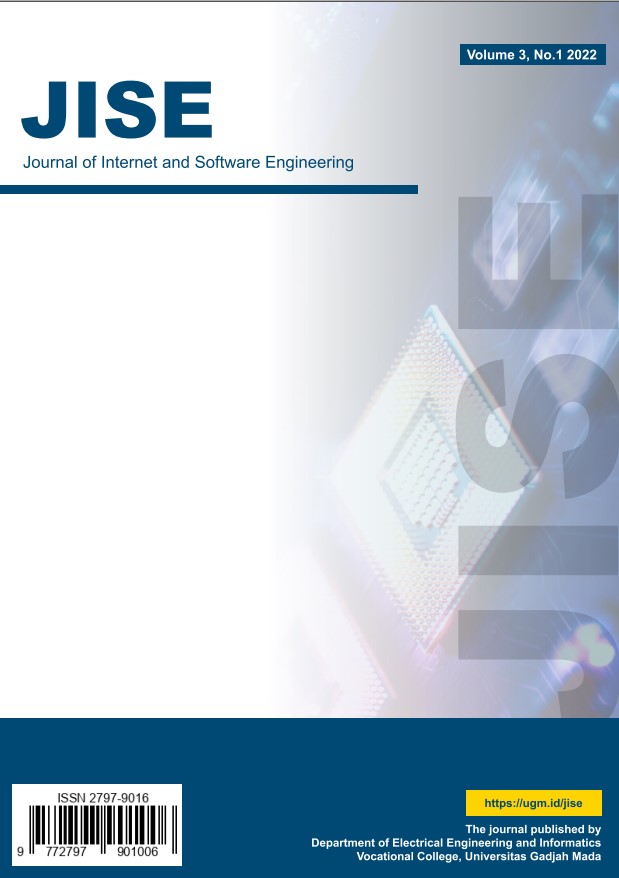 How to Cite
[1]
N. P. Pratama and U. Y. Oktiawati, "Analysis and Implementation of Raspberry Pi Based Wireless Access Point and User Access Notification Using Telegram", JISE, vol. 3, no. 1, pp. 1-11, Nov. 2022.