Journal of Leadership in Organizations (JLO), with registered number ISSN 2656-8829 (Print) and ISSN 2656-8810 (Online), is a peer-reviewed journal published twice a year (March and August) by the Center for Leadership Studies, Department of Management, Faculty of Economics and Business, Universitas Gadjah Mada. 
JLO is intended to be the journal for publishing articles reporting the results of research on leadership and invites papers on the leadership topic in various contexts. JLO is nationally accredited (Sinta 2) by the Directorate-General for Research Strengthening and Development, the Ministry of Research and Technology, the Republic of Indonesia (Decree No. B/1796/E5.2/KI.02.00/2020). Furthermore, this journal has been indexed in: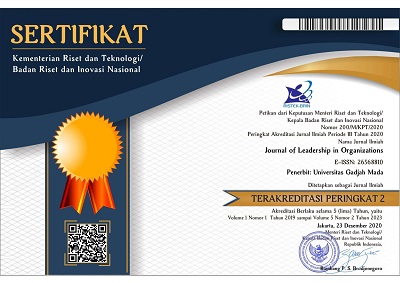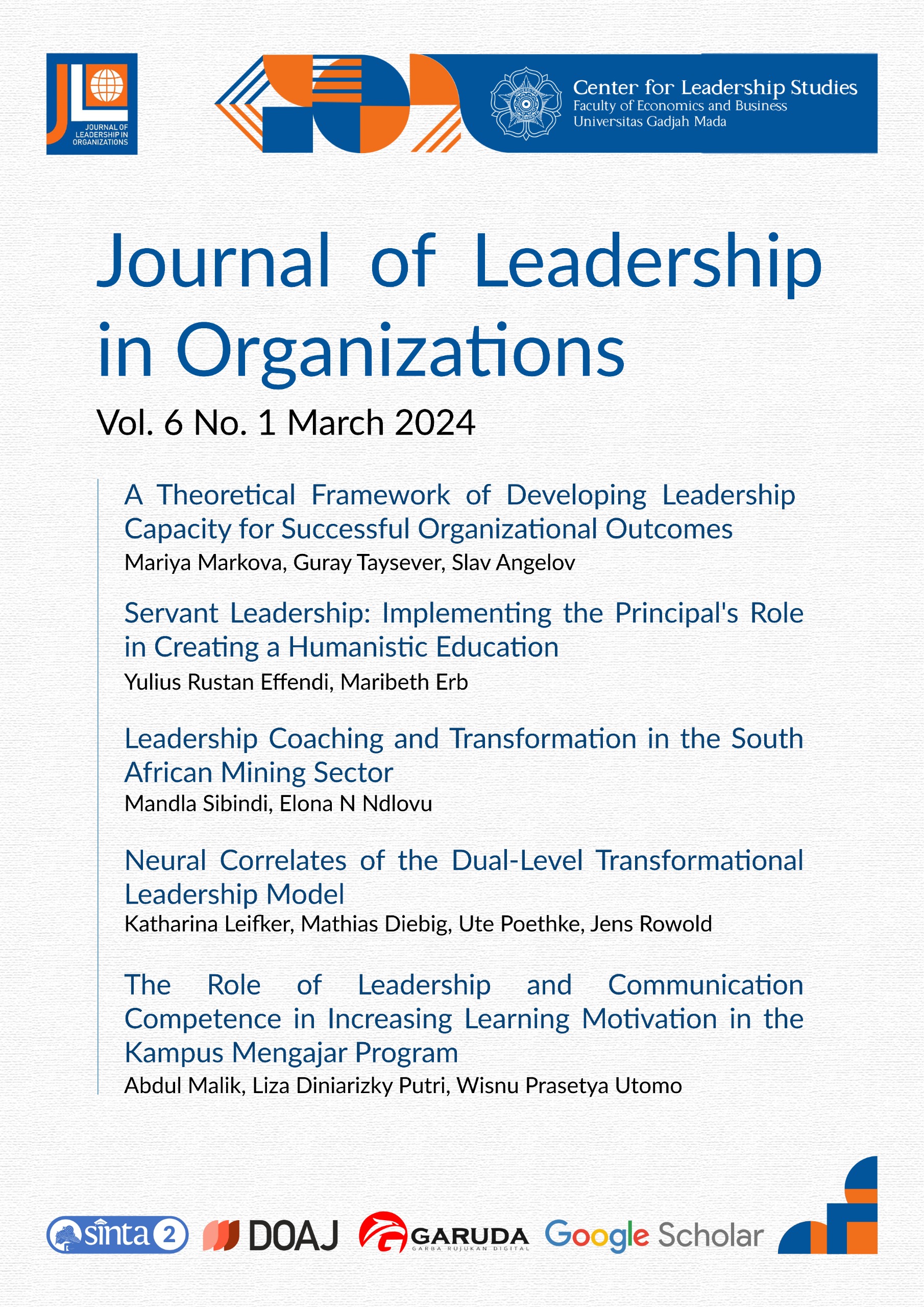 Announcements
CALL FOR PAPERS: Call for Papers Vol 4 No 1

 JLO invites international or national-international collaborating academics, professionals, research scholars, and graduate students to submit original research papers, survey papers, case studies, and academic or scholarly articles for publication in Vol. 4, No. 1 January 2022.

Please send your manuscript to https://journal.ugm.ac.id/leadership/user/register or send an inquiry email for further information to jlo.feb@ugm.ac.id

The submission deadline is December 30, 2021. Any manuscript sent after the deadline will be considered for the subsequent editions. We encourage the author to read and strictly follow the author guideline or the template we have provided.

We are looking forward to receiving your manuscript and please kindly share this information to your colleagues. Thank you.

Best Regards,

JLO Editorial Team

 

 

Posted: 2021-09-28
More...
Vol 3, No 2 (2021): Journal of Leadership in Organizations
Table of Contents
Articles
Edwin Rommel, Amin Wibowo, Nurul Indarti, Ely Susanto

10.22146/jlo.64765

Abstract views : 999 |

views : 1083
Kerstin Ganzemiller, Phuong Vo, Andy Bertsch, Mohammad Saeed, James Ondracek, David Pellenwessel, Monica Kea, Elizabeth Nadeau

10.22146/jlo.65845

Abstract views : 2101 |

views : 1857
Cecep Ucu Rakhman, Lutfiandina Kharisma, Mohamad Liga Suryadana

10.22146/jlo.64188

Abstract views : 803 |

views : 895
Adi Lukman Hakim, Erna Nur Faizah, Ninik Mas'adah

10.22146/jlo.64390

Abstract views : 2864 |

views : 2885
Gugup Kismono, Dwita Safira Pranabella

10.22146/jlo.68003

Abstract views : 641 |

views : 599
Helmi Muhammad, Niki Puspita Sari

10.22146/jlo.65642

Abstract views : 1039 |

views : 1232
Yusuf Ali, Aris Sarjito, Susanto Susanto

10.22146/jlo.64849

Abstract views : 854 |

views : 570