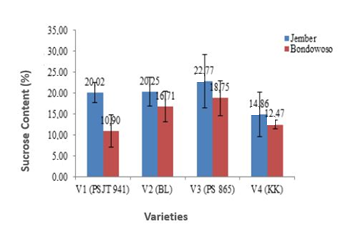 Response of Morphological and Physiological Characteristics of 4 Flood- tolerant Sugarcane (Saccharum Officinarum L.) Cultivars to ZA (Zwavelzuur Ammoniac) fertilizer application in Jember and Bondowoso

https://doi.org/10.22146/ipas.40173
Sholeh Avivi
(1*)
, Cacuk Purnomo
(2)
, Ayu Puspita Arum
(3)
, Sugeng Winarso
(4)
, Sri Hartatik
(5)
(1)&nbspFaculty of Agriculture University of Jember
(2)&nbspFaculty of Agriculture University of Jember
(3)&nbspFaculty of Agriculture University of Jember
(4)&nbspFaculty of Agriculture University of Jember
(5)&nbspFaculty of Agriculture University of Jember
(*) Corresponding Author
Abstract
The business expansion of sugarcane can be done using marginal land, such as wet land. This study attempted to get the right doses of ZA fertilizer applied to several sugarcane cultivars, which are tolerant to flooding in two different locations. The research was carried out in Jubung Agrotechnopark garden,  University of Jember and seed gardens of Dewisri Bondowoso, from November 2015 to November 2016. The experiment was arranged in factorial randomized complete block design. The first factor was the doses of ZA fertilizer, consisting of 3 levels of treatment, i.e. 0 kg.ha-1 (without ZA fertilizer), 500 kg.ha-1 and 1000 kg.ha-1. The second factor was 4 sugarcane cultivars,  consisting of flood-tolerant sugarcane cultivars from 2014 screening result, i.e. PSJT 941, Bulu Lawang, PS 865 and Kidang Kencana. The results showed that the application of ZA fertilizer at 1000 kg.ha-1 affected the height of stems, the number of tillers, diameter of the stem and the number of segments. Meanwhile, the application of ZA fertilizer at 500 kg.ha-1 affected the number of leaves, fresh weight of shoots, dry weight of shoots, fresh weight of roots, dry weight of roots, brix content, and the content of sucrose and reducing sugar. Flood-tolerant sugarcane cultivars are shown by the highest brix and sucrose fertilizer, observed in  PS 865, Bulu Lawang, PSJT 941, and Kidang Kencana, sequentially. The highest content of reducing sugar was found in PSJT 941, PS 865, Kidang Kencana, and Bulu Lawang, successively.
Keywords
Wetness; Fertilizer; Sugarcane; Varieties
References
Anak Agung Gede Putra. 2013. Kajian Aplikasi Pupuk ZA dan Kalium pada Tanaman Bawah putih (Allium Sativum L. ). Fakultas Pertanian Universitas Tabanan. Gane Swara Vol. 7 No.2 September 2013:10-17.
Gardner FP, Pearce RB, Mitchell RL. Diterjemahkan oleh Susilo dan Subiyanto. 1991. Fisiologi Tanaman Budidaya. Penerbit Universitas Indonesia (Ui Press), Jakarta.
Gomez, K.A. & Gomez, A.A. 1995. Statistical Procedures for Agricultural Research 2nd edition. New York. John Wiley & Sons, Inc.
Jackson, M.B. & P.C. Ram. 2003. Physiological and Molecular Basis Susceptibility and Tolerance of Rice Plants to Complete Submergence. Annals of Botany. 91: 227-241.
Kuswanto. 2008. Peranan Pemuliaan Tanaman untuk Menyediakan Sayuran yang Sehat Bebas Pestisida. Pidato Pengukuhan Guru Besar. Fakultas Pertanian Universitas Brawijaya. Malang. 15 p.
Kharisma Hapsarini Nasution, Titiek Islami, Husni Thamrin Sebayang. 2013. The Effects of Inorganic Fertilizers Dosage and Weed Control on a Sugar Cane (Saccharum officinarum L.) Vegetative Growth Variety of PS. 881. Jurnal Produksi Tanaman Vol. 1 No. 4 September-2013 ISSN: 2338 3976.
Lakitan B. 1997. Fisiologi tanaman pada kondisi rizosfer kekurangan oksigen. Makalah Seminar Kenaikan Jabatan untuk Guru Besar Madya dalam bidang Ilmu Pertanian di Universitas Sriwijaya, Inderalaya. Ogan Ilir.
Lontom, W., M. Koittrakund and S. E. Lingle. 2008. Relationship of Alkaline Invertase Activities to Sugar Content in Sugarcane Internodes During Ripening and After Harvest. Agricultural Science, 41 : 143 – 151.
M. Syakir. 2010. Budidaya dan Pasca Panen TEBU. Pusat Penelitian dan Pengembangan Perkebunan.
Purwono. 2003. Penentuan Rendemen Gula Tebu Secara Cepat. Science Philosopy. Institut Pertanian Bogor. (PPs 702).
PTPN XI (persero). 2010. Panduan Teknik Budidaya Tebu. Wilayah Timur. Surabaya.
Rahajeng, W., Rahayuning, St. A. 2015. Pendugaan Komponen Ragam, heretabilitas dan Korelasi Klon-klon Harapan Ubijalar Berkadar Berkaroten Tinggi. Ilmu Pertanian 18 (1) : 51-55.
Ratna Tunjungsari. 2014. Analisis Produksi Tebu di Jawa Tengah. Jejak 7 (2) (2014): 100-202. DOI: 10.15294/ jejak. v7i1.3596.
Sativandi Riza. 2013. Land Suitability Study For Apple Trees Revitalition In Batu, Malang. Program Pascasarjana Universitas Gadjah Mada. Yogyakarta.
Subiyono. 2014. Sumbangan Pemikiran Menggapai Kejayaan Industri Gula Nasional. PT. Perkebunan X (Persero).
Sugiarto, B. 2014. Tanaman Tebu Produk Rekayasa Genetika. Orasi Ilmiah Rapat Senat Terbuka Dies Natalis ke 50 Universitas Jember.
Sugiyarta E, PDN Mirzawan, Lamadji, dan H Budhisantoso. 2000. Konsep Penataan Varietas Unggul di Wilayah Pabrik Gula. Prosiding Pertemuan Teknis, 6p.

DOI:
https://doi.org/10.22146/ipas.40173
---
Article Metrics

Abstract views : 1786 |

views : 1674
Refbacks
There are currently no refbacks.