Jurnal Fisika Indonesia (J. Fis. Indones., JFI) (e-ISSN: 2579-8820, p-ISSN: 1410-2994) is an open access scientific peer-reviewed journal published by the Department of Physics Universitas Gadjah Mada in collaboration with Central Java and Yogyakarta Chapter of The Physical Society of Indonesia. It publishes research articles on Physics, covering theoretical, experiments, computation and applied physics including geophysics.
This journal is a place to share a publication of original scientific research in the form of Full Research Papers, Short Notes, Rapid Communications, and from time to time, publishes review Articles. We have a mission to build scientific research foundations in theoretical and applied physics to support education, research and community service in Indonesia.
A manuscript can be written in English or Bahasa Indonesia, but Abstracts are required to be written in English. We will take care for the manuscript written in Bahasa to ensure the use of standard grammar with a correct scientific term for providing a precise translation to any other language with available language translator tools. Manuscripts will go through the double-blind peer review and editorial review before accepted for publication. Publication in this journal is free of charge and is periodically done three times a year (April, August, and December).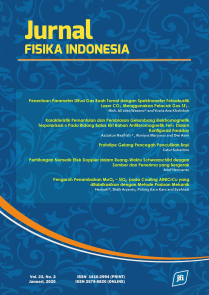 Announcements
JFI now indexed by Index Copernicus

A piece of very good news coming to JFI, that our Journal now  Indexed in the ICI Journal Master List 2019.

Posted: 2020-12-29
More...
Vol 27, No 1 (2023): Vol 27, No 1 (2023)
Table of Contents
Research Articles