Jurnal Fisika Indonesia (J. Fis. Indones., JFI) (e-ISSN: 2579-8820, p-ISSN: 1410-2994) is an open access scientific peer-reviewed journal published by the Department of Physics Universitas Gadjah Mada in collaboration with Central Java and Yogyakarta Chapter of The Physical Society of Indonesia. It publishes research articles on Physics, covering theoretical, experiments, computation and applied physics including geophysics.
This journal is a place to share a publication of original scientific research in the form of Full Research Papers, Short Notes, Rapid Communications, and from time to time, publishes review Articles. We have a mission to build scientific research foundations in theoretical and applied physics to support education, research and community service in Indonesia.
A manuscript can be written in English or Bahasa Indonesia, but Abstracts are required to be written in English. We will take care for the manuscript written in Bahasa to ensure the use of standard grammar with a correct scientific term for providing a precise translation to any other language with available language translator tools. Manuscripts will go through the double-blind peer review and editorial review before accepted for publication. Publication in this journal is free of charge and is periodically done three times a year (April, August, and December).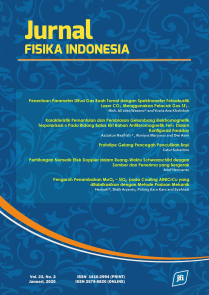 Announcements
Call for Papers

Journal Fisika Indonesia (JFI) would like to invite authors to submit the manuscript in the form of Research Papers, Short Notes, Rapid Communications Review Articles through the online submission system.
Posted: 2020-05-22
More...
Vol 24, No 2 (2020)
Table of Contents
Articles
Rimas Dwi Klarawati, Gurum Ahmad Pauzi, Arif Surtono

10.22146/jfi.v24i2.53297

Abstract views : 133 |

views : 134

60-65
Muhamad Wahyudi Saputra, Simon Sembiring, Junaidi Junaidi

10.22146/jfi.v24i2.53901

Abstract views : 189 |

views : 201

72-77
Imam Suyanto, Wahyudi Wahyudi, Eddy Haryantyo

10.22146/jfi.v24i2.53900

Abstract views : 208 |

views : 211

78-81
Qonitatul Hidayah, Putih Asmara, Ikhsan Setiawan, Agung Bambang Setio Utomo

10.22146/jfi.v24i2.54333

Abstract views : 95 |

views : 88

87-90
Nanda Efbriyansyah, Roniyus Marjunus, Agus Riyanto

10.22146/jfi.v24i2.54337

Abstract views : 156 |

views : 184

91-95
Mawar - Mawar, Sri Dewi Astuti, Siska Febriana

10.22146/jfi.v24i2.54405

Abstract views : 159 |

views : 175

96-101
Hasni Handayani, Yanti Yulianti, Posman Manurung

10.22146/jfi.v24i2.57167

Abstract views : 172 |

views : 180

102-108