The Indonesian Journal of Biotechnology (IJBiotech) is an open access, peer-reviewed, multidisciplinary journal dedicated to the publication of novel research in all aspects of biotechnology, with particular attention paid to the exploration and development of natural products derived from tropical—and especially Indonesian—biodiversity. IJBiotech is published four times a year (March, June, September, and December) and accepts original research articles featuring well-designed studies with clearly analyzed and logically interpreted results. A strong preference is given to research that has the potential to make significant contributions to both the field of biotechnology and society in general.
We invite authors to submit articles in the fields of food and agricultural biotechnology, health and medical biotechnology, biomaterials, environmental biotechnology, industrial biotechnology, bioinformatics, genomics, transcriptomics, proteomics, and metabolomics.
IJBiotech is published by the the Research Center for Biotechnology in collaboration with the Graduate School of Universitas Gadjah Mada, and is nationally accredited by the Directorate General of Research and Development of the Ministry of Research, Technology, and Higher Education, Republic of Indonesia, Decree No. 230/E/KPT/2022 valid until 2024.
Submitting to the journal
IJBiotech uses an online submission and peer review platform, which allows authors to track the progress of their manuscript and enables shorter processing times. Only submissions made through this platform are accepted, with submitting authors required to create an IJBiotech account. Manuscripts submitted by any other means are automatically discarded.
For more information on our submission system, please refer to the Submission Guidelines. Authors can also download the IJBiotech author pack containing an article template, CSE citation guide, and author guidelines.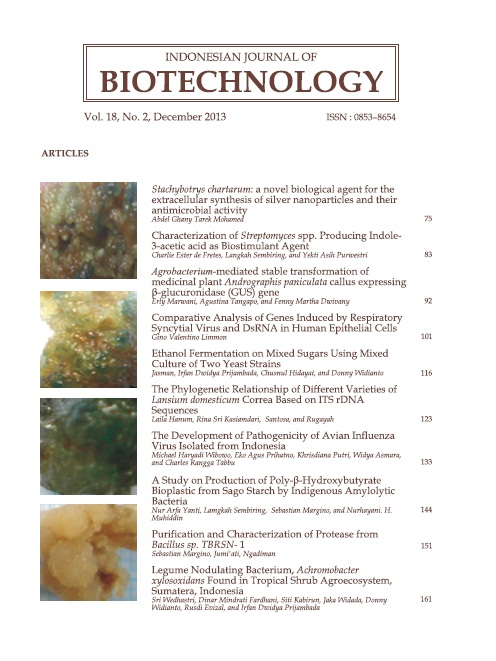 Announcements
SJR 2022 Score of Indonesian Journal of Biotechnology

It is very pleased to announce that score of SJR 2022 of Indonesian Journal of Biotechnology has slightly increased from 0.13 to 0.16 and kept in Fourth Quartile (Q4).
Posted: 2023-05-16
More...

Congratulations to Our New Editor in Chief: Dr. Yekti Asih Purwestri, M.Si.

It is a pleasure to announce Dr. Yekti Asih Purwestri, M.Si., has recently been appointed as Chief in Editor of Indonesian Journal of Biotechnology. 

Posted: 2022-06-06
More...

A Thank You to Our Former Editor in Chief: Prof. Siti Subandiyah, M.Agr.Sc.

We would like to express our grateful thanks to Prof. Dr. Siti Subandiyah, M.Agr.Sc. for her devoted work dedicated to the Journal, to authors, reviewers, editorial board members and readers from 2016 until April 2022.

Posted: 2022-06-06
More...
Vol 28, No 3 (2023)
Table of Contents
Articles
Faisal Muhammad, Hafeez Muhammad Yakasai, Mohd Yunus Shukor

10.22146/ijbiotech.73989

Abstract views : 315 |

views : 378

127-136
James Setiabudi, Komang Mega Oka Sri Bintang, Stella Stacia Gani, Pissa Christanti, Evanie Noer Putri, Se Chan Kang, Johan Sukweenadhi

10.22146/ijbiotech.79677

Abstract views : 227 |

views : 228

137-142
Yeni Fatmawati, Ilyas Ilyas, Agus Budi Setiawan, Aziz Purwantoro, Dyah Weny Respatie, Chee How Teo

10.22146/ijbiotech.82760

Abstract views : 239 |

views : 178

143-152
Nisa Ihsani, Fenny Martha Dwivany, Sony Suhandono

10.22146/ijbiotech.80853

Abstract views : 178 |

views : 229

153-157
Riswanto Napitupulu, Is Helianti, Maimunah Maimunah, Fairuz Andini Fatiningtyas, Amarila Malik

10.22146/ijbiotech.83376

Abstract views : 191 |

views : 162

158-172
Gracia Christine Lembong Purwanto, Fedric Intan Damai, Dian Fitria Agustiyanti, Popi Hadi Wisnuwardhani, Alfi Taufik Fathurahman, Yana Rubiyana, Ratna Dwi Ramadani, Muhammad Khairul Lisan Sidqi, Pekik Wiji Prasetyaningrum, Endah Puji Septisetyani, Dadang Supriatna, Ratih Asmana Ningrum, Wien Kusharyoto, Ihsan Tria Pramanda, Andri Wardiana

10.22146/ijbiotech.82159

Abstract views : 192 |

views : 170

173-179
Chaitali Dhande, Devanshi Mistry, Anandakrishnan Karthic, Rajshri Singh, Sagar Hindurao Barage

10.22146/ijbiotech.80145

Abstract views : 194 |

views : 106 |

views : 107

180-190