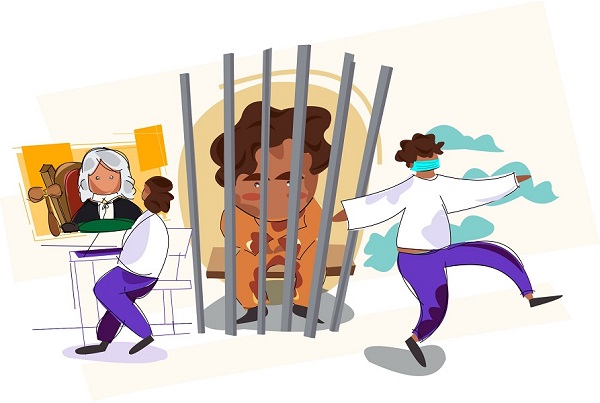 Dualisme Diskursus Penegak Hukum: Antara Membebaskan Narapidana dan Mempercepat Sidang Pidana Melalui Teleconference dalam Masa Pandemi COVID-19

https://doi.org/10.22146/balairung.v2i2.58549
Sandi Ersya Arrasid
(1*)
(1)&nbspFaculty of Law Riau University
(*) Corresponding Author
Abstract
Kebijakan Kementerian Hukum dan Hak Asasi Manusia yang membebaskan narapidana dari lembaga pemasyarakatan untuk membatasi penyebaran COVID-19 merupakan kebijakan yang diambil dengan tepat. Namun, kebijakan tersebut ternyata bertentangan dengan kebijakan yang dikeluarkan Mahkamah Agung Republik Indonesia, yaitu mempercepat sidang pidana melalui teleconference. Sehingga, populasi narapidana pada lembaga pemasyarakatan tidak akan berkurang sama sekali. Tujuan utama dari penelitian ini adalah untuk mengetahui bagaimana konsep ideal untuk mengurangi populasi narapidana di lembaga pemasyarakatan dalam hal membatasi penyebaran COVID-19. Metode penelitian yang digunakan di dalam tulisan ini adalah yuridis normatif, data sekunder menjadi data utama. Hasil penelitian menunjukkan kebijakan penegak hukum pada status quo sangat tidak sinkron, oleh karena itu penulis menggagas dua konsep baru, yaitu RNR-Concept dan konsep keadilan restoratif untuk mengurangi narapidana di lembaga pemasyarakatan dalam rangka membatasi penyebaran COVID-19.
Keywords
Kebijakan, Narapidana, COVID-19, Lembaga Pemasyarakatan
References
Ann, Mary. "Prisoner releases by country/ jurisdiction", Transform Drugs, https://transformdrugs.org/prisoner-releases-by-country-jurisdiction/) (diakses 1 Agustus, 2020)

D.A. Andrews, James Bonta dan J. Stephen Wormith, "The Risk-Need-Responsivity (RNR) Model: Does Adding the Good Lives Model Contribute to Effective Crime Prevention?", Criminal Justice and Behavior 38, no. 7, (2011): 735-755.

Gershman, Jacob. "Coronavirus Disrupts U.S. Court System", The Wall Street Journal, https://www.wsj.com/articles/coronavirus-disrupts-u-s-court-system-11584445222 (diakses 1 Agustus, 2020)

Handoyo, "Kejagung Sebut Ada 176.912 Sidang Online Tindak Pidana Umum Selama Pandemi Covid-19", Kontan, https://nasional.kontan.co.id/news/kejagung-sebut-ada-176912-sidang-online-tindak-pidana-umum-selama-pandemi-covid-19 (diakses 27 Juli, 2020)

Hawks, Laura, dan Steffie Woolhandler, Danny McCormick. "Covid-19 in Prisons and Jails in The United States", JAMA Internal Medicine 180. No.8 (2020):1041-1042.

Hidayat, Risyal Hardiyanto. "Langkah-langkah Strategis Untuk Mencegah Pandemi Covid-19 di Lembaga Pemasyarakatan Indonesia" Jurnal Pendidikan Kesehatan 9, no.1 (2020): 43-55.

Iswara, Ninda. "Kakek Curi Uang Infak Rp 7000, Ngaku untuk Beli Makan, Divonis Salah oleh Pengadilan, Ini Faktanya", Tribunnews, https://newsmaker.tribunnews.com/2020/07/10/kakek-curi-uang-infak-rp-7000-ngaku-untuk-beli-makan-divonis-salah-oleh-pengadilan-ini-faktanya (diakses 4 Agustus, 2020)
King, Jordan. "Nearly 18,000 California Inmates Including Murderers Could Be Released Early Due To Coronavirus", DailyMail, https://www.dailymail.co.uk/news/article-8604793/Nearly-18-000-California-inmates-including-murderers-released-early-coronavirus.html (diakses 1 Agustus, 2020)

Murphy , Jim. "Covid-19 Prisoner Releases Too Few, Too Slow," Human Rights Watch, https://www.hrw.org/news/2020/05/27/covid-19-prisoner-releases-too-few-too-slow (diakses pada 27 Juli, 2020)

Nicholson, Catherine. "UN Urges Prisoner Releases to Stem Spread of Coronavirus," France24, https://www.france24.com/en/20200325-un-urges-prisoner-releases-to-stem-spread-of-coronavirus (diakses 27 Juli, 2020)

Nowotny, Kathryn, Zinzi Bailer, Marisa Omori dan Lauren Brinkley-Rubinstein. "Covid-19 Exposes Need for Progressive Criminal Justice Reform", American Journal of Public Health 9, no.2 (2020): 939-977.

Padmasari, Salviah Ika. "110 Warga Binaan Positif Covid-19, Lapas Perempuan Di Gowa Tak Terima Narapidana," Merdeka, https://www.merdeka.com/peristiwa/110-warga-binaan-positif-covid-19-lapas-perempuan-di-gowa-tak-terima-narapidana.html. (diakses 27 Juli, 2020)

Purba, Jonlar. Penegakan Hukum Terhadap Tindak Pidana Bermotif Ringan Dengan Restorative Justice. Jakarta: Penerbit Jala Permata Aksara, 2017.

Rose, Brenda, Francis T. Cullen dan Heejin Lee. "Targeted Release in the Covid-10 Correctional Crisis: Using the RNR Model to Save Lives", American Journal of Criminal Justice 4, no.5, (2020): 769-779.

Santoso, Bangun. "Tak Ada Duit Untuk Belanja, Kakek Urip Nekat Curi Sepeda Milik Tuliyem", Suara.com, https://jatim.suara.com/read/2020/05/05/074106/tak-ada-duit-untuk-belanja-kakek-urip-nekat-curi-sepeda-milik-tuliyem (diakses 4 Agustus, 2020)

Solomon, Akiba. "A State-by-State Look at Coronavirus in Prisons", The Marshall Project, https://www.themarshallproject.org/2020/05/01/a-state-by-state-look-at-coronavirus-in-prisons (diakses 1 Agustus, 2020)

Travers , Daniel, dan Max Scwherdtfeger. "Criminal Proceedings in Germany During the Covid-19 Pandemic", Freshfields Bruckhaus Deringer LLP, https://www.lexology.com/library/detail.aspx?g=92acbf34-58bb-4d42-a157-2a0fe584e950 (diakses 1 Agustus, 2020)

Waluyo, Bambang. Desain Fungsi Kejaksaan Pada Restorative Justice. Jakarta: Penerbit Rajawalipress, 2017.

Yas, "Layoffs, Crimes on the Rise in Indonesia as Large-Scale Social Distancing Measures Take Effect," Online Citizen Asia, https://www.onlinecitizenasia.com/2020/04/24/layoffs-crimes-on-the-rise-in-indonesia-as-large-scale-social-distancing-measures-take-effect/ (diakses 27 Juli, 2020)

Zulfa, Eva Achjani. Keadilan restoratif di Indonesia: Studi Tentang Kemungkinan Penerapan Pendekatan Keadilan Restoratif Dalam Praktek Penegakan Hukum Pidana. Jakarta: Badan Penerbitan FHUI, 2012.

Zulfikri, dan Ejo Imandeka. "Prevention Strategy of Covid-19 in Indonesian Prisons", International Journal of Engineering Applied Sciences and Technology 5.2, (2020): 37-42.

DOI:
https://doi.org/10.22146/balairung.v2i2.58549
---
Article Metrics

Abstract views : 906 |

views : 936
Refbacks
There are currently no refbacks.
This work is licensed under a
Creative Commons Attribution-NonCommercial 4.0 International License
.
---
Diterbitkan oleh BPPM Balairung, Universitas Gadjah Mada
Kompleks Perumahan Dosen UGM, Bulaksumur B-21, Caturtunggal, Kecamatan Depok, Kabupaten Sleman, Yogyakarta 55281.
email: 
balairungpress@gmail.com
| LINE: @GSJ9240C |
http://balairungpress.com



---

2018 BPPM BALAIRUNG UGM