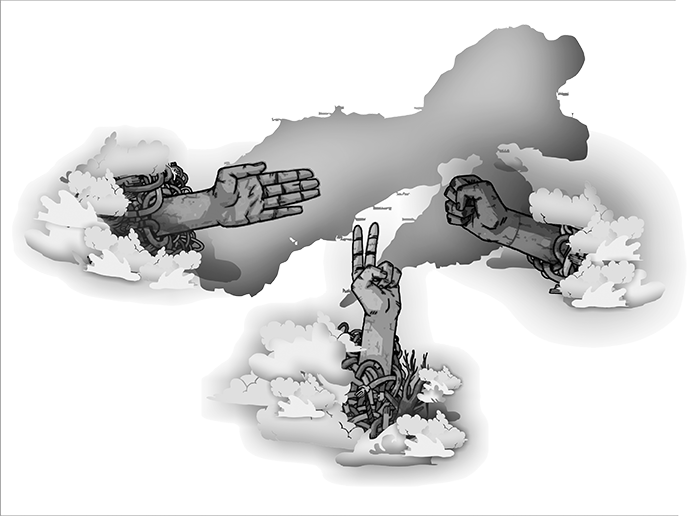 The Journey for Pride: Kisah Orang-Orang Hitu di Pesisir Utara Pulau Ambon Merebut Kembali Supremasi Identitasnya

https://doi.org/10.22146/balairung.v2i1.49856
Fahmi Sirma Pelu
(1*)
(1)&nbspUniversitas Gadjah Mada
(*) Corresponding Author
Abstract
Berkat keberadaan pelabuhan, orang-orang Hitu telah dibentuk menjadi masyarakat multikultur. Berbagai pengaruh kebudayaan luar diinternalisasi menjadi bagian dari kebudayaan mereka yang diekspresikan lewat kisah-kisah sejarah, mitos, mantra-mantra, dan bahasa. Pada akhir abad ke-16, Portugis yang terusir dari Hitu kemudian mendirikan pusat pelabuhan di Semenanjung selatan—cikal bakal Kota Ambon saat ini. Pemindahan tersebut telah berdampak sangat signifikan terhadap identifikasi orang-orang Hitu atas dirinya. Artikel ini akan menggali proses awal pembentukan masyarakat multikultur Hitu sampai dengan era kolonial, dampak pemindahan pelabuhan terhadap identifikasi orang-orang Hitu atas dirinya sendiri dan konflik identitas yang melibatkan mereka dengan kelompok lain. Hipotesa yang dikemukakan dalam penelitian ini, ialah berhentinya identifikasi orang-orang Hitu atas identitasnya pada kekalahannya secara ekonomi dan politik di kawasan sejak dipindahkannya pelabuhan oleh Portugis. Implikasinya, mereka gagal memperbaharui kebutuhan atas diri mereka hari ini dan esok. Artikel ini menggunakan pendekatan identitas yang dikemukakan oleh Madan Sarup. Sarup melihat bahwa identitas merupakan proses yang tidak pernah selesai. Lantas, mengapa identifikasi orang-orang Hitu berhenti pada satu peristiwa sejarah saja dan belum juga dapat beranjak daripadanya?
Keywords
Hitu, masyarakat multikultur, Ambon, identitas, konflik identitas
References
(ed.) Ashmore, Richard D., Lee Jussim, and David Wilder. 2001. Social Identity, Intergroup Conflict and Conflict Reduction. Oxford: Oxford University Press.
(ed.) Roem Topatimasang. 2016. Orang-orang Kalah: Kisah Penyingkiran Masyarakat Adat di Kepulauan Maluku. Yogyakarta: Insist Press.
Anceaux, J. C. 1965. "Linguistic Theories About Austronesian Homeland." Bijdragen tot de Taal-, Land- en Volkenkunde 417-432.
Benet-Martinez, (ed.) Veronica, and Ying-Yi Hong. 2014. The Oxford Handbook of Multicultural Identity. New York: Oxford University Press.
Brewer. 1997. "The Social Psychology of Intergroup Relations: Can Research Inform Practice?" Journal of Social Issues 203-204.
Brewer, Marilynn B., and Wendi Gardner. 1996. "Who Is This 'We'? Levels of Collective Identity and Self-Representations." Journal of Personality and Social Psychology 83-93.
Collins, James T. 2003. "Language death in Maluku the impact of the VOC." Bijdragen tot de Taal-, Land- en Volkenkunde 247-289.
Collins, James T. 1993. "Languages of Maluku: Introduction." Oceanic Linguistics 238-240.
Devos, Thierry, and Thuy Loan Vu. 2014. "Implicit Multicultural Identities." In The Oxford Handbook of Multicultural Identity, by (ed.) Veronica Benet-Martinez and Ying-Yi Hong, 227-251. New York: Oxford University Press.
Edwards, John. 2009. Language and Identity. New York: Cambridge University Press.
Freire, Paulo. 1985. The Politics of Education: Culture, Power and Liberation. Westport: Greenwood Publishing Group.
Grimes, Barbara Dix. 1991. "The Development and Use of Ambonese Malay." Papers in Austronesian Linguistics 83-123.
Hogg, Michael A., Deborah J. Terry, and Katherine M. White. 1995. "A Tale of Two Theories: A Critical Comparison of Identity Theory with Social Identity Theory." Social Psychology Quarterly 255-269.
Jimmy Ayal, "Lima Orang Meninggal dalam Bentrokan Warga Desa Seith vs Negeri Lima," Antara News, 1 Agustus 2014. https://www.antaranews.com/berita/446506/lima-orang-meninggal-dalam-bentrokan-warga-desa-seith-vs-negeri-lima. Diakses pada tanggal 20 Juli 2019.
Knaap, G. 1995. "The Demography of Ambon in the Seventeenth Century: Evidence from Colonial Proto-Censuses." Journal of Southeast Asian Studies 227-241.
Knaap, Gerrit J. 1991. "A City of Migrants: Kota Ambon at the End of the Seventeenth Century." Indonesia 105-128.
Lombard, Denys. 2008. Nusa Jawa: Silang Budaya I. Jakarta: Gramedia.
Manusama, Z. J., and Chris F. van Fraassen. 1977. "Historie en socialestructuur van Hitu tot het midden der zeventiende eeuw."
Meyerhoff, Miriam. 2006. Introducing Sociolinguistics. New York: Routledge.
Misztal, Barbara A. 2003. Theories of Social Remembering. London: Open University Press.
Oppenheimer, Stephen. 2004. Out of Eden: The Peopling of the World. London: Robinson.
Rahman Patty, "Gubernur Maluku Minta Insiden Wakal-Hitu Diproses Hukum," Kompas, 27 Juni 2017. https://regional.kompas.com/read/2017/06/27/07483811/gubernur.maluku.minta.insiden.wakal-hitu.diproses.hukum. Diakses pada tanggal 20 Juli 2019.
Ratnawati, Tri. 2006. Maluku Dalam Catatan Seorang Peneliti. Jakarta: Pustaka Pelajar.
Schiffman, Harold F. 1996. Linguistic Culture and Language Policy. London: Routledge.
Sarup, Madan. 1996. Identity, Culture and The Postmodern World. Edinburgh: Edinburgh Univesity Press.
Tajfel, Henri. 1981. Human Groups and Social Categories: Studies in Social Psychology. New York: Cambridge University Press.
Daftar Gambar dan Tabel
Gambar 1
Wikipedia. "Ambon Island." Diakses pada 12 September 2019 https://en.wikipedia.org/wiki/Ambon_Island
Tabel 1
Barbara Dix Grimes, "The development and use of Ambonese Malay," Papers in Austronesian Linguistics (1991): 103.

DOI:
https://doi.org/10.22146/balairung.v2i1.49856
---
Article Metrics

Abstract views : 1295 |

views : 1569
Refbacks
There are currently no refbacks.
This work is licensed under a
Creative Commons Attribution-NonCommercial 4.0 International License
.
---
Diterbitkan oleh BPPM Balairung, Universitas Gadjah Mada
Kompleks Perumahan Dosen UGM, Bulaksumur B-21, Caturtunggal, Kecamatan Depok, Kabupaten Sleman, Yogyakarta 55281.
email: 
balairungpress@gmail.com
| LINE: @GSJ9240C |
http://balairungpress.com



---

2018 BPPM BALAIRUNG UGM