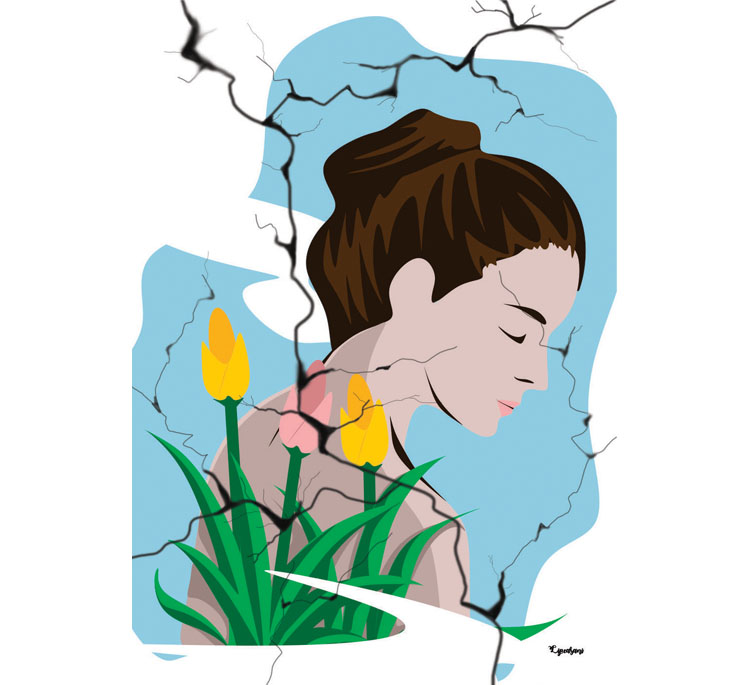 Ekofeminisme dalam Antroposen: Relevankah?:Kritik terhadap Gagasan Ekofeminisme

https://doi.org/10.22146/balairung.v1i1.34987
Ni Nyoman Oktaria Asmarani
(1*)
(1)&nbspFakultas Filsafat, Universitas Gadjah Mada
(*) Corresponding Author
Abstract
Sikap kritis terhadap krisis ekologi yang berdampak buruk pada perempuan telah dimulai oleh Francoise d'Eaubonne dalam bukunya La Feminsme au la Mort (1974). Inilah awal terminologi ekofeminisme diperkenalkan. d'Eaubonne mengungkapkan adanya keterkaitan yang erat antara penindasan terhadap perempuan dan penindasan terhadap alam yang berakar pada kultur patriarki. Dalam sistem ini, perempuan menempati konstruksi posisi yang sama dengan alam yaitu sebagai objek, bukan subjek. Ekofeminisme kemudian lahir untuk memecahkan masalah kehidupan manusia dengan alam yang berangkat dari pengalaman perempuan dan menjadikannya sebagai salah satu sumber belajar dalam pengelolaan dan pelestarian alam. Dalam artikel ini, saya akan mencoba melakukan kritik terhadap beberapa gagasan ekofeminisme. Kritik dalam gagasan ekofeminisme yang akan dilayangkan adalah terkait: relasi antara perempuan dan alam, sifat ideal perempuan, etika kepedulian, gagasan "Ibu Bumi", dan gagasan menyembuhkan Bumi. Dengan metode studi pustaka, saya akan membedah gagasan dan solusi yang ditawarkan oleh ekofeminisme dalam menghadapi alam saat ini dan melihat apakah ekofeminisme masih relevan dalam epos Antroposen.
Keywords
ekofeminisme, Antroposen, relasi perempuan dan alam, Ibu Bumi, Bumi feminin
References
Biehl, Janet. Rethinking Ecofeminist Politics. Boston: South End Press, 1991.
Candraningrum, Dewi, dkk. Ekofeminisme dalam Tafsir Agama, Pendidikan, Ekonomi, dan Budaya. Yogyakarta: Jalasutra, 2013.
Cuomo, Chris J. Feminism and Ecological Communities. London: Routledge, 1998.
Davies, Jeremy. The Birth of Anthropocene. Oakland: University of California Press, 2016.
Diamond, Irene and Gloria Feman Orenstein. Reweaving the World: The Emergence of Ecofeminism. San Francisco: Sierra Book Club, 1990.
Merchant, Carolyn. The Death of Nature: Women, Ecology, and Scientific Revolution. Manhattan: Harper & Row, 1990.
Mies, Maria and Vandana Shiva. Ecofeminism. London: Zed Books, 2014.
Ruether, Rosemary Radford. New Woman, New Earth: Sexist Ideologies and Human Liberation. New York: Seabury Press, 1975.
Sandilands, Catriona. The Good-Natured Feminist: Ecofeminism and the Quest for Democracy. Minnesota: Univerity of Minnesota Press, 1999.
Warren, Karen J. Ecofeminist Philosophy: A Western Perspective on What It Is and Why It Matters. Maryland: Rowman & Littlefield Publishers, 2000.
Archambault, Anne. "A Critique to Ecofeminism",." Canadian Woman Studies Vol. 13 (1993).
Biehl, Janet. "Women and Nature: A Recurring Mystique." Le Monde Diplomatique (2011).
Crutzen, Paul and Eugene Stoermer. "The Anthropocene" Global Change Newsletter Vol. 41 (2000).
Gray, Elizabeth Dodson. "Nature as an Act of Imagination." Women of Power Vol. 9 (1988).
Ortner, Sherry B. "Is Female to Male as Nature Is to Culture?" Feminist Studies Vol. 1 No. 2 (1972).
Plumwood, Val. "Women, Humanity and Nature." Radical Philosophy Vol. 48 (1988).
Roach, Catherine. "Loving Your Mother: On the Woman-Nature Relation." Hypatia Vol. 6 (1991).
Steffen, Will. "The Anthropocene: Are Humans Now Overwhelming the Great Forces of Nature." AMBIO: A Journal of the Human Environment Vol. 36 No. 8 (2007).
Warren, Karen J. "The Power and the Promise of Ecological Feminism." Environmental Ethics Vol. 12 (1990).

DOI:
https://doi.org/10.22146/balairung.v1i1.34987
---
Article Metrics

Abstract views : 4398 |

views : 4063
Refbacks
There are currently no refbacks.
This work is licensed under a
Creative Commons Attribution-NonCommercial 4.0 International License
.
---
Diterbitkan oleh BPPM Balairung, Universitas Gadjah Mada
Kompleks Perumahan Dosen UGM, Bulaksumur B-21, Caturtunggal, Kecamatan Depok, Kabupaten Sleman, Yogyakarta 55281.
email: 
balairungpress@gmail.com
| LINE: @GSJ9240C |
http://balairungpress.com



---

2018 BPPM BALAIRUNG UGM