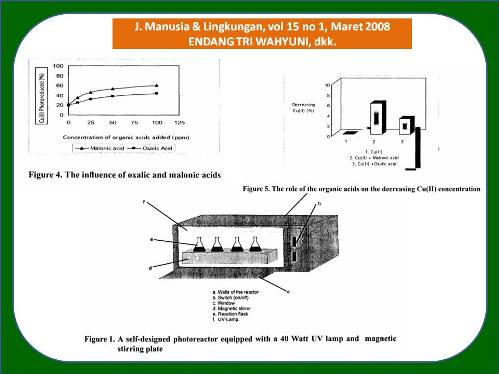 THE INFLUENCE OF OXALIC AND MALONIC ACIDS ON THE DEGREE OF Cu(II) PHOTOREDUCTION CATALYZED BY TIO2

https://doi.org/10.22146/jml.18674
Endang Tri Wahyuni
(1*)
, Nurul Hidayat Aprilita
(2)
, An Nissa F. Hayu
(3)
, Siti Nurhayati
(4)
(1)&nbspChemistry Department, Faculty of Mathematics and Natural Sciences, Gadjah Mada Univcrsify, Sekip Utara Yogyakarta, 55281
(2)&nbspChemistry Department, Faculty of Mathematics and Natural Sciences, Gadjah Mada Univcrsify, Sekip Utara Yogyakarta, 55281
(3)&nbspChemistry Department, Faculty of Mathematics and Natural Sciences, Gadjah Mada Univcrsify, Sekip Utara Yogyakarta, 55281
(4)&nbspChemistry Department, Faculty of Mathematics and Natural Sciences, Gadjah Mada Univcrsify, Sekip Utara Yogyakarta, 55281
(*) Corresponding Author
Abstract
The influence of oxalic and malonic acids on the effectiveness of Cu(ll) photoreduction catalyzed by TiO, has been studied. Photoreduction was carried out by a batch system in a closed reactor equipped by UV lamp. The results of the research show that the addition of TiO, photocatalyst can enhance Cu(ll) photocatalytic reduction, which may be initiated and/or accompanied by adsorption of Cu(ll) ion on the TiO, surface. The presence of both oxalic and malonic acids can improve of the Cu(ll) photoreduction, and the improvement is observed as the acid concentrations increase. It is also found that the effect of malonic acid in gaining Cu(ll) photoreduction is stronger than oxalic is, which are from around 20% into about 55% and that of into aroun d 35%, respectively. The roles of the acids on the enhancement of the photoreduction are OH radical attachment and electron donation.

DOI:
https://doi.org/10.22146/jml.18674
---
Article Metrics

Abstract views : 715 |

views : 671
Refbacks
There are currently no refbacks.
Copyright (c) 2017 Jurnal Manusia dan Lingkungan
JML Indexed by:

View My Stats