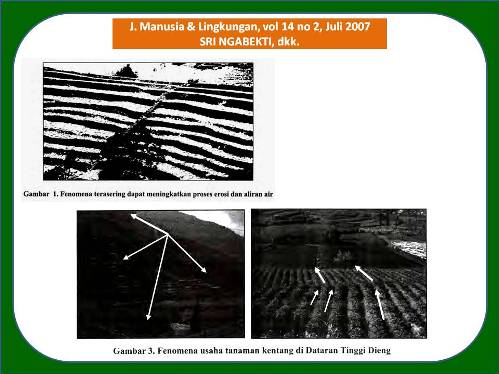 TINGKAT KERUSAKAN LINGKUNGAN DI DATARAN TINGGI DIENG SEBAGAI DATABASE GUNA UPAYA KONSERVASI (The Level of Environmental Damage in Dieng Plateau for Database to Conservation Action)

https://doi.org/10.22146/jml.18667
Sri Ngabekti
(1*)
, Dewi Liesnoor Setyowati
(2)
, Sugiyanto R. Sugiyanto Sugiyanto
(3)
(1)&nbspPusat Studi Pendidikan Lingkungan Hidup (PKLH) Lembaga Penelitian Universitas Negeri Semarang (UNNES), Semarang
(2)&nbspPusat Studi Pendidikan Lingkungan Hidup (PKLH) Lembaga Penelitian Universitas Negeri Semarang (UNNES), Semarang
(3)&nbspPusat Studi Pendidikan Lingkungan Hidup (PKLH) Lembaga Penelitian Universitas Negeri Semarang (UNNES), Semarang
(*) Corresponding Author
Abstract
ABSTRAK 
Penebangan hutan secara liar guna memperluas area tanaman kentang di wilayah Dieng, berakibat menurunnya tingkat keanekaragaman hayati. Berdasarkan hasil penilaian oleh Balai Konservasi Sumber Daya Alam Jawa Tengah (2001), hanya ditemukan kurang dari 50 jenis tumbuhan per hektar, sehingga dikategorikan sebagai kawasan miskin jenis tumbuhan dan perlu dilakukan upaya untuk mengatasi kerusakan lingkungan di dataran tinggi Dieng melalui konservasi lingkungan. Agar konservasi lingkungan berhasil, perlu adanya database kondisi lingkungan sehingga diperoleh cara konservasi yang tepat. Penelitian ini bertujuan untuk mengetahui tingkat kerusakan di dataran tinggi Dieng sebagai database guna upaya konservasi. Penelitian ini menggunakan metode eksplorasi secara langsung di lokasi penelitian melalui pengamatan, pengukuran, pemetaan, dan wawancara dengan petani dan aparat terkait. variabel yang akan diukur adalah tingkat kerusakan fisik lahan, kerusakan biologis lingkungan, dan aspek demografi, ekonomi, sosial dan budaya masyarakat. Hasil penelitian menunjukkan bahwa secara fisik, tingkat kerusakan lahan pertanian semakin parah, sehingga menurunkan produksi kentang di daerah ini. Secara biologis, tingkat keanekaragaman jenis tanaman liar berkisar antara 0,81 – 0,98, dan termasuk kategori rendah. Dari aspek perilaku penduduk dalam upaya konservasi, belum menunjukkan hasil, karena areal tanaman kentang menjadi semakin luas akibat penebangan hutan konservasi. Tingkat kerusakan lingkungan di daataran tinggi Dieng semakin parah, sehingga dapat menurunkan produksi kentang. Saran yang dapat disampaikan adalah perlunya dilakukan upaya pengelolaan dan konservasi kawasan Dataran Tinggi Dieng. Oleh karena kondisi geografisnya, pola usaha pertanian yang dilakukan di Dieng harus diikuti dengan kajian konservasi lahan, perlunya dicari tanaman pengganti kentang yang dapat mencegah terjadinya erosi.
ABSTRACT 
Wild deforestation to expand potato cultivation area in Dieng Plateau has been reducing biodiversity. An assessment by Balai Konservasi Sumber Daya Alam Jawa Tengah in 2001 found less than fifty species vegetation per hectare in the area, which means poor diversity. This research aims to know the level of environmental damage in Dieng Plateau as a database for conservation attempts. The variables to assess will be the level of environmental damages, both physically and biologically, in connection with demographic, economic, societal, and cultural aspects. Physical observation showed that plantation area was seriously damaged, which reduced the potato crops. Whereas from biological observation, it was found that the vegetational diversity index was relatively low (0.81-0.98). From behavioral view, it seemed that the inhabitants have not fully supported the conservation attempts; it can be seen that the potato cultivation area has expanded as deforestation has also spread out. As a result, waters resources have depleted significantly. From the current research, it was concluded that the level of environmental damage in Dieng Plateau was seriously damaged. It was suggested to manage the Dieng Plateau area. Due to unique geographical conditions, plantation design implemented in the area should be followed by conservation review. To prevent erosion, it is important to find substitutes to potatoes

DOI:
https://doi.org/10.22146/jml.18667
---
Article Metrics

Abstract views : 8209 |

views : 5447
Refbacks
There are currently no refbacks.
Copyright (c) 2017 Jurnal Manusia dan Lingkungan
JML Indexed by:

View My Stats