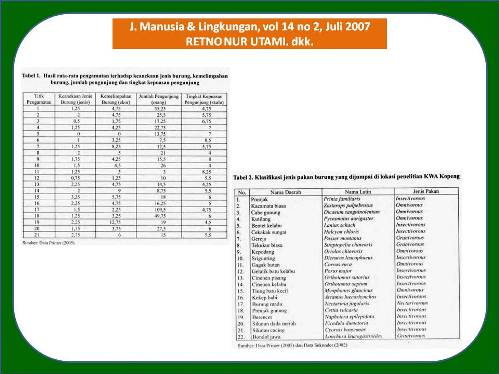 STUDI PENGARUH JUMLAH PENGUNJUNG TERHADAP KEANEKAAN JENIS DAN KEMELIMPAHAN BURUNG DI KAWASAN WISATA ALAM KOPENG (Study on Effect of Visitor Number to The Species Variety and The Abundance of Birds in Kopeng Natural Tourism Area )

https://doi.org/10.22146/jml.18666
Retno Nur Utami
(1*)
, Djuwantoko Djuwantoko
(2)
, Mukhlison Mukhlison
(3)
(1)&nbspJurusan Konservasi Sumberdaya Alam, Fakultas Kehutanan, Universitas Gadjah Mada
(2)&nbspJurusan Konservasi Sumberdaya Alam, Fakultas Kehutanan, Universitas Gadjah Mada
(3)&nbspJurusan Konservasi Sumberdaya Alam, Fakultas Kehutanan, Universitas Gadjah Mada
(*) Corresponding Author
Abstract
ABSTRAK
Penelitian yang dilakukan di Kawasan Wisata Alam (KWA) Kopeng ini bertujuan untuk mengetahui pengaruh jumlah pengunjung terhadap keanekaan jenis dan kemelimpahan burung di KWA Kopeng; mengetahui keanekaan jenis dan kemelimpahan burungterhadap tingkat kepuasan pengunjung; serta untuk memberikan arahan pengelolaan pengunjung berdasarkan hasil penelitian. Pengamatan burung dan pengunjung dilakukan dengan metode point count. Titik pengamatan dipilih secara representatif menggunakan teknik random sampling. Berdasarkan peta kawasan hutan wisata dan pengecekan lapangan dilakukan pembagian lokasi titik pengamatan sebanyak 21 titik. Titik pengamatan berbentuk lingkaran dengan radius 20 m, kemudian titik-titik pengamatan yang telah terpilih dipetakan dan didokumentasikan untuk memudahkan pengamatan pada periode berikutnya. Waktu pengamatan adalah selama dua (kali) hari Minggu. Hari Minggu dipilih atas pertimbangan kemudahan perjumpaan dengan pengunjung. Selain dilakukan pengukuran terhadap variabel-variabel terpilih (dalam rangka memperoleh data primer, juga dilakukan pengumpulan data sekunder yang meliputi data kondisi umum lapangan dan sistem pengelolaan kawasan. Data primer yang terkumpul selanjutnya dianalisis dengan menggunakan model regresi linier sederhana dan korelasi peringkat Spearman, masing-masing untuk mengetahui pengaruh jumlah pengunjung (variable bebas) terhadap keanekaan jenis burung dan jumlah kemelimpahan burung (variabel-variabel bergantung); dan untuk mengetahui korelasi antara variabel keanekaan jenis burung maupun variabel kemelimpahan burung dengan variabel kepuasan pengunjung. Dari hasil penelitian dapat disimpulkan bahwa jumlah pengunjung tidak berpengaruh nyata terhadap keanekaan jenis dan kemelimpahan burung di Kawasan Wisata Alam Kopeng; terdapat korelasi yang negatif antara keanekaan jenis dan kemelimpahan burung dengan tingkat kepuasan pengunjung.
ABSTRACT
The aims of this research were to know the effect of the visitor number to the species variety of birds; the effect of the visitor number to the abundance of birds; and the effects of the species variety and the abundance of birds to the satisfaction level of visitors in Kopeng Natural Tourism Area. Based on the research results, then some recommendations for the natural tourism area management were made. In observing birds and visitors, point count method was used. There were 21 points selected randomly to counting the bird individuals and species numbers. In these points with 25 m-radius each, the counting of respondent number and the searching information of  the level satisfaction of respondent were done, too. The data obtained, furthermore, was analysed by both descriptive and inferensial statistics methods. The inferensial statistics methods which were used consisted of the simple linear regression and the Spearman rank correlation. The research results showed that the visitor number did not influence the species variety as well as the abundance of birds significantly; there was a negative correlation between the species variety of birds and visitor satisfaction level, and so was the abundance of birds and the visitor satisfaction level.

DOI:
https://doi.org/10.22146/jml.18666
---
Article Metrics

Abstract views : 721 |

views : 687
Refbacks
There are currently no refbacks.
Copyright (c) 2017 Jurnal Manusia dan Lingkungan
JML Indexed by:

View My Stats