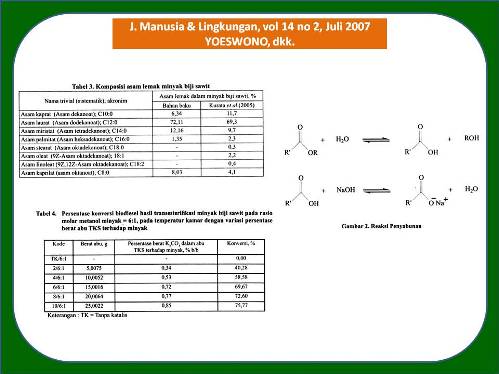 PEMANFAATAN LIMBAH ABU TANDAN KOSONG SAWIT SEBAGAI KATALIS BASA PADA PEMBUATAN BIODIESEL DARI MINYAK SAWIT (Ash Waste from Empty Palm Fruit Bunches as Base Catalyst for Biodiesel Synthesis from Palm Oil )

https://doi.org/10.22146/jml.18663
Yoeswono Yoeswono
(1*)
, Triyono Triyono
(2)
, Iqmal Tahir
(3)
(1)&nbspPusdilat Migas, Jl. Sorogo No. 1, Cep, jawa Tengah, Indonesia
(2)&nbspJurusan Kimia, Fakultas MIPA UGM Yogyakarta 55281
(3)&nbspJurusan Kimia, Fakultas MIPA UGM Yogyakarta 55281
(*) Corresponding Author
Abstract
ABSTRAK
Pemanfaatan limbah abu tandan kosong sawit (TKS) sebagai sumber katalis basa telah dilakukan untuk aplikasi pada proses pembuatan biodiesel dari minyak biji sawit. Kadar logam kalium untuk mengetahui kadar basa dalam abu TKS dianalisis dengan AAS dan kadar ion karbonat diuji dengan uji alkanalis. Komposisi asam lemak dalam bahan minyak biji sawit  dianalisis dengan GC-MS. Abu TKS direndam dalam metanol untuk mendapatkan senyawa kalium metoksida yang selanjutnya digunakan untuk transesterifikasi minyak biji sawit. Rasio persentase berat abu terhadap minyak pada reaksi transesterifikasi tersebut divariasi kemudian persentase konversi biodiesel ditentukan dengan spektrometer 1H NMR. Hasil penelitian menunjukkan bahwa kadar kalium dalam abu TKS = 29,82 % b/b, dan kadar ion karbonat = 19,63 % b/b, sehingga konversi (%) dimungkinkan kalium tersebut dalam bentuk karbonat. Konversi biodiesel meningkat dengan peningkatan persentase berat abu terhadap minyak. Kondisi optimum dicapai pada persentase berat abu terhadap minyak = 6 % b/b dengan diperoleh konversi biodiesel 69,67 %.
ABSTRACT
The use of ash waste from empty palm fruit bunches (EFB) as a source of base catalyst have been done in biodiesel synthesis from palm kernel oil. The potasium metal content was analyzed using AAS and carbonate ions content was measured by alkalinity test. The fatty acids composition of palm kernel oil were analyzed by GC-MS. The ash was immersed in the methanol to form potassium methoxide, and then used in transesterification of palm kernel oil. Weigth of ratio of ash to oil was varied and then the biodiesel conversion was determined by 1H NMR spectrometer. The results showed that potassium content in the ash was 29.82 wt %, and the carbonate ion content was 19.63 wt %, the potassium might be in carbonate form. The biodiesel conversion increased with increase of weight ratio of ash to oil. The optimum condition was reached at weight ratio of ash to oil = 6 wt % with biodiesel conversion 69.67 %.

DOI:
https://doi.org/10.22146/jml.18663
---
Article Metrics

Abstract views : 1030 |

views : 1571
Refbacks
There are currently no refbacks.
Copyright (c) 2017 Jurnal Manusia dan Lingkungan
JML Indexed by:

View My Stats