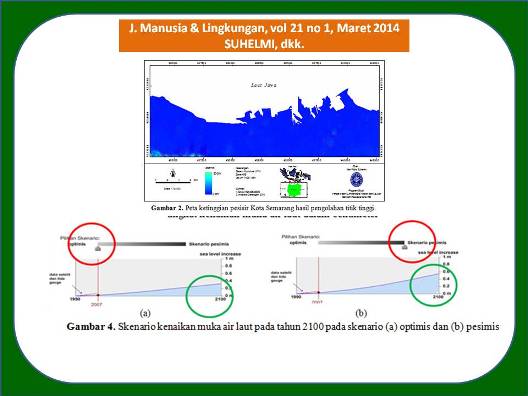 MODEL SPASIAL DINAMIK GENANGAN AKIBAT KENAIKAN MUKA AIR LAUT DI PESISIR SEMARANG (Spatial Dynamic Model of Inundated area due to Sea Level rise at Semarang coastal Area)

https://doi.org/10.22146/jml.18506
Ifan R Suhelmi
(1*)
, Hari Prihatno
(2)
(1)&nbspPusat Penelitian dan Pengembangan Sumberdaya Laut dan Pesisir Badan Penelitian dan Pengembangan Kelautan dan Perikanan - KKP Jl Pasir Putih 1 Ancol Timur Jakarta
(2)&nbspPusat Penelitian dan Pengembangan Sumberdaya Laut dan Pesisir Badan Penelitian dan Pengembangan Kelautan dan Perikanan - KKP Jl Pasir Putih 1 Ancol Timur Jakarta
(*) Corresponding Author
Abstract
ABSTRAK
Kota Semarang merupakan kota pesisir di Provinsi Jawa Tengah yang memiliki topografi datar pada wilayah laut yang biasa disebut dengan kota bawah dan bergunung pada bagian atasnya yang biasa disebut dengan kota atas. Kota bawah memiliki kerentanan yang tinggi terhadap genangan akibat kenaikan muka air laut, hal ini disebabkan olehkondisi topografi yang datar. Penelitian ini dilakukan untuk memberikan gambaran secara dinamik distribusi genangan akibat berbagai skenario kenaikan muka air laut. Model spasial dinamik menggunakan Flash yang berfungsi memberikan gambaran secara interaktif dan real time pada berbagai skenario kenaikan muka air laut. Skenario kenaikan muka air laut menggunakan skenario IPCC hingga tahun 2100. Hasil studi menunjukkan bahwa terjadi kenaikan jumlah genangan dari 599,4 ha pada tahun 2020 menjadi 4.235,4 ha pada tahun 2100.
ABSTRACT
Semarang is one of coastal city located at Central Java Province. It has flatten topography at coastal area called "downside town" and hilly topography at upper area called "topside town".  Ownside town was highly vulnerable to sea level rise caused by it's topographic condition and the land subsidence phenomena. This research conducted to mapeed the inundated area due to sea level rise at many scenarios of sea level rise. The dynamic spatialmodel of sea level rise represented using flash techmology to showed distributed area inundated by sea level rise. The scenario of sea level rise by IPCC prediction was used at this study. The stuty showed that the inundated area increased from 599.4 ha at year 2020 to 4,235.4 ha at 2100.
Keywords
kenaikan muka air laut; penurunan tanah; model spasial dinamik; sea level rise; land subsidence; model spatial dynamic
References
Diposaptono, S., 2002. Pengaruh Pemanasan Global terhadap Pesisir dan Pulau-Pulau Kecil di Indonesia.Direktorat Bina Pesisir Direktorat Jenderal Pesisir dan Pulau-Pulau Kecil DKP, Jakarta. ERDAS, 2008. ER Mapper User's Guide, Norcross USA. http://www.geospatial.intergraph.com [IPCC] Intergovernmental Panel on Climate Change, 2007. Climate Change 2007: The Physical Science Basis Summary for Policy Makers. Contribution of Working Group I to the Fourth Assessment Report of the Intergovenrmental Panel on Climate Change. Paris: IPCC February 2007. http://www.aaas.org/news/press_room/climate_change/media/4th_spm2feb07.pdf [2 Juli 2009]. [Kimprawil] Dinas Permukiman dan Prasarana Wilayah, 2002. Antisipasi Dampak Pemansan Global melalui Penataan Ruang. ProsidingSeminarSosialisasi RTRWN dalam rangka Roadshow dengan Departemen Kelautan dan Perikanan. Jakarta. Kumar, C.S, Murugan, P.A., Krishnamurthy, R.R., Batvari, P.D., Ramanamurthy, M.V., Usha, T.,dan Pari, Y., 2008. Inundation Mapping, A Study based on December 2004 Tsunami Hazard Along Chennai Coast, Southeast India. Nat. Hazards Earth Syst Sci., 8:617–626. Marfai, M.A., 2004. Tidal Flood Hazards Assessment: Modelling in Raster GIS, Case in Western Part of Semarang Coastal Area. Indo. J. Geography. 36(1):25-28. Setiyono, H., Sukmaningrum, S., Haryo, D., dan Tri, W.W., 1994. Isu Kenaikan Muka Air Laut Global pada Pesisir Pulau Jawa. Studi Kasus di Tiga Kota Besar (Jakarta, Semarang, Surabaya). Pusat Studi Lingkungan Hidup. Lembaga Penelitian UNDIP, Semarang. Sutanta, H dan Hobma, T.W., 2002. Preliminary Assessment of The Impact of Land Subsidence and Sea Level Rise in Semarang, Central Java, Indonesia. Proceeding PORSEC. Bali Titus, J.G., Park, R.A., Leatherman, S.P., Weggel, J.R., Greene, M.S., Mausel, P.W., Brown, S., dan Gaunt, C., 1991. Greenhouse Effect and Sea Level Rise: The Cost of Holding Back the Sea. Coast Manage., 19:171-204. Wibowo DA. 2006. Analisis Spasial Daerah Rawan Genangan Akibat Kenaikan Pasang Surut (Rob) di Kota Semarang. Skripsi Sarjana Jurusan Ilmu Kelautan Fakultas Perikanan dan Ilmu Kelautan, Universitas Diponegoro, Semarang.

DOI:
https://doi.org/10.22146/jml.18506
---
Article Metrics

Abstract views : 2825 |

views : 2239
Refbacks
There are currently no refbacks.
Copyright (c) 2017 Jurnal Manusia dan Lingkungan
JML Indexed by:

View My Stats