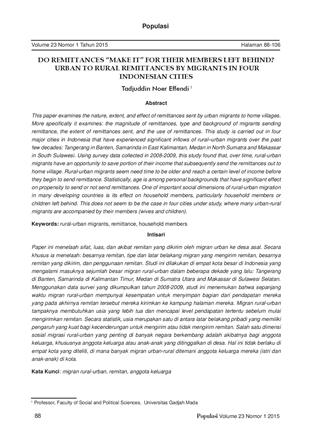 DO REMITTANCES "MAKE IT" FOR THEIR MEMBERS LEFT BEHIND? URBAN TO RURAL REMITTANCES BY MIGRANTS IN FOUR INDONESIAN CITIES

https://doi.org/10.22146/jp.8573
Tadjuddin Noer Effendi
(1*)
(1)&nbspProfessor, Faculty of Social and Political Sciences, Universitas Gadjah Mada
(*) Corresponding Author
Abstract
This paper examines the nature, extent, and effect of remittances sent by urban migrants to home villages. More specifi cally it examines: the magnitude of remittances, type and background of migrants sending remittance, the extent of remittances sent, and the use of remittances. This study is carried out in four major cities in Indonesia that have experienced signifi cant infl ows of rural–urban migrants over the past few decades: Tangerang in Banten, Samarinda in East Kalimantan, Medan in North Sumatra and Makassar in South Sulawesi. Using survey data collected in 2008-2009, this study found that, over time, rural-urban migrants have an opportunity to save portion of their income that subsequently send the remittances out to home village. Rural-urban migrants seem need time to be older and reach a certain level of income before they begin to send remittance. Statistically, age is among personal backgrounds that have signifi cant effect on propensity to send or not send remittances. One of important social dimensions of rural-urban migration in many developing countries is its effect on household members, particularly household members or children left behind. This does not seem to be the case in four cities under study, where many urban-rural migrants are accompanied by their members (wives and children).
Keywords
migrants, remittance, rural remittance
References
Budy P. Resosudarmo, Chikako Yamauchi and Tadjuddin Noer Effendi. Forthcoming, June 2010. "Rural-Urban Migration: Survey Design and Implementation", in Xin Meng (eds), Great Migration in China and
Indonesia, Edward Elgar Publishing.
de Haas, Hein. 2007. Remittances, Migration and Development: A Conceptual Review of The Literature. Geneva, United Nations Research Institute for Social Development.
Effendi, Tadjuddin Noer, et al. Forthcoming, June 2010. "Migrant and Non-Migrant Households In Four Indonesian Cities: Some Demographic, Social, Employment Charecteristics and an Assessment of Household Welfare", in Xin Meng (eds), Great Migration in China and Indonesia, Edward Elgar Publishing.
Forest Watch Indonesia. 2001. Potret Keadaan Hutan Indonesia (A Portrait of Forestry in Indonesia). Forest Watch Indonesia and Global Forest Watch, Bogor.
Hadiz, Vedi. R. 2009. "Krisis Ekonomi Dunia dan Indonesia" (Global Economic Crisis and Indonesia), Prisma, 1 (28), Juni, p. 3-14.
Hall, L. Anthony. 2007. "Moving Away from Poverty: Migrants Remittances, Livelihoods, and Development", in Deepa Narayan (eds), Moving out of Poverty: Cross-Disciplinary Perspectives on Mobility. New York, Palgrave Macmillan, p.307-332.
Hugo, Graeme. 1978. Population Mobility in West Java. Yogyakarta: Gadjah Mada Univeristy Press.
Human Development Report. 2009. Overcoming Barriers: Human Mobility and Development. New York: United Nations Development Programme.
Central Bureau of Statistics. 2000. The Population of Indonesia: Results of the 2000 Census. Series S2, Jakarta.
Warouw, N. 2006. "Community-Based Agencies as the Entrepreneur's
Instruments of Control in Post-Soeharto's Indonesia," Asia Pacific Business Review, 12(2): 193–207.
World Bank. 2009a. Migration and Remittances Factbook 2008. March Update 2009. Washington DC.
World Bank. 2009b. Migration and Remittances Trends 2009-2011. Washington DC.

DOI:
https://doi.org/10.22146/jp.8573
---
Article Metrics

Abstract views : 949 |

views : 1285
Refbacks
There are currently no refbacks.
Copyright (c) 2015 Jurnal Populasi
---
Copyright of
Jurnal Populasi
ISSN
0853-6202 (PRINT)
, ISSN:
2476-941X (ONLINE)
.

This work is licensed under a Creative Commons Attribution-ShareAlike 4.0 International License.
Populasi Indexed by:
View My Stats