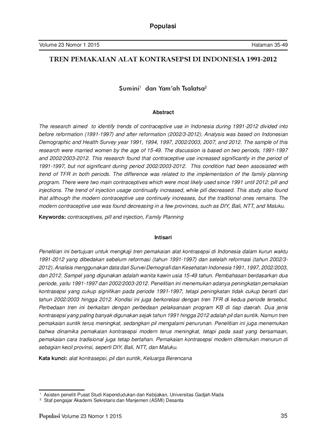 TREN PEMAKAIAN ALAT KONTRASEPSI DI INDONESIA 1991-2012

https://doi.org/10.22146/jp.8562
Sumini Sumini
(1*)
, Yam'ah Tsalatsa Abritaningrum
(2)
(1)&nbspPusat Studi Kependudukan dan Kebijakan Universitas Gadjah Mada
(2)&nbspStaf pengajar Akademi Sekretaris dan Manajemen (ASMI) Desanta.
(*) Corresponding Author
Abstract
Penelitian ini bertujuan untuk mengkaji tren pemakaian alat kontrasepsi di Indonesia dalam kurun waktu 1991-2012 yang dibedakan sebelum reformasi (tahun 1991-1997) dan setelah reformasi (tahun 2002/3-2012). Analisis menggunakan data dari Survei Demografi dan Kesehatan Indonesia 1991, 1997, 2002/2003, dan 2012. Sampel yang digunakan adalah wanita kawin usia 15-49 tahun. Pembahasan berdasarkan dua periode, yaitu 1991-1997 dan 2002/2003-2012. Penelitian ini menemukan adanya peningkatan pemakaian kontrasepsi yang cukup signifi kan pada periode 1991-1997, tetapi peningkatan tidak cukup berarti dari tahun 2002/2003 hingga 2012. Kondisi ini juga berkorelasi dengan tren TFR di kedua periode tersebut. Perbedaan tren ini berkaitan dengan perbedaan pelaksanaan program KB di tiap daerah. Dua jenis kontrasepsi yang paling banyak digunakan sejak tahun 1991 hingga 2012 adalah pil dan suntik. Namun tren pemakaian suntik terus meningkat, sedangkan pil mengalami penurunan. Penelitian ini juga menemukan bahwa dinamika pemakaian kontrasepsi modern terus meningkat, tetapi pada saat yang bersamaan, pemakaian cara tradisional juga tetap bertahan. Pemakaian kontrasepsi modern ditemukan menurun di sebagian kecil provinsi, seperti DIY, Bali, NTT, dan Maluku.
Keywords
reproduksi, family-planning, keluarga berencana, tren pemakaian alat kontrasepsi, alat kontrasepsi
References
Adlakha, Arjun. 1997. International Brief Population Trends in India. US: Dept. of Commerce, Economics & Statistics Administration. Ananta, et.al. 1993. "Fertility Determinants in Indonesia: A Sequential Analysis of The Proximate Determinants". Demographic Series, No.9 June. Jakarta, Demographic Institute. Ayad, Mohamed dan Rathavuth Hong. 2009. Levels & Trend of Contraceptive Prevalence & Estimate of Unmet Need for Family Planning in Rwanda: Further Analysis of the Rwanda Demographic & Health Surveys 200-2007. Maryland, Macro. BKKBN. 2007. Tiga Tahun Pelaksanaan KB Era Desentralisasi & Arah Kebijakan Program KB Nasional. Jakarta, BKKBN. BPS & Macro Int. 1993. Survei Demografi & Kesehatan Indonesia 1991. Jakarta, BPS & Macro Int. -----. 1996. Survei Demografi & Kesehatan Indonesia 1994. Jakarta, BPS & Macro Int. -----. 1998. Survei Demografi & Kesehatan Indonesia 1997. Jakarta, BPS & Macro Int. -----. 2003. Survei Demografi & Kesehatan Indonesia 2003. Jakarta, BPS & Macro Int. -----. 2008. Survei Demografi & Kesehatan Indonesia 2007. Jakarta, BPS & Macro Int. Bongaarts, Jhon C. 2001. "Global Fertility Transition". Population and Development Review. -----, dan Potter. 1983. Fertility, Biology and Behaviour: an Analysis of the Proximate Determinants. New York, Academic Press. ------. 1978. "A Framework for Analyzing the Proximate Determinants on Fertility". Population and development Review 4 (1) Pp 105-132. Fernandez, Michael. 1993. "Tingkat Ketidakberlangsungan Pemakaian Kontrasepsi". Ext ended IDHS Vol II: Fertility and Family Planning, BKKBN & Population East-West Center, USA. Hatcher, R.A., et, al. 1997. The Esentials of Contraceptive Technology. Baltimore, John Hapkins University School of Public Health, Population information Program. Hartanto, H. 1994. Keluarga Berencana & Kontrasepsi. Jakarta: Sinar Harapan. Hull, V. 1976. The Positive Relation between economic class & family size in Java. Lembaga Kependudukan UGM. Kimani, Murungaru. 2000. Trends in Contraceptive Use in Kenya, 1989-1998: The Role of Socio Economi, Cultural and Family Planning Factors. Kenya: Population Studies and Research Institute. Magadi and Curtis. 2003. "Trends and Determinants of Contraceptive Method Choice in Kenya". Studies in Family Planning. 22 (6). Pp. 49-59 Mantra, Ida Bagoes. 2000. Demografi Umum. Yogyakarta, Pustaka Pelajar. Mishra, Vinod; Jayaraman, A.; & Arnold, F. 2009. "The Relationship of Family Size & Composition to Fertility Desires, Contraceptive Adoption & Method Choice in South Asia". International. Perspective on Sexual & Reproductive Health. Vol. 35 (1), p. 29-38. Piccinino, Linda J. and Mosher, William D. 1998. "Trends in Contraceptive Use in the US 1982-1995". Family Planning Perspectives. Vol. 30, No 1, January/February. p. 4-10. Singarimbun, Masri. 1987. "Hubungan Keluarga Berencana dan Fertilitas". (Makalah). Lokakarya Pendidikan Kependudukan & Lingkungan Hidup, Yogyakarta, 16 Februari-7 Maret. -----. 1994. Keluarga Berencana di Sriharjo. Yogyakarta, Pusat Penelitian Kependudukan UGM. United Nations. 1993."Educational & Fertility", in Fertility Behaviour in The Context of Development: Evidence From The World Fertility Survey. Population Studies No 100, Pp.214-247. New York, United Nations. -----. 1996a. World Population Prospects. New York, United Nations. -----. 1996b. Levels & Trends of Contraceptive Use as Assessed in 1994. NY, United Nations -----. 2006. Levels and Trends of Contraceptive Use as Assessed in 2002. NY, United Nations. Widyaningrum, Ambar. 1999. Kualitas Pelayanan Keluarga Berencana dalam Perspektif Klien. PSKK UGM dan Ford Foundation. Yogyakarta Winarni dan Waloejo. 1993. Faktor-faktor yang Memengaruhi Pemakaian alat Kontrasepsi, Extended IDHS Vol II : Fertility and Family Planning, BKKBN dan Program on Population East-West Center, USA. www.bkkbn.papua.go.id.Rencana Pembangunan Jangka Menengah Nasional 2004- 2009

DOI:
https://doi.org/10.22146/jp.8562
---
Article Metrics

Abstract views : 4897 |

views : 5894
Refbacks
There are currently no refbacks.
Copyright (c) 2015 Jurnal Populasi
---
Copyright of
Jurnal Populasi
ISSN
0853-6202 (PRINT)
, ISSN:
2476-941X (ONLINE)
.

This work is licensed under a Creative Commons Attribution-ShareAlike 4.0 International License.
Populasi Indexed by:
View My Stats