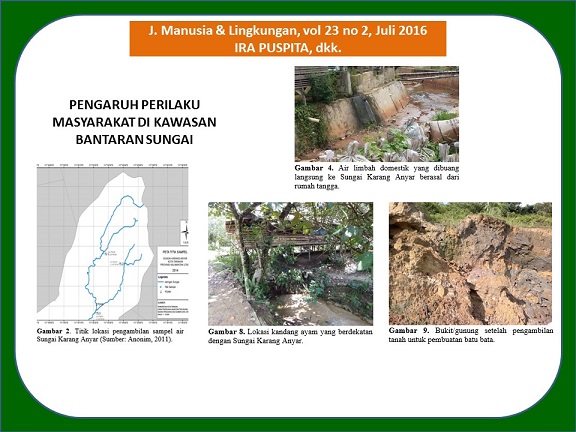 PENGARUH PERILAKU MASYARAKAT YANG BERMUKIM DI KAWASAN BANTARAN SUNGAI TERHADAP PENURUNAN KUALITAS AIR SUNGAI KARANG ANYAR KOTA TARAKAN (Influence of The Behavior of Citizens Residing in Riverbanks to The Decrease of Water Quality in The River of Karang)

https://doi.org/10.22146/jml.18797
Ira Puspita
(1*)
, Linda Ibrahim
(2)
, Djoko Hartono
(3)
(1)&nbspProgram Magister Ilmu Lingkungan, Program Pascasarjana, Universitas Indonesia Jl Salemba Raya No.4, Jakarta 10430.
(2)&nbspFakultas Ilmu Sosial dan Ilmu Politik, Universitas Indonesia, Jl Prof Dr. Selo Soemardjan Depok 16424.
(3)&nbspFakultas Teknik, Universitas Indonesia, Jl Prof Dr. Selo Soemardjan Depok 16424.
(*) Corresponding Author
Abstract
ABSTRAK
Data Status Lingkungan Hidup Daerah Kota Tarakan menyatakan bahwa kualitas air Sungai Karang Anyar Kota Tarakan yaitu parameter COD, amoniak dan TSS tahun 2010-2013 melebihi baku mutu. Penurunan kualitas air tersebut disebabkan oleh perilaku masyarakat yang bermukim di kawasan bantaran sungai. Pendekatan penelitian kualitatif dengan menggunakan gabungan metode kualitatif dan kuantitatif. Metode kuantitatif antara lain digunakan untuk teknik pengumpulan data melalui kuesioner dan menghitung status mutu air Sungai Karang Anyar menggunakan metode Indeks Pencemaran. Metode kualitatif antara lain digunakan untuk observasi, wawancara mendalam kepada swasta dan tokoh masyarakat. Hasil penelitian yaitu perilaku masyarakat yang membuang air limbah domestik langsung ke sungai mempengaruhi parameter COD melebihi baku mutu karena air limbah yang dibuang terdapat busa sabun berasal dari buangan air cucian. Air limbah domestik yang dibuang langsung ke sungai berasal dari sisa memasak sehingga diduga menyebabkan amoniak juga melebihi baku mutu. Perilaku masyarakat yang tidak mengolah kotoran ayam dapat mempengaruhi parameter amoniak melebihi baku mutu karena kotoran ayam membusuk dan mengalir ke sungai. Perilaku masyarakat yang mengambil tanah dari bukit/gunung tidak mempengaruhi parameter TSS karena dipengaruhi mengambil tanah dari bukit/gunung dilakukan pada curah hujan menurun/kemarau. Perilaku masyarakat yang menambang pasir di sungai mempengaruhi parameter amoniak melebihi baku mutu karena air limbah domestik yang organik dan kotoran ayam membusuk yang telah tertimbun lama di dasar sungai akan terangkat. Perilaku masyarakat yang menambang pasir di sungai tidak mempengaruhi parameter TSS karena kegiatan menambang pasir tidak dilakukan setiap hari dan bergantung pada curah hujan. Sebagai kesimpulan adalah tidak semua perilaku masyarakat yang bermukim dan berkegiatan di kawasan bantaran sungai mengakibatkan penurunan kualitas air sungai.
ABSTRACT
The data of environmental status of Tarakan City states that water quality of Karang Anyar's river for COD, ammonia and TSS paremeters from year 2010-2013 are above the government regulation for quality standard. The decreasing of Karang Anyar's river water quality are influenced by the behavior of regional society along the riverbanks. Research methods used in this research is the combination between quantitative and qualitative methods. The result of this research are the disposal of domestic waste water directly into the river suspected in affecting the parameters COD and ammonia exceeded the quality standard because waste water contains foam of soap sources from waste water of wash. The disposal of domestic waste water from cooking residue in affecting ammonia parameters exceeded the quality standard. The behavior of livestock chicken was suspected affecting ammonia parameter in exceeding the quality standard because of chicken's feces have been decomposed. Mining soil behavior from hills or mountains suspected not affecting TSS parameter because of climate influenced. The behaviour of sand river's mining suspected affecting ammonia parameter and exceeding the quality standard but did not affect TSS parameter because the activities were not daily and the miners depending on rain level and sand volume. The conclusion of this research are the not all behavior of regional society along the riverbanks affect the decreasing of Karang Anyar's river water quality.
Keywords
bantaran sungai; kualitas air sungai; limbah cair; limbah domestik; parameter dan perilaku masyarakat; riverbanks; river water quality; waste water; domestic waste; parameter and behavior
References
Ali, A., Soemarno, dan Purnomo, M., 2013. Kajian Kualitas Air dan Status Mutu Air Sungai Metro di Kecamatan Sukun Kota Malang. Jurnal Bumi Lestari, 13(2):265-274.
Anonim, 2003. Keputusan Menteri Negara Lingkungan Hidup Nomor 115 Tahun 2003 tentang Pedoman Penentuan Status Air. Jakarta.
Anonim, 2011. Survey Inventarisasi Drainase (SID) penanganan banjir Sungai Karang Anyar Kota Tarakan. Laporan. Dinas Pekerjaan Umum dan Tata Ruang Kota Tarakan.
Asdak, C., 2002. Hidrologi dan Pengelolaan Daerah Aliran Sungai. Gadjah Mada University Press. Yogyakarta.
Avramidis, P., Nikolaou, K., dan Bekiari, V., 2015. Total Organic Carbon and Total Nitrogen In Sedimen And Soils: A Comparison Of The Wet Oxidation-Titration Metheod With The Combustion-Infrared Method. Agriculture and Agricultural Science Procedia, 4:425-430.
Barry, J., 2007. Environment and Social Theory. Routledge. London.
Bell, P.A., Greene, T.C., Fisher, J.D., dan Baum, A., 2001. Environmental Psychology, fifth edition. Wadsworth Thomson, California.
Ceretta, C.A., Girotto, E., Lourenzi, C.R., Trentin, G., Viera, R.C.B., dan Brunetto, G., 2010. Nutrient Transfer by Runfoff Under No Tillage in A Soil Treated with Successive Application of Pig Slurry. Agriculture, Ecosystems And Environment, 139:689-699.
DuBowy, P.J., 2013. Mississipi River Ecohydrology: Past, Present and Future. Ecohydrology and Ecohydrology, 13:73-83.
Dumairy, 1992. Ekonomika Sumber Daya Air. BPFE. Yogyakarta.
Effendi, H., Romanto dan Warditno, Y., 2015. Water Quality Status of Ciambulawung River, Banten Province Based on Pollution and NSF-WQI. Procedia Environmental Sciences, 24:228-237.
Flecher, T.D., Andrieu, H., dan Hamel, P., 2013. Understanding Management and Modelling of Urban Hydrology and Its Consequences for Receiving Water: A State of The Art. Advance in Water Resources, 51:261-279.
Goransson, G., Norman, J., Larson, M., Alen, C., Lars-Rosen, L., 2015. Jurnal Science of the Total Environment,472:481-495.
Heimstra, N.W., dan McFarling, L., 1974. Environmental Psychology. Wadsworth. California.
Hendrawan, D., 2005. Kualitas Air Sungai dan Situ di DKI Jakarta. Makara-Teknologi, 9(1):13-19.
Khaperskaya, A., 2015. Environmental Payment and Their Role in Environmental Management. Procedia-sosial and Behavioral Sciences, 166:222-226.
Latif, S.A., Omar, M.S., Bidin, Y.H., dan Awang, Z., 2012. Environmental Value as a Predictor of Recycling Behavior in Urban Area: A Comparative Study. Procedia-Social and Behavioral Sciences, 50:989-996.
Laurens, J.M., 2012. Changing Behavior and Environment in a Community-Based Program of the Riverside Community. Procedia-Social and Behavioral Sciences, 36:372-382.
Manik, K.E.S., 2009. Pengelolaan Lingkungan Hidup. Djambatan. Jakarta.
Marganingrum, D., 2013. Penilaian Mutu Air Sungai dengan Pendekatan Perbedaan Hasil dari 2 Metode Indeks. Buletin Geologi Tata Lingkungan, 23(3):105-114.
Miller, Jr. G. T., 1982. Living in The Environment. Wadsworth Publishing Company. California.
Mustofa, H.A., 2000. Kamus Lingkungan. PT. Rineka Cipta. Jakarta.
Nurudin, F.A., Kariada, N., dan Irsadi, A., 2013. Keanekaragaman Jenis Ikan di Sungai Sekonyer Taman Nasional Tanjung Puting Kalimantan Tengah. Unnes J. Life Sci., 2(2):118-125.
Peilin W., dan Minghong T., 2012. Challenges for Sustainable Urbanization: A Casestudy of Water Shortage and Water Environment Change in Shandong, China. Procedia Environmental Sciences, 13:919-927.
Purwanto, H., Pribadi, T.A., dan Martuti, N.K.T., 2014. Struktur Komunitas dan Distribusi Ikan di Perairan Sungai Juwana Pati. Unnes J. Life Sci., 3(1):59-67.
Restrepo, J.D., dan Kettner, A., 2012. Human Induced Discharge Diversion in A Tropical Delta and Its Environmental Implication: The Patia River, Colombia. Journal of Hydrology. 424-425:124-142.
Saimy, I.S., dan Yusof, N.A.M., 2013. The Need for Better Water Policy and Governance in Malaysia. Procedis-Social and Behavioral Science, 81:371-375.
Sastrawijaya, A.T., 1991. Pencemaran Lingkungan. PT. Rineka Cipta. Jakarta.
Suripin., 2002. Pelestarian Sumber Daya Tanah dan Air. Andi Offset. Yogyakarta.
Susilo, R.K.D., 2012. Sosiologi Lingkungan. PT. Rajagrafindo Persada. Jakarta.
Wang F., dan Reisner, A., 2011. Factor Influencing Private and Public Environmental Protection Behaviors: Results From A Survey of Residents in Shanxi, China. Journal of Environmental Management, 92:429-436.
Yongliang S., Rusong W., Lingyun F., Jingsheng L., dan Dongfeng Y., 2010. Analysis on Land Use Change and its Demographic Factor in The Originan Stream Watershed of Tarim River Based on GIS And Statistic. Procedis Environmental Sciences, 2:175-184.
Zhang, Z.M., Wang, X.Y., Zhang, Y., Nan, Z., dan Shen, B.G., 2012. The Over Polluted Water Quality Assessment of Weihi River Based on Kernel Density Estimation. Procedia Environmental Science, 13:1271-1282.

DOI:
https://doi.org/10.22146/jml.18797
---
Article Metrics

Abstract views : 5635 |

views : 78711
Refbacks
There are currently no refbacks.
Copyright (c) 2017 Jurnal Manusia dan Lingkungan
JML Indexed by:

View My Stats