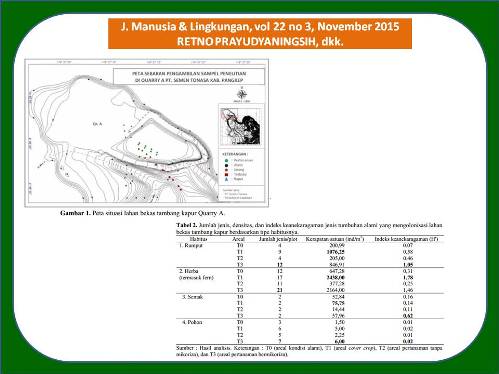 DAMPAK FASILITATIF TUMBUHAN LEGUM PENUTUP TANAH DAN TANAMAN BERMIKORIZA PADA SUKSESI PRIMER DI LAHAN BEKAS TAMBANG KAPUR (Facilitative Impacts of Legume Cover-crop and Mycorrhizal-inoculated Plant on Primary Succession of Limestone Quarries)

https://doi.org/10.22146/jml.18756
Retno Prayudyaningsih
(1*)
, Eny Faridah
(2)
, Sumardi Sumardi
(3)
, Bambang Hendro Sunarminto
(4)
(1)&nbspBalai Penelitian Kehutanan Makassar, Jl. Perintis Kemerdekaan Km.16,5, Makassar, 90242.
(2)&nbspFakultas Kehutanan Universitas Gadjah Mada, Bulaksumur, Yogyakarta, 55281.
(3)&nbspFakultas Kehutanan Universitas Gadjah Mada, Bulaksumur, Yogyakarta, 55281.
(4)&nbspFakultas Pertanian Universitas Gadjah Mada, Jl. Flora 1 Bulaksumur, Yogyakarta, 55281.
(*) Corresponding Author
Abstract
ABSTRAK
Penambangan batu kapur dengan metode penambangan terbuka yang meliputi penghilangan vegetasi, pengeboran dan pengebomanan untuk mengeksplotiasi material batu kapur mengakibatkan kerusakan ekosistem. Pemulihan secara alami pada lahan tersebut berjalan lambat karena kondisi tapak dalam proses suksesi tidak mendukung perkembangan vegetasi alaminya. Pembentukan pertanaman diduga memfasilitasi kehadiran tanaman lain melalui perbaikan karateristik lingkungan yang rusak dan/atau peningkatan ketersediaan sumber hara. Dampak fasilitatif pembentukan pertanaman tumbuhan legum penutup tanah (Centrosema pubescens) dan tanaman bermikoriza (Vitex cofassus) dipelajari pada suksesi primer di lahan bekas tambang kapur TNS. Kehadiran tumbuhan alami diukur menggunakan kerapatan individu, keanekaragaman dan jumlah jenis melalui sampling vegetasi dengan metode plot kuadrat secara sistematis berdasarkan tingkat habitusnya. Kondisi tapak diukur berdasarkan ketebalan dan biomasa seresah, kadar bahan organik tanah dan kadar karbon organik tanah. Penelitian dilakukan pada 4 tipe areal di lahan bekas tambang kapur yaitu areal terbuka/kondisi alami tanpa pertanaman, areal pertanaman legum penutup tanah, areal pertanaman tanpa mikoriza dan areal pertanaman bermikoriza. Hasil penelitian menunjukkan pertanaman legum penutup tanah dan pertanaman bermikoriza memperbaiki kondisi tapak lahan bekas tambang kapur. Pembentukan tanaman legum penutup menghasilkan banyak seresahdengan ketebalan 1,08 cm dan biomassa 188,96 g/m2dan dekomposisi selanjutnya meningkatkan bahan organik tanah sebesar 3,80% dan kandungan karbonorganik sebesar 2,20%. Pembentukan pertanaman juga memberikan dampak yang sama, khususnya yang diinokulasi FungiMikoriza Arbuskula (FMA) menghasilkan seresah dengan ketebalan 1,32 cm dan biomassa 220,48 g/m2, dengan kadar bahan organik tanah sebesar 3,66% dan karbon organik tanah sebesar 2,03%. Perbaikan kondisi tapak tersebut mempercepat kehadiran tumbuhan alami melalui peningkatkan kerapatan individu dan keanekaragaman jenis pada semua tingkatan habitus, meskipun untuk tingkat herba dan semak, kerapatan individu dan keanekaragaman jenis terendah pada areal pertanaman tanpa mikoriza.
ABSTRACT
Limestone mining using open pit mining method that involves vegetation removal and soil drilling and blasting in accessing limestone material has caused ecosystem damages. Natural recovery of such a harsh site is a slow process as the site condition in the successional process do not favor the natural vegetation development. Plants Establishment could facilitate other plants by ameliorating harsh environmental characteristics and/or increasing the availability of nutrient resources. Facilitation impact of legume cover crop (Centrosema pubescens) and mycorrhizal-inoculated plantation (Vitex cofassus) was studied on primary succession of TNS limestone mining quarry. The emergence of natural plants is measured using individual density, diversity and number of species by quadrat systematic plot method base on their habitus. Site conditions measured by litterfall thickness and biomass, soil organic matter content and soil organic carbon levels. The study was conducted in four types of areas on limestone postmining lands are open areas/natural conditions without planting, legume cover crop area, non mycorrhizal-inoculated plant area and mycorrhizal-inoculated plant area. The results indicated, establishment of legume cover crops and mycorrhizal-inoculated plants improved site conditions of limestone quarry. Legume cover crops establishment produced a large amount of litters with 1.08 cm of a thickness and 188.96 g/m2 of biomass, and it's subsequent decomposition increased soil organic matter of 3.80% and the organic carbon content of 2.20%. Plantation formation gave similar impact as well, particulary those inoculated with Arbuscula Mycorrhizae Fungi (AMF) produced amount of litters with 1.32 cm of a thickness and 220.48 g/m2 of biomass, with 3.66% of soil organic matter content and 2.03% of soil organic carbon. Improvement of site conditions have accelerated the emergence of a natural plant and resulted in individual density and species diversity on all habitus type, although the least herbs and shrubs were found in area of non mycorrhizal-inoculated plantation.
Keywords
bahan organik tanah; dampak fasilitatif; keanekaragaman jenis; mikoriza; suksesi alam; facilitative impact; mycorrhiza; primary succession; species diversity; soil organic matter
References
Andreetta, A., Macci, C., Giansoldati, V., Masciandaro, G., dan Carnicelli, S., 2013. Microbial Activity and Organic Matter in Mediterranean Humus Form. Geoderma, 209–210:198–208.
Busby, R.R., Gebhart, D.L., Stromberger, M.E., Meiman, P.J., dan Paschke, M.W., 2011. Early Seral Plant Species Interactions with an Arbuscular Mycorrhizal Fungi Community are Highly Variable. Applied Soil Ecology; 48:257–262.
Buscot, F., 2015. Implication of Evolution and Diversity in Arbuscular and Ectomycorrhizal Symbioses. Journal of Plant Physiology, 172:55–61.
Cohen-Fernandez, A.C., dan Naeth, M.A., 2013. Increasing Woody Species Diversity for Sustainable Limestone Quarry Reclamation in Canada. Sustainability, (5):1340-1355.
Ding G., Liu, X., Hebert, S., Novak, J., Amarasiringwardena, D., dan Xing, B., 2006. Effect Cover Crop Management on Soil Organic Matter. Geoderma, 130:229–239.
Goel D., 2014. Facilitative Effects of Coriaria nepalensis on Tree Seedling at Degraded and Eroded Sites. International Journal of Advanced Research, 2(6):295–299.
Gosling P., 2005. Facilitation of Urtica doica Colonization by Lupinus arboreus on A Nutrient-Poor Mining Spoil. Plant Ecology, 178(2):141–148.
Hazarika, P., Talukdar, N.C., dan Singh, Y.P., 2006. Natrual Colonization of Plant Species on Coal Mine Spoils at Tikak Colliery, Assam. Tropical Ecology, 47(1):37–46.
Krebs, C.J., 1972. Ecology: The Experimental Analysis of Distribution Abudance, Harper International Edition, Singapore, pp 506-507.
Lawrence, W. dan Roger, del M., 2008. Lessons from Primary Succession for Restoration of Severely Damaged Habitats. Applied Vegetation Science, 12:55–67.
Miller, T.E., 1994. Direct and Indirect Species Interaction in An Early Old-field Plant Community. The American Naturalist, 143(6):1007–1025.
Mueller-Dombois, D., dan Ellenberg, H., 1974. Aims and Methods of Vegetation Ecology, John Wiley & Sons, Inc. Toronto. pp 81, 113-119.
Nadporozhskaya, M.A., Mohrenb, G.M.J., Chertov, O.G., Komarov, A.S., dan Mikhailov, A.V., 2006. Dynamics of Soil Organic Matter in Primary and Secondary Forest Succession on Sandy Soils in The Netherlands: An Application of the ROMUL Model. Ecological Modelling, 190:399–418.
Nascente, A.S., Li, Y.C., dan Crusciol, C.A.C., 2013. Cover Crops and No-till Effects on Physical of Soil Organic Matter. Soil & Tillage, 130:52-57.
Noragaina, 2008. Analisis Vegetasi Pada Lahan Bekas Penambangan Batu Bara di Kabupaten Balangan Kalimantan Selatan. Tesis. Fakultas Biologi, Universitas Gadjah Mada, Yogyakarta, pp.42-48.
Paetz, A., dan Wilke, B.M., 2005. Soil Sampling and Storage, dalam R. Margesin and F. Schinner (eds): Manual for Soil Analisys-Monitoring and Assessing Soil Bioremediation. Springer-Verlag, Berlin, pp. 1–44.
Prayudyaningsih, R., 2008. Keragaman Fungi Mikoriza Arbuskula (FMA) di Lahan Bekas Tambang Kapur, PT. Semen Tonasa dan Efektivitasnya Terhadap Pertumbuhan Semai Kersen (Muntingia calabura L.). Tesis, Fakultas Kehutanan, Universitas Gadjah Mada. Yogyakarta. pp 47-50.
Prayudyaningsih, R., Tikupadang, H., Syarif, M., Kurniawan, E., dan Toaha, A.Q., 2014. Bioprospeksi Fungi Mikoriza Arbuskula (FMA) untuk Reklamasi Lahan Bekas Tambang Kapur. Laporan Hasil Penelitian, Balai Penelitian Kehutanan, Makassar, pp .14-15.
Puschel, D., Rydlova, J., dan Vosatka, M., 2007. Mycorrhiza Influence Plant Community Structure in Succession on Spoil Bank. Basic and Applied Ecology, 8:510–520.
Singh, A.J., 2011 Catalityc Effect of Plantation and Microbial Inoculation in Natural Regeneration on Limestone Mined Spoil. The IIOAB Journal, 2(8):24-26.
Singh, A.J., dan Jamaluddin, 2011. Status and Diversity of Arbuscular Mycorrhizal Fungu and Its Role in Natural Regeneration on Limestone Mined Spoils. Biodiversitas, 12(2):107–111.
Steenwerth, K., dan. Belina, K.M., 2008. Cover Crop Enhanced Soil Organic matter, Carbon Dynamics and Microbiological Function in a Vineyard Agroecosystem. Applied Soil Ecology, 40:359–369.
Subowo, G., 2011. Penambangan Sistem Terbuka Ramah Lingkungan dan Upaya Reklamasi Pasca Tambang untuk Memperbaiki Kualitas Sumberdaya Lahan dan Hayati Tanah, Jurnal Sumberdaya Lahan; 5(2):83-94.
Tropek, R., Kadlec, T., Karesova, P., Spotzer, L., Kocarek, P., Malenovsky, I., Banar, P., Tuf, I.H., Hedja, M., dan Konvicka, M., 2010. Spontaeous Succession in Limestone Quarries as An Effecive Restoration Tool for Endangered Arthoropods and Plants. Journal of Applied Ecology, 47:139–147.
Wang, D.P, Ji, S.Y., Chen, F.P., Xing, F.W., dan Peng, S.L., 2006. Diversity and Relationship with Succession of Naturally Regenerated Southhern Subtropical Forest in Shenzhen, China dan Its Comparison with The Zonal Climax of Hong Kong. Forest Ecology and Management, 222:384-390.
Windusari, Y., Sari, N.P., Yustian, I., dan Zulkifli, H., 2012. Cadangan Karbon Biomassa Tumbuhan Bawah dan Seresah di Kawasan Suksesi Alami pada Area Pengendapan Tailing PT Freeport Indonesia. Biospecies, 5(1):22–28.

DOI:
https://doi.org/10.22146/jml.18756
---
Article Metrics

Abstract views : 4452 |

views : 3973 |

views : 1527
Refbacks
There are currently no refbacks.
Copyright (c) 2017 Jurnal Manusia dan Lingkungan
JML Indexed by:

View My Stats