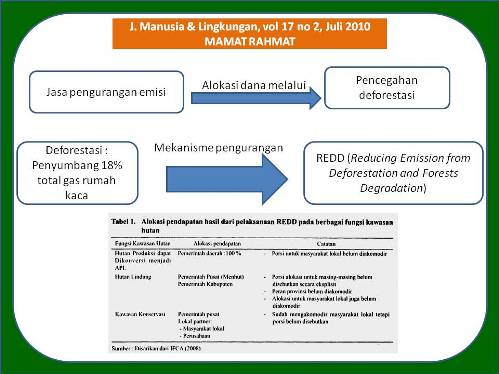 ALOKASI PENDAPATAN DARI JASA PENGURANGAN EMISI MELALUI PENCEGAHAN DEFORESTASI: SEBUAH TINJAUAN ALOKASI BENEFIT DAN KERANGKA HUKUM FISKAL (Alocation of Benefit from Emission Reduction Service Through Deforestation Avoided: An Overview of Benefit)

https://doi.org/10.22146/jml.18708
Mamat Rahmat
(1*)
(1)&nbspBalai Penelitian Kehutanan Palembang
(*) Corresponding Author
Abstract
ABSTRAK
Deforestasi menyumbang emisi gas rumah kaca sebesar 18% dari total emisi gas rumah kaca per tahun. REDD (Reducing Emission from Deforestation and Forests Degradation) adalah mekanisme yang dikembangkan untuk mengurangi emisi gas rumah kaca akibat deforestasi dan degradasi hutan. Para pihak menginginkan agar REDD juga berperan dalam pengentasan kemiskinan masyarakat sekitar hutan di negara berkembang. Masyarakat sekitar hutan merupakan salah satu pihak yang berhak untuk memperoleh alokasi dari pendapatan tersebut. Peraturan perundangan yang mengatur alokasi pendapatan dari REDD hingga saat ini belum tersedia. Paper ini mengemukakan gagasan mengenai proporsi alokasi pendapatan dari REDD. Upaya ini diharapkan dapat menjadi bahan pertimbangan bagi pemangku kebijakan dalam menyusun peraturan perundangan yang diperlukan. Proporsi hipotetik alokasi pendapatan yang dikemukakan di sini diupayakan untuk mengakomodir para pihak, antara lain: pemerintah pusat, pemerintah daerah dan masyarakat sekitar hutan. Proporsi hipotetik tersebut merupakan hasil tinjauan terhadap kerangka hukum fiskal yang tersedia dan azas alokasi benefit.
ABSTRACT
Deforestation contributed to green house gas emission until 18% of total emission per year. REDD (Reducing Emission from Deforestation and Forests Degradation) is a mechanism developed for reducing green house gas emission from deforestation and forest degradation. Annex 1 countries insist Non Annex 1 countries (developing countries) to implement REDD as well as poverty eradication of local community. Local community is a considered stakeholder to get benefit from deforestation avoided service. On the other hand, the legal status of benefit allocation mechanism is unavailable. This paper contributed a hypothetical allocation to stakeholders. The stakeholders involve in this mechanism are: national government, local government and local community. The hypothetical proportion has been resulted by an overview of recent legal framework of fiscal and benefit allocation analysis.

DOI:
https://doi.org/10.22146/jml.18708
---
Article Metrics

Abstract views : 622 |

views : 302
Refbacks
There are currently no refbacks.
Copyright (c) 2017 Jurnal Manusia dan Lingkungan
JML Indexed by:

View My Stats