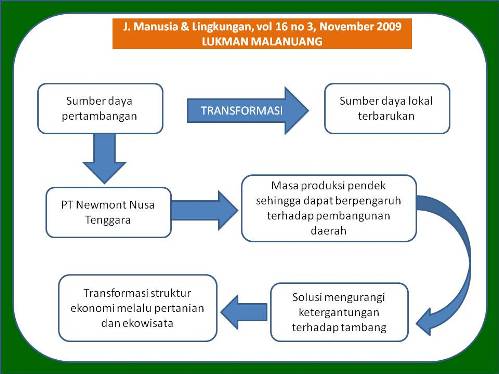 MODEL PEMBANGUNAN DAERAH BERKELANJUTAN MELALUI TRANSFORMASI STRUKTUR BKONOMI BERBASIS SUMBERDAYA PERTAMBANGAN KE SUMBERDAYA LOKAL TERBARUKAN (Sustainable Local Development Model by means Economic Structure Transformation from Mine Resources Basis)

https://doi.org/10.22146/jml.18703
Lukman Malanuang
(1*)
(1)&nbspProgram Doktor Ilmu Pengelolaan Sumberdaya Alam dan Lingkungan Sekolah Pascasarjana IPB
(*) Corresponding Author
Abstract
ABSTRAK
Sektor pertambangan tembaga dan emas yang dioperasikan oleh PT. Newmont Nusa Tenggara di Sumbawa Barat sangat dominan terhadap struktur perekonomian kabupaten tersebut sejak 2000-2006 dengan rata-rata 94,00 % dalam PDRB. Terkait dengan sifat sumberdaya mineral yang tidak terbarukan, deposit rnineral yang terbatas dan masa produksi pertambangan yang relatif pendek maka ketergantungan terhadap satu sektor (pertambangan) dalam jangka menengah dan panjang akan berpengamh signifikan bagi pembangunan wilayah Sumbawa Barat. Untuk itu perlu solusi mengurangi ketergantungan terhadap tambang dengan melakukan transformasi struktur ekonomi dengan membangun rantai pohon industri pertanian lokal yang merupakan sumberdaya terbarukan dan ekowisata. Selain itu semakin berkurang dan habisnya pertambangan pada masa mendatang akan sangat beresiko terhadap kinerja pembangunan. Peran pemerintah daerah dalam mengalokasikan anggaran dengan tepat dan kerjasama antar daerah dalam memperbaiki dan mempertahankan kinerja pembangunan sangat penting dilakukan. Hasil analisis isi (content analysis) peraturan perundangan sektor pertambangan belum mengarah pada tercapainya tujuan pembangunan berkelanjutan.
ABSTRACT
Copper and Gold mine sector that operated by PT. Newmont Nusa Tenggara in West Sumbawa has dominated the regency economic structure since 2000-2006 with average share for Product Domestic Regional Bruto is 94,00 %. Regarding to mineral resources characteristic such as unrenewable, limited mineral deposit and relative short of long life project therfore dependency only on one sector (mining) for long and medium terms will have significant effect on the development of West Sumbawa. Therefore, it's need a solution to reduce the dependency on the mine sector to tranform economic structure by means stablished local agro-industrial tree chain that characterized by renewable resources and ecotourism. In other hand, more reduction and exhaustment of mine production in the future will give a risky effect (impact) on development performance. Roles of local government to efficiently allocat proper the budget and cooperation with other regions to enhance and maintain development performance is necessary to be implemented. The content of analysis shows that the regulation on mining sectors not yet directed to achieve sustainable development goals.

DOI:
https://doi.org/10.22146/jml.18703
---
Article Metrics

Abstract views : 4280 |

views : 3755
Refbacks
There are currently no refbacks.
Copyright (c) 2017 Jurnal Manusia dan Lingkungan
JML Indexed by:

View My Stats