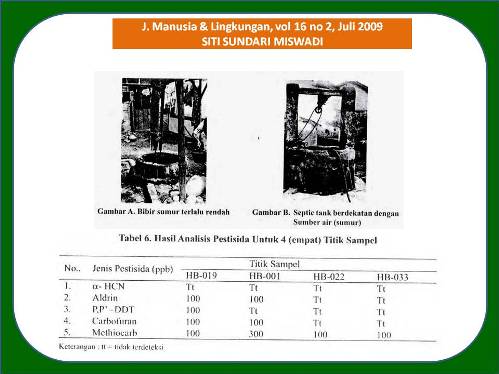 KAJIAN SPASIAL KUALITAS AIR TANAH BEBAS BERDASARKAN KEDALAM MUKA AIR TANAH: STUDI KASUS DI DATARAN ALUVIAL DAS PEMALI KABUPATEN BREBES (Spatial Study of the Quality of Free Groundwater Based on the Surface Depth of Groundwater at an Alluvial Land)

https://doi.org/10.22146/jml.18697
Siti Sundari Miswadi
(1*)
(1)&nbspPusat Penelitian Kependudukan dan Lingkungan Hidup, Lembaga Penelitian, Universitas Negeri Semarang
(*) Corresponding Author
Abstract
ABSTRAK
Sebagian besar dataran aluvial DAS Pemali Kabupaten Brebes adalah sentra produksi pertanian bawang merah, kedelai, ubi kayu dan cabai. Selain itu, daerah ini terkenal pula dengna usaha peternakan itik yang menghasilkan telur dan berkembang pesat. Kegiatan pertanian dan usaha peternakan itik banyak dijumpai di lingkungan permukiman, padahal kegiatan tersebut menggunakan pupuk dan pestisida serta menghasilkan kotoran ternak yang tentunya akan mencemari sumur-sumur penduduk. Oleh karena layanan air bersih oleh PDAM belum menjangkau semua wilayah DAS Pemali, terutama di permukiman DAS Pemali, maka untuk keperluan masak, minum, mandi, cuci dan keperluan lainnya, penduduk membuat sumur gali dengan kedalaman yang bervariasi, dan tanpa memperhatikan syarat-syarat kesehtan dan syarat pembuatan sumur gali yang benar.  Tujuan penelitian adalah memetakan kualitas air tanah bebas berdasarkan kedalaman muka air tanah di dataran aluvial DAS Pemali. Metode yang digunakan adalah menganalisis kualitas air tanah bebas secara laboratoris dan hasilnya diplotkan pada peta kedalaman muka air tanah yang dibagi menjadi 11 kelas. Hasil penelitian menunjukkan terdapat 10 parameter kualitas air yang kadarnya melebihi Nilai Ambang Batas (NAB), yaitu  TDS, DHL, alaklinitas, COD, BOD, total coliform, coliform tinja, pH, karbamat dan organoklorin, sedangkan parameter-paramater NO3-, NO2-, SO4=, Ca2+, fosfat dan kekeruhan umumnya mempunyai kadar di bawah NAB. Dilihat dari beberapa titik sampel yang jumlah parameternya mempunyai kadar melebihi NAB, maka kedalaman muka air tanah 0,37-3,98 meter mempunyai delapan parameter yang melebihi NAB, kemudian kedalaman muka air tanah 0,10-0,36 meter dengan lima parameter, dan kedalaman 3,99-8,50 meter dengan empat parameter yang melebihi NAB.  Berdasarkan jumlah parameter setiap titik sampel, maka pada kedalam MAT 0,37-1,27 meter terdapat tujuh titik sampel yang masing-masing sampel mempunyai lima parameter kualitas air yang kadarnya melebihi NAB. Kedalaman MAT yang menunjukkan kualitas air cukup baik sesuai analisis adalah pada kedalaman di atas 8,51 meter dan antara 5,80-6,70 meter.
ABSTRACT
Most of the alluvial areas of Pemali River Basin (DAS) in Brebes district are onion, soybean, cassava, and chili farm production centre. Besides, the area is also known for duck husbandry producing eggs, and it is developed fast. The agriculture and husbandry are mostly met in the residential area, whereas the activities use fertilizer and pesticides and also produce cattle waste which, of course, will contaminate people's wells. Since the clean water service of the Municipal Waterworks (PDAM) has not reach all of the Pemali River Basin (DAS), especially in alluvial residential area, so for cooking, drinking, bathing, washing and other needs, the people make well with various depth, without concerning the right well making and health requirements. The purpose of the research is to map the quality of free ground water based on the depth of water ground surface in the Pemali DAS alluvial area. The method used is analyzing the quality of the free ground water laboratorically, and the result is plotted to 30 sample points in the map of groundwater surface depth divided into 11 classes. The result of the research shows that there are 10 parameters of water quality which content over the Limit Edge Value (NAB), they are, TDS, DHL, Organochlorine, Carbamat, Alkalinity, COD, BOD, Coliform Total, waste Coliform, and pH, whether the NO3-, NO2-, SO4=, Ca2+, phosphate, and muddiness parameter generally have content below NAB in all depth. Seen from some of the sample points which parameter amount has content over the NAB,  the 0.37-3.98 meters ground water surface depth has eight parameters which over the NAB, then 0.10-0.36 meter depth with five parameters, and 3.99-8.50 meters with four parameters which over the NAB. Based on the parameter amount of each sample point, so in 0.37-1.27 meters MAT depth there are seven sample points where each sample has five water qualities which content over the NAB. The MAT depth showing good water quality according to the analysis is in the depth above 8.51 meters, and between 5.80-6.70 meters.

DOI:
https://doi.org/10.22146/jml.18697
---
Article Metrics

Abstract views : 2236 |

views : 1940
Refbacks
There are currently no refbacks.
Copyright (c) 2017 Jurnal Manusia dan Lingkungan
JML Indexed by:

View My Stats