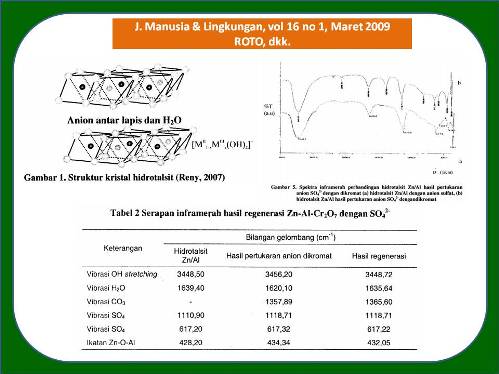 APLIKASI PENGOLAHAN POLUTAN ANION KHROM(VI) DENGAN MENGGUNAKAN AGEN PENUKAR ION HYDROTALCIT ZN-AI-SO4 (Synthesis of and its Application to Treat Chrom(VI) Pollutant Using Hydrotalcite Zn-Al_SO4 as Anion Exchanger)

https://doi.org/10.22146/jml.18691
Roto Roto
(1*)
, Iqmal Tahir
(2)
, Umi Nur Sholikhah
(3)
(1)&nbspLaboratorium Kimia Analitik, Jurusan Kimia, Fakultas MIPA Universitas Gadjah Mada, Sekip Utara, Yogyakarta 55281
(2)&nbspLaboratorium Kimia Fisik, Jurusan Kimia, Fakultas MIPA Universitas Gadjah Mada, Sekip Utara, Yogyakarta 55281
(3)&nbspLaboratorium Kimia Analitik, Jurusan Kimia, Fakultas MIPA Universitas Gadjah Mada, Sekip Utara, Yogyakarta 55281
(*) Corresponding Author
Abstract
ABSTRAK
Keberadaan logam khrom di dalam sistem perairan bersifat polutan yang harus ditangani dengan baik, dan untuk khrom (Vl) yang sering dijumpai dalam bentuk anion dapat diolah dengan menggunakan mekanisme pertukaran ion. Suatu agen penukar anion telah dibuat berupa senyawa hidrotalsit Zn-Al-SOa melalui proses sintesis, karakterisasi serta dilakukan pula pengujian aplikasinya untuk pengurangan polutant anion khrom (VI) dalam bentuk ion dikromat. Sintesis hidrotalsit Zn-Al-SOa dilakukan dengan metode stoikiometri pada pH 8 dan perlakuan hidrotermal. Aplikasi pertukaran dikromat dengan anion sulfat dalam antar lapis hidrotalsit serta uji regenerasi bahan diamati dengan bantuan analisis struktur dan analisis kinetika reaksi pertukaran. Produk pertukaran ion dikarakterisasi dengan XRD, spektrofotometri IR dan spektrometri serapan atom. Rumus kimia hidrotalsit produk diketahui adalah Zn0,74Al0,26(OH)1,74(SO4)0,13.0,52H2O. Anion dikromat dapat menukar sulfat dalam antarlapis hidrotalsit yang ditunjukkan dalam spektra IR dan pola XRD. Kapasitas pertukaran anion untuk dikromat diketahui 216,84 mek/100 g, sedangkan kinetika reaksi pertukaran ion mengikuti orde dua dengan k = 3 x 10-8 ppm-1.detik-1. Hasil menunjukkan Zn-Al-Cr2O7 dapat mudah diregenerasi. 
ABSTRACT 
Chrom as pollutant in aquatics system usually establishes as crom (VI) and should be worked with special treatment and as an example is ion exchanger. Material Zn-Al-SO4 hydrotalcite product have been synthesized and its application as anion exchanger for dichromate have been studied. Synthesis of Zn-Al-SO4 hydrotalcite was carried out by stoichiometric method at pH 8 and hydrothermal treatment. Sulphate in hydrotalcite interlayer was exchanged by dichromate. Kinetics of ion exchange was also investigated. The product of ion exchange was characterized by XRD, IR spectrophotometry and atomic adsorption  spectrometry. The chemical formula of the  hydrotalcite is Zn0.74Al0.26(OH)1.74(SO4) 0.13.0.52H2O. The dichromate anion can exchange sulphate in hydrotalcite interlayer as showed by IR spectra and XRD patterns. The anion exchange capacity was 216.84 mek/100 g, and the kinetics of ion exchange reaction follows the the second order with k = 3 x 10-8 ppm-1.s-1. It shows that Zn-Al-Cr2O7 could be regenerated easily.

DOI:
https://doi.org/10.22146/jml.18691
---
Article Metrics

Abstract views : 1950 |

views : 14063
Refbacks
There are currently no refbacks.
Copyright (c) 2017 Jurnal Manusia dan Lingkungan
JML Indexed by:

View My Stats