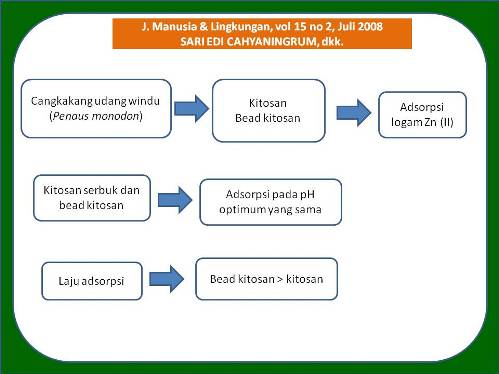 Adsorpsi lon Logam Zn(II) pada Bead Kitosan dari Cangkang Udang Windu (Penaus Monodon) (ADSORPTION OF ZrNK(II) METAL ION ON CHITOSAN BEAD FROM SHELL SHRIMP (Penaus monodon))

https://doi.org/10.22146/jml.18682
Sari Edi Cahyaningrum
(1*)
, Narsito Narsito
(2)
, Sri Juari Santoso
(3)
, Rudiana Agustini
(4)
(1)&nbspJurusan Kimia FMIPA-Universitas Negeri Surabaya
(2)&nbspJurusan Kimia FMlPA-Universitas Gajah Mada
(3)&nbspJurusan Kimia FMlPA-Universitas Gajah Mada
(4)&nbspJurusan Kimia FMIPA-Universitas Negeri Surabaya
(*) Corresponding Author
Abstract
ABSTRAK 
Telah dibuat dua macam adsorben kitosan dan bead kitosan dari cangkang udang windu (Penaus monodon) sebagai bahan dasar untuk adsorpsi ion logam Zn(Il). Adsorben kitosan dibuat melalui deproteinasi, demineralisasi diikuti deasetilasi, sedangkan bead kitosan merupakan hasil penggembungan terhadap kitosan. Beberapa parameter adsorpsi seperti pH, laju adsorpsi, dan kapasitas adsorpsi ion logam Zn(ll) dipelajari. Penelitian ini diawali dengan identifikasi secara spektroskopi infra merah terhadap gugus fungsional adsorben yang diperkirakan berfungsi sebagai situs aktif adsorpsi. Model kinetika adsorpsi orde satu yang mendekati kesetimbangan digunakan sebagai dasar untuk mengestimasi laju adsorpsi, sedangkan model isoterm adsorpsi Langmuir digunakan untuk menetapkan kapasitas adsorpsi. Hasil penelitian menunjukkan bahwa adsorpsi ion logam Zn(ll) pada kitosan serbuk dan bead kitosan mempunyai pH optimum yang sama. Laju adsorpsi ion logam Zn(II) pada bead kitosan secara signifikan lebih cepat dibanding pada kitosan. Proses swelling meningkatkan kapasitas adsorpsi ion logam Zn(ll) pada kitosan.
ABSTRACT 
Two typies of adsorbent , i.e: chitosan and chitosan bead using shell of shrimp (Penaus monodon ) as raw materials, for Zn(II) metal ion adsorption. The chitosan was made by deproteination, demineralization followed deacetilation, whereas the chitosan bead was prepared by swelling the chitosan. Adsorption parameters such as, the adsorption rate, and the capacity of adsorption were determined. This work was started with the Infra Red Spectroscopy identification of functional groups with are expected to be the adsorption activ sides. The adsorption kinetic orde one at eqilibrium model  was applied in the estimation the adsorption rate, whereas the isoterm adsorption Langmuir model were employed in the determination of the capacity in adsorption. The results show that adsorption of metal ion Zn(II) on chitosan and chitosan bead have the same of optimum pH. The adsorption rate of metal ion Zn(II) on chitosan bead significant faster than on chitosan. Modification with swelling process enhanced the adsorption capacity Zn(II) on chitosan.

DOI:
https://doi.org/10.22146/jml.18682
---
Article Metrics

Abstract views : 2198 |

views : 2547
Refbacks
There are currently no refbacks.
Copyright (c) 2017 Jurnal Manusia dan Lingkungan
JML Indexed by:

View My Stats