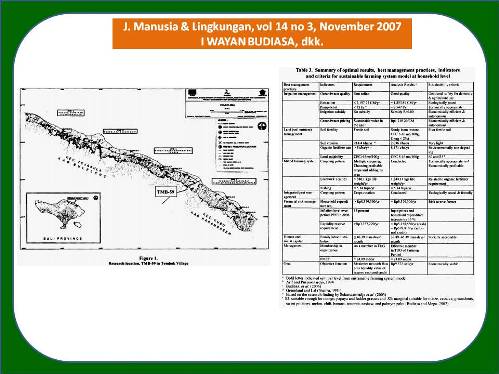 OPTIMISASI SISTEM USAHA TANI UNTUK PERTANIAN BERKELANJUTAN DI KAWASAN PESISIR BALI UTARA (Optimization of Farming System Towards Sustainable Agriculture in North Coastal Plain Bali)

https://doi.org/10.22146/jml.18668
I Wayan Budiasa
(1*)
, Sri Widodo
(2)
, Slamet Hartono
(3)
, Irham Irham
(4)
(1)&nbspUdayana University, Kampus Jimbaran Denpasar
(2)&nbspGadjah Mada University, Jl. Grafika Yogyakarta 55281
(3)&nbspGadjah Mada University, Jl. Grafika Yogyakarta 55281
(4)&nbspGadjah Mada University, Jl. Grafika Yogyakarta 55281
(*) Corresponding Author
Abstract
ABSTRAK
Pengembangan sistem usaha tani secara intensif pada lahan kurang subur dengan sumberdaya air yang terbatas dapat mengarah pada trade-off antara manfaat ekonomi dalam jangka pendek dan permasalahan lingkungan dalam jangka panjang. Akibat degradasi lingkungan yang meningkat dan alokasi sumberdaya yang tidak efisien, sistem usahatani akan tidak berlanjut. Studi ini bertujuan untuk mengoptimalkan model sistem usahatani beririgasi dan menilai keberlanjutannya. Dengan menggunakan analisis programasi linier, petani di kawasan pesisir Bali bagian Utara telah optimal dalam alokasi sumberdaya yang diindikasikan oleh pencapaian solusi optimal pada model sistem usahatani konvensional yang mencerminkan kondisi kenyataan. Dengan berbagai penyesuaian model sistem usahatani konvensional dapat diperluas menjadi model sistem usahatani berkelanjutan. Diperoleh bahwa sistem usahatani berkelanjutan lebih baik ketimbang sistem usahatani konvensional. Karena semua komponen dan indikator keberlanjutan telah dipertimbangkan dalam model dan semua kriteria berkelanjutan telah tercapai dalam solusi optimal, maka model sistem usahatani yang telah diperluas tersebut juga menjamin bahwa pengembangan sistem usahatani beririgasi pda level rumah-tangga akan dapat berkelanjutan. Agar sistem usahatani rumah-tangga dapat berlanjut, petani seharusnya menggunakan air tahan sebesar atau kurang dari 8.547 L/dt, menambah pupuk organik dari pupuk kandang minimal sebesar 5t/ha/th, meneruskan sistem usahatani campuran dan rotasi tanaman, tetap mempertimbangkan pengeluaran minimum rumah-tangga, dan bersedia membayar harga air sebesar Rp 1.218,29/m3. Model sistem usahatani berkelanjutaan yang dihasilkan dari studi ini telah melalui proses validasi. Dengan demikian, hasil tersebut dapat dikontribusikan untuk pengembangan ilmu pengetahuan di bidang pertanian. Juga, hasil tersebut dapat dijadikan pilihan praktek manajemen oleh petani dalam usahataninya.
ABSTRACT
Intensive farming system development (FSD) on poor fertile soil with limited water source can lead to trade-off between economic benefit in the short run and environmental problems in the long run. As environmental degradation increases and inefficient in resources allocation, farming system will become unsustainable. This study aims to optimize irrigated farming system model and to assess its sustainability. By using linear programming analysis, local farmer in north coastal plain of Bali was optimal in resources allocation indicated from optimal solution of conventional farming system model which conforms to observed behavior. By several adjustments, conventional farming system model can be extended to sustainable farming system model. It is found that the sustainable farming system is better than the conventional farming system. Since all components and indicators of sustainability were considered into model and all criteria of sustainability were fulfilled by optimal results, the extended farming system model also guarantees that irrigated farming system development at household level will become sustaipable. To make the sustainable farming system at household level, the farmer should be able to allocate the groundwater less than or equal to 8.547 Lis, to add the organic fertilizer from manure more than or equal to 5 t/ha/yr, to continue the mixed-farming system and crops rotation, to consider minimum household expenditure, and to put the sustainable value in the use of water in approximately Rp I ,218.29/CM into effect. The sustainable farming system model generated from this study passed validated process. Thus, it can be contributed to scientific development. Also, its results can become best management practices by local farmers on their farms.

DOI:
https://doi.org/10.22146/jml.18668
---
Article Metrics

Abstract views : 3094 |

views : 2088
Refbacks
There are currently no refbacks.
Copyright (c) 2017 Jurnal Manusia dan Lingkungan
JML Indexed by:

View My Stats