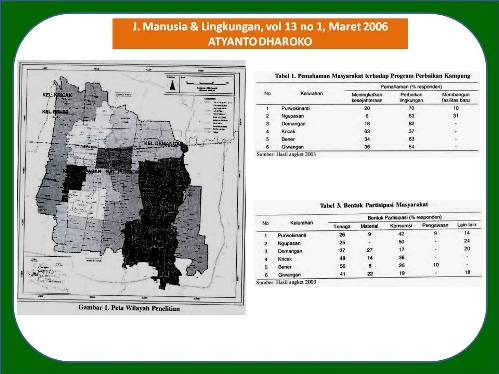 RESPON MASYARAKAT TERHADAP KEGIATAN PERBAIKAN KAMPUNG: KASUS KAMPUNG KOTA DI YOGYAKARTA (Community Respond to Kampung Improvement Activities: Case Urban Kampung in Yogyakarta)

https://doi.org/10.22146/jml.18645
Atyanto Dharoko
(1*)
(1)&nbspFakultas Teknik Universitas Gadjah Mada, Yogyakarta
(*) Corresponding Author
Abstract
ABSTRAK
Kegiatan perbaikan kampung yang dilakukan oleh pemerintah, masyarakat maupun sektor swasta merupakan upaya strategis untuk menngkatkan kualitas lingkungan kampung kota dengan tujuan lebih lanjut adalah untuk meningkatkan kesejahteraan masyarakat penghuni. Pendekatan yang paling sepadan digunakan adalah metode Community empowerment approach. Yogyakarta menjadi salah satu sasaran utama dari berbagai program perbaikan kampung karena memiliki masalah lingkungan yang cukup kompleks dengan adanya perkembangan kampung-kampung kumuh dan Illegal yang tersebar di dalam wilayah kota. Perkembangan berbagai kegiatan perbaikan kampung selama ini menunjukkan hasil yang bervariasi karena dipengaruhi oleh kondisi kampung yang beraneka ragam serta pemahaman masyarakat yang berbeda-beda dalam melihat persoalan fenomena kampung mereka. Penelitian menympulkan bahwa pemahaman masyarakat dalam satu wilayah kampung yang sama sangat bervariasi sehingga keberlanjutan dari berbagai program perbaikan kampung belum dapat dicapai. Pada kondisi pemahaman masyarakat yang rendah disebabkan karena pra kondisi yang dilakukan sangat kurang untuk memperoleh tingkat keberlanjutan yang tinggi, oleh karena itu diperlukan upaya yang lebih baik oleh para inisiator pada masa pra kegiatan terutama dalam bentuk pemahaman masrakat terhadap program dengan benar.
ABSTRACT
Kampung improvement activities developed by authority, community and sponsoring bodies are strategic efford to enchance environmental quality of the kampong and finally enhancing the community prosperity. The most compatible approach to develop is community empowerment basis. Yogyakarta becomes one of the target since the city faces a complicated problems in environmental aspect. The improvement of kampong shows a various achievement because the awareness and concept of inhabitants are also varies. It is concluded that different concept and interpretation among communities, authority and sponsoring bodies to understand the real problems of kampungs makes the participation of communities and sustainability become weak. It is important for initiators understanding that preconditioning becomes a key success for the programs.

DOI:
https://doi.org/10.22146/jml.18645
---
Article Metrics

Abstract views : 604 |

views : 450
Refbacks
There are currently no refbacks.
Copyright (c) 2017 Jurnal Manusia dan Lingkungan
JML Indexed by:

View My Stats