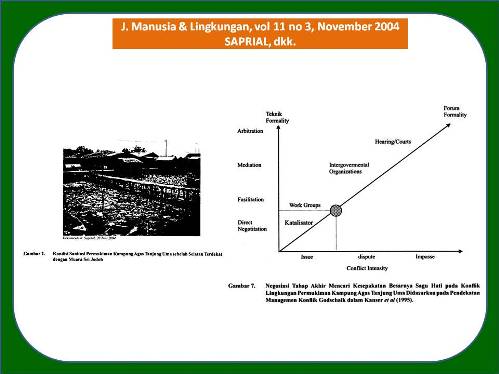 KONFLIK LINGKUNGAN DI KAMPUNG AGAS, TANJUNG UMA, BATAM (Environmental Conflict in Kampung Agas, Tanjung Uma, Batam)

https://doi.org/10.22146/jml.18625
Saprial Saprial
(1*)
, Bakti Setiawan
(2)
, Djoko Wijono
(3)
(1)&nbspPemerintah Kota Batam, Propinsi Riau Kepulauan
(2)&nbspFakultas Teknik, Jurusan Arsitektur dan Perencanaan, UGM, Yogyakarta
(3)&nbspFakultas Teknik, Jurusan Arsitektur dan Perencanaan, UGM, Yogyakarta
(*) Corresponding Author
Abstract
ABSTRAK
Perkembangan kota Batam sebagai kawasan industri, perdagangan, pelabuhan, dan pariwisata, membawa tidak saja dampak positip, melainkan juga dampak negatif. Salah satu dampak negatif yang muncul adalah konffik lingkungan dalam bentuk pencemaran air di sungai Jodoh yang menganggu pemukiman liar di Kampung Agas, Tanjung Uma. Penelitian ini bertujuan untuk mengkaji akar masalah konflik dan resolusinya. Penelitian ini merupakan studi deskriptif-kualitatip, dengan data yang dikumpulkan melalui wawancara mendalam dengan pihak-pihak yang terlibat dalam konflik. Penelitian ini menemukan bahwa akar masalah konffik adalah konflik spasial antara permukiman liar dan pembangunan ruko yang menimbulkan limbah di sekitar permukiman liar. Tidak dibangunnya IPAL memicu protes warga di permukiman liar dan terjadilah konflik. Penelitian ini melihat bahwa penyelesaian konflik dalam bentuk kompensasi atau "sagu hati" tidak menyelesaikan akar masalah konflik. Walaupun begitu, penyelesaian ini dipandang oleh pihak-pihak yang berkonflik sebagai hasil mufakat yang dimungkinkan untuk menghindari konflik sosial yang lebih besar. Penelitian ini juga menemukan bahwa bentuk penyelesaian konflik melalui musyawarah dan mufakat dapat dilakukan secara efektif sejauh ada mediator yang dipercaya oleh pihak-pihak yang bersengketa.
ABSTRACT
The development of Batam City as an area for industry, trade, ship transit, and tourism activities brings not only positive impacts, but negative impact as well. One of the negative impacts is environmental conflict in the form of water pollution in Sei Jodoh downstream which affected informal settlement in Kampung Agas, Tanjung Uma. This research aimed to study the roots of the conflict and evaluated the resolution. It adopted a descriptive, qualitative research method. Data were collected through in-depth interviews with parties involved in the conflict. The research founded that the root causes of the environmental conflict was the decision of spatial plan and development that was not supported by liquid waste treatment plan (IPAL) for the area. The conflict resolution in the form of "compensation" was not appropriate as it does not solve the real causes of the conflict. Such settlement, however, was seen by all conflicting parties as pragmatic resolution to hinder a possible bigger social conflict. The research concluded that an effective alternative dispute resolution required a good mediator accepted by the conflicting parties.

DOI:
https://doi.org/10.22146/jml.18625
---
Article Metrics

Abstract views : 839 |

views : 2785
Refbacks
There are currently no refbacks.
Copyright (c) 2017 Jurnal Manusia dan Lingkungan
JML Indexed by:

View My Stats