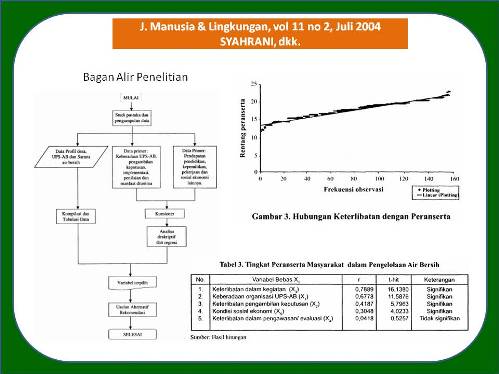 ANALISIS PERAN SERTA MASYARAKAT DALAM PENGELOLAAN AIR BERSIH (The Analysis of Community Roles in Potable Water Management)

https://doi.org/10.22146/jml.18622
Syahrani Syahrani
(1*)
, Djoko Legono
(2)
, Fatchan Nurrochmad
(3)
(1)&nbspProgram Studi Teknik Sipil (Pengelolaan Sumberdaya Air) Program Pascasarjana, Universitas Gadjah Mada, Yogyakarta
(2)&nbspFakultas Teknik, .lurusan Teknik Sipil Universitns Gadjah Mada, Yogyakarta
(3)&nbspFakultas Teknik, .lurusan Teknik Sipil Universitns Gadjah Mada, Yogyakarta
(*) Corresponding Author
Abstract
ABSTRAK
Kondisi air sungai yang terpolusi karena penebangan hutan, penambangan, dan limbah domestik menyebabkan rendahnya kualitas air yang dikonsumsi masyarakat. Pada tahun l996 telah dibentuk Unit Pengelola Air (UPS-AB) oleh komunitas di Kumpai Batu untuk membantu pengadaan air bagi masyarakat. Studi ini dilakukan untuk mengkaji kinerja UPS-AB melalui survai lapangan terhadap 160 rumah tangga. Variabel yang dikaji meliputi aktivitas UPS-AB. cara pengelolaannya dan keterlibatan masyarakat dalam pengelolaan air. Data ini kemudian diproses dengan analisa deskriptif dan analisis regresi. Hasil analisis menunjukkan bahwa tingkat partisipasi masyarakat cukup tinggi. Tingginya tingkat partisipasi ini disebabkan karena kebutuhan komunitas yang tinggi akan pelayanan air. Meskipun demikian masyarakat merasakan pentingnya peningkatan pengelolaaut air oleh UPS-AB khususnya dalam hal: peningkatan kualitas air. kontinuitas suplai. sistim pembayaran dan sistim pencatatan.
ABSTRACT
Polluted river water due to destructed forest, mining and population settlement have created lower quality of up-stream water that households generally consume. Considering the scarcity of water, in 1996, Potable Water Management Unit (UPS-AB) of Kumpai Batu was founded as community association to participate in the potable water preparation, development and maintenance. This study was conducted through a field survey on 160 households selected using random sampling method. The variable studied were the availability of UPS-AB, involvement indecision making, involvement in activity, involvement in evaluation and social economic condition of village community. Data were processed using descriptive an regression analysis. The result showed that availability of UPS-AB involvement in decision making, involvement in activities, involvement in evaluation and social-economic condition of village community positively affected community participation in potable water management.

DOI:
https://doi.org/10.22146/jml.18622
---
Article Metrics

Abstract views : 1983 |

views : 1336
Refbacks
There are currently no refbacks.
Copyright (c) 2017 Jurnal Manusia dan Lingkungan
JML Indexed by:

View My Stats