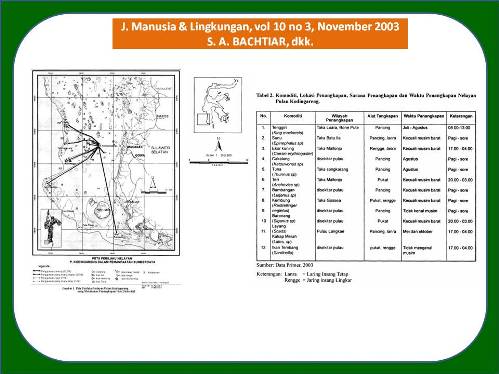 PERSEPSI DAN PERILAKU,NELAYAN DALAM MEMANFAATKAN SUMBER DAYA LAUT DI PULAU KODINGARENG, SULAWESI SELATAN (Fisherman Perception and Behavior of Marine Resources Exploitation in Kodingareng Island, South Sulawesi)

https://doi.org/10.22146/jml.18613
S.A. Bachtiar
(1*)
, B. Setiawan
(2)
, Sunarto Sunarto
(3)
(1)&nbspPemda Provinsi Sulawesi Selatan
(2)&nbspJurusan Teknik Arsitektur Fakultas Teknik Universitas Gadjah Mada
(3)&nbspFakultas Geografi Universitas Gadjah Mada
(*) Corresponding Author
Abstract
ABSTRAK
Penelitian ini bertujuan untuk mengkaji persepsi nelayan tentang pentingnya ekosistem terumbu karang, serta perilaku nelayan dalam memanfaatkan sumber daya alam laut. Metode penelitian yang digunakan adalah metode survei dengan menggunakan kuesioner (sebagai alat bantu untuk mengukur tingkat pengetahuan dan persepsi nelayan), kemudian dilakukan pengkategorian dengan menggunakan indeks komposit. Untuk menggambarkan perilaku nelayan yang terkait dengan sistem spasial digunakan metode pemetaan perilaku, dengan peta dasar sebagai alat bantu. Hasil penelitian menunjukkan bahwa telah terjadi kerusakan terumbu karang yang signifikan karena penggunaan bom oleh nelayan. Penelitian juga menemukan bahwa tingkat persepsi nelayan yang melakukan penangkapan non destruktif untuk kategori "sedang" sebanyak 21% dan kategori "baik" sebanyak 79%, sedang yang melakukan penangkapan destruktif untuk kategori "sedang" sebanyak 85% dan kategori "baik" sebanyak 15%. Penelitian ini menemukan bahwa tidak ada hubungan yang signifikan antara persepsi dan perilaku. Perilaku nelayan, khususnya yang destruktip lebih disebabkan karena faktor tekanan ekonomi serta longgarnya sistem kontrol sosial yang ada. Diperlukan upaya-upaya untuk memperkuat kontrol sosial untuk mencegah kerusakan lingkungan yang semakin parah, khususnya penggunaan bom oleh nelayan untuk menangkap ikan.
ABSTRACT
This research aims to explore fishermen perception and their attitude toward their surrounding environment, particularly the important of coral reef ecosystem and marine resources exploitation. This research was conducted by survey method with questionnaire to explore fishermen perception. These data were then analyzed and categorized by composite index. The behavior mapping was conducted to explore that fishermen behavior in exploiting marine resources (fish) in the area.The results found that the using of bomb for fish coaching has caused environmental damaged, particularly the coal reef. The research also found that the perception of non-destructive fishermen for "fair" category is 21% and for "good" category is 79%. While for destructive fishermen for "fail" category is 85% and for "good" category is 15%. The research found that there is no significant relation between fishermen perception and behavior. The fishermen behavior is influences more by external factors particularly economic pressure and social control. The research recommends that efforts to strengthen social controllare crucial to minimized environmental destruction in the area caused by un-friendly behavior  of the fishermen, particularly the using of bomb for caching fish.

DOI:
https://doi.org/10.22146/jml.18613
---
Article Metrics

Abstract views : 2617 |

views : 2211
Refbacks
There are currently no refbacks.
Copyright (c) 2017 Jurnal Manusia dan Lingkungan
JML Indexed by:

View My Stats