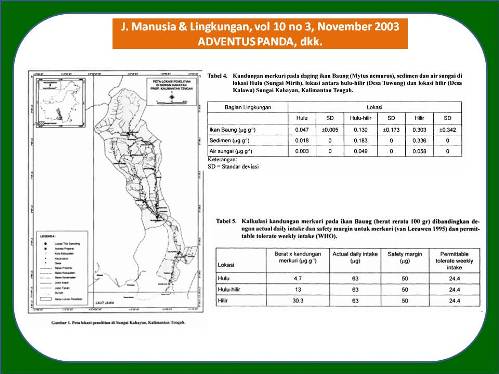 AKUMULASI MERKURI PADA IKAN BAUNG (Mytus nemurus) DI SUNGAI KAHAYAN KALIMANTAN TENGAH (The Accumulation of Mercure on Baung Fish (Mytus nemurus) in The Kahayan Rice of Central Kalimantan, Indonesia)

https://doi.org/10.22146/jml.18610
Adventus Panda
(1*)
, Kamiso Handoyo Nitimulyo
(2)
, Tjut Sugandawaty Djohan
(3)
(1)&nbspProgram Studi Ilmu Lingkungan, Program Pasca Sarjana, UGM, Yogyakarta
(2)&nbspFakultas Peternakan Jurusan Perikanan Universitas Gadjah Mada Yogyakarta
(3)&nbspFakultas Biologi Universitas Gadjah Mada Yogyakarta
(*) Corresponding Author
Abstract
ABSTRAK
Sungai Kahayan di Kalimantan Tengah mengalami tekanan lingkungan karena adanya limbah merkuri yang berasal dari aktivitas penambangan emas tradisional. Di tempat tersebut terdapat 10a4 tempat penambangan emas sepanjang sungai dari hulu sampai hilir. Merkuri dalam sedimen sungai secara berturut-turut mengalami metilasi (methylation) oleh reduksi sulfat bakteri. Riset ini merupakan studi akumulasi merkuri (FIg) dalam Mytus nemurus, sedimen dan air, dari hulu ke hilir di sungai Kahayan. Total jarak dari hulu sekitar 296 km. Data dikumpulkan dari 3 lokasi sepanjang sungai. Dalam tiap lokasi tapak sampling berada di dataran baniir (floodplain). Penelitian dilaksanakan selama musim hujan. lkan ditangkap menggunakan rengge (gillnet). Penentuan metil merkuri digunakan metode modified CV-AAS (cold vapor atomic absorption spectrophotometry). Hasil penelitian menunjukkan bahwa diantara sample yang diukur, akumulasi tertinggi masing-masing berada dalam sedimen sungai (0,336 mg.) dikutip dengan daging M. numerus (0,303 mg.g-1+ 0.342). dan air (0.058 mg-1). Merkuri memiliki tendensi meninggi menuju hilir. Hal ini disebabkan oleh tekstur sedimen yang didominasi oleh silt. Kondisi ini berpotensi untuk metilasi. Turbiditas, arus, dan pH menyumbangkan kenaikan tingkat merkuri di hilir. Asupan merkuri mingguan yang dapat ditoleransi menurut WHO adalah 171,42 mg adalah sama dengan 24,4 mg sehari jika seseorang mengkonsumsi 100 g daging M. numerus sehari. dimungkinkan bahwa akan ada 30,3 mg.g-1 yang masuk ke tubuh. Hal ini berarti bahwa merkuri disepanjang sungai Kahayan mengancam penduduk yang mengkonsumsi ikan dari sungai tersebut.
ABSTRACT
The Kahayan River of Central Kalimantan had environmental stress due to mercury waste. This waste came from the traditional gold mining activities. There were 1014 gold mining sites along the river from upstream to downstream. Mercury in river sediment was subsequently methylated by sulfated reduction bacteria. This research were study the accumulation of mercury (Hg) on Mytus nemurus, sediment and water, from upstream to downstream in the Kahayan River. Total from up to downstream site was approximately 296 km. Data was collected from 3 location along the river. Within each location, sampling sites were at floodplain. Research was carried out during wet season. Fish were caught using rengge (gillnet). The determination of methylmercury was using modified CV-AAS (cold vapor atomic absorption spectrophotometry) methods. The results showed that among samples being measure, the accumulation was highest in river sediment (0,336 µg.g1), followed by the meat of M. numerous (0,303µg.g1 ± 0,342), and the water (0.058 mg1) respectively. Mercury had tendency higher toward downstream. This was due to sediment texture which was dominated by silt. Such condition was potential for methylation. Turbidity, water current and pH contributed to the increasing level of mercury in the downstream WHO permittable tolerarable weekly intake for mercury is 171,42 µg was equal to 24,4 µg daily if one person consume 100g M. numerous meat daily, it is possible that will be 30,3 up/g-1 enter the body. This means that mercury along the Kahayan River threaten the people who eat fish up from this river.

DOI:
https://doi.org/10.22146/jml.18610
---
Article Metrics

Abstract views : 2380 |

views : 1469
Refbacks
There are currently no refbacks.
Copyright (c) 2017 Jurnal Manusia dan Lingkungan
JML Indexed by:

View My Stats