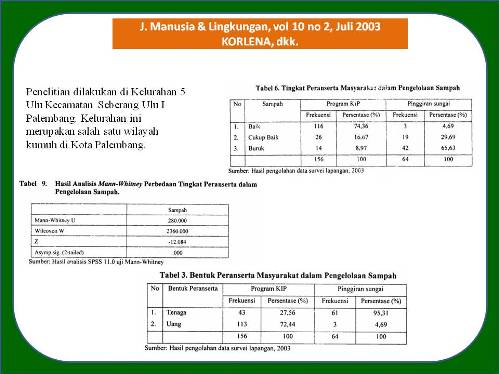 PERANSERTA MASYARAKAT DALAM PENGELOLAAN LINGKUNGAN PERMUKIMAN DI KELURAHAN 5 ULU PALEMBANG (The Community Participation in Settlement Environment Management at Kelurahan 5 Ulu Palembang, Indonesia)

https://doi.org/10.22146/jml.18606
Korlena Korlena
(1*)
, Leksono Probo Subanu
(2)
, Pangestu Subagyo
(3)
(1)&nbspBidang Pengendalian Dampak Lingkungan Daerah Kota Palembang
(2)&nbspFakultas Teknik Jurusan Arsitektur Universitas Gadjah Mada Yogyakarta
(3)&nbspFakultas Ekonomi Universitas Gadjah Mada Yogyakarta
(*) Corresponding Author
Abstract
ABSTRAK
Kebutuhan untuk permukiman yang baik dan memaciai merupakan salah satu masalah perkotaan yang harus diatasi oleh pemerintah. Kampung lrnprovement Progran (KIP) yang berisikan pengembangan infrastruktur pemukiman merupakan jawaban untuk masalah tersebut. Kegunaan KIP adalah untuk memotivasi masyarakat agar dapat menolong dirinya sendiri dalam bentuk partisipasi dalam mengelola lingkungan sekitarnya. Penelitian ini berfokus pada partisipasi masyarakat di Kelurahan 5 Ulu Palembang. Penelitian ini bertujuan untuk mengkaji tingkat partisipasi masyarakat dalam KIP di sepanjang sungai, dan mengidentifikasi faktor determinan yang mempengaruhi partisipasi. Penelitian ini menggunakan pendekatan eksplanasi, dengan menggunakan proporsional random sampling dengan unit analisis rumah tangga di 2 wilayah yaitu daerah KIP dan sepanjang sungai. Data dikurnpulkan rnenggunakan kuesioner, interview pengamatan lapangan dan data sekunder. Metode statistik multiple regression digunakan untuk mengetahui pengaruh faktor sosial-demografi dan sosio-ekonomik terhadap tingkat partisipasi, Uji T-test independent sample dan Mann-Withey-test digunakan untuk membedakan partisipasi di 2 wilayah. Hasil penelitian menunjukkan bahwa : (1) partisipasi di daerah KIP untuk jalan dan drainase cenderung berupa kontribusi tenaga dan uang, sedangkan pengelolaan sampah padat cenderung dalam bentuk uang, sementara di daerah sepanjang sungai hal tersebut cenderung tenaga saja; (2) tingkat partisipasi masyarakat yang tinggal di daerah KIP lebih tinggi dari pada yang ada di sepanjang sungai; (3) faktor sosial-demografi dan sosio-ekonomi menentukan tingkat partisipasi dalam pengelolaan jalan dan drainase, sedangkan faktor kepemilikan rumah dan faktor pendapatan menentukan tingkat partisipasi dalam pengelolaan limbah padat; (4) faktor determinan yang mempengaruhi tingkat partisipasi adalah kepemimpinan formal dan informal, kondisi geografis, infrastruktur KIP, rasa keterasingan, kebutuhan mendesak, keuntungan langsung dalam program KIP.
ABSTRACT
The need for good and adequate settlement is one of city problems that must be overcome by the government. Kampung Improvement Program (KIP that consist of settlement infrastructure development was the answer for this problem. The purpose of KIP was to motivate the people in order to help themselves as a participation in managing environment surroundings. The research was focused on community participation at Kelurahan 5 Ulu Palembang. It aimed to assess the level of participation in KIP riverside area, and to identify determinant factors that influenced the participation. The research used an overview method with explanation approach. It utilized proportional random sampling with analysis unit of household in two areas, i.e. KIP and riverside area. Data were collected using questionnaires and interviews, field observations, and secondary data. Statistical methods by means of multiple regressions were apllied to find out the influence of social demography and social economic factor towards participation levels. Then T-test independent sample and mann-Withey-test were used to look for participation distinction between two areas of research. The result show that: (1) the participation in KIP area both of road and drainage tends to be in the form of contribution of both labour and money, while in solid waste management tends to be in the form of money only. While the riverside area, it tends to labour only; (2) the level of community participation who lived in KIP areas is higher than that of the riverside area; (3) social demography and social economic factors determined the level of participation in road and drainage management, housing ownership, stay, and income factors determined the level of participation in solid waste management; (4) the determinant factor that influenced the level of participation are formal and informal leadership, geographical condition, KIP infrastructure, feeling isolated, urgent needs, direct advantages in KIP Programs.

DOI:
https://doi.org/10.22146/jml.18606
---
Article Metrics

Abstract views : 1159 |

views : 885
Refbacks
There are currently no refbacks.
Copyright (c) 2017 Jurnal Manusia dan Lingkungan
JML Indexed by:

View My Stats