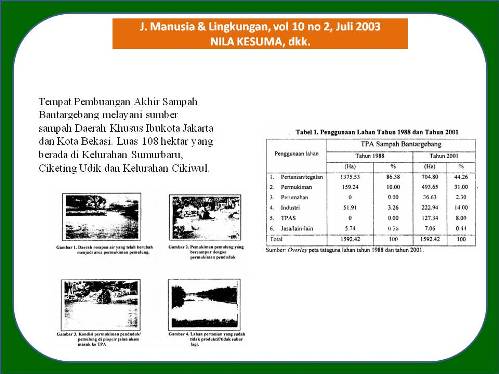 PERUBAHAN FISIK KERUANGAN DAN SOSIAL EKONOMI MASYARAKAT DI KAWASAN SEKITAR TEMPAT PEMBUANGAN AKHIR SAMPAH BANTARGEBANG KOTA BEKASI (Physical Environmental and Social Economic Changing in Bantargebang Solid Waste Dumping Site Area Surrounding Bekasi City)

https://doi.org/10.22146/jml.18605
Nila Kesuma
(1*)
, Haryadi Haryadi
(2)
, Agam Marsoyo
(3)
(1)&nbspBappeda Kota Bekasi Jawa Barat
(2)&nbspFakultas Teknik Universitas Gadjah Mada Yogyakarta
(3)&nbspFakultas Teknik Universitas Gadjah Mada Yogyakarta
(*) Corresponding Author
Abstract
ABSTRAK
Penelitian ini bertujuan untuk mengidentifikasi dan menjelaskan perubahan fisik keruangan dan sosial ekonomi masyarakat di kawasan sekitar TPA Sampah Bantargebang. Metode penelitian yang digunakan adalah gabungan metode kualitatif dengan metode kuantitatif dengan pendekatan rasionalitas, yaitu data dan informasi dilapangan dikomparasikan dengan teori dan konsep yang berhubungan dengan masalah yang diteliti. Hasil penelitian dan pembahasan menunjukkan bahwa: (1) terdapat perubahan fisik keruangan di walayah penelitian yang ditandai dengan bertambahnya area terbangun, yaitu tumbuhnya tempat-tempat permukiman pemulung warung-warung, rumah-rumah penduduk, bertambah panjang dan lebarnya jalan, serta menurunnya kualitas air tanah, udara dan kesuburan lahan; (2) terdapat perubahan pada kondis; sosial masyarakat yang ditandai dengan bertambahnya jumlah penduduk, kegiatan ekonomi atau lapangan kerja, rendahnya angka partisipasi kasar pada setiap tingkat pendidikan, menurunnya derajat kesehatan masyarakat, serta terganggunya kenyamanan lingkungan yang akhirnya mengurangi kesejahteraan masyarakat; (3) terdapat perubahan pada ekonomi penduduk ke arah yang lebih baik, yang ditandai dengan meningkatnya jumlah pendapatan dan terbukanya peluang mengembangkan usaha sampingan. Berdasarkan hal tersebut dapat disimpulkan bahwa bagi lingkungan sekitar dan masyarakat di wilayah penelitian sebara umum keberadaan TPA Sampah Bantargebang lebih memberikan pengaruh negatif daripada positif.
ABSTRACT
This research aims to identify and to explain physical spatial and social economic community changing in the Bantargebang Solid Waste Dumping site area  and it surroundings. The research used deductive rational approach, with a combination of quantitative and qualitative methods, i.e. comparison between data and information collected in the field, and the concept and theory related to the subject. The research identified physical, social, and economic changes. The Physical change was marked by the increasing number of built area, i.e., the growing areas for garbage collectors housings, stalls, local inhabitants housings, increasing length and width of road, and decreasing quality of ground water, air, and solid fertility. The changes of social condition were marked by the increasing population, economic activities or job opportunities, low rate of participation in all levels of education, decreasing degree of health, and disturbed environmental comfort, all of which reduce people's welfare. The income increase of income, hob opportunities, and business activities which marked the improvement of economic condition. the research concluded that Bantargebang dumping site brought more negative than positive impacts to the surrounding environment and society in the research location.

DOI:
https://doi.org/10.22146/jml.18605
---
Article Metrics

Abstract views : 468 |

views : 403
Refbacks
There are currently no refbacks.
Copyright (c) 2017 Jurnal Manusia dan Lingkungan
JML Indexed by:

View My Stats