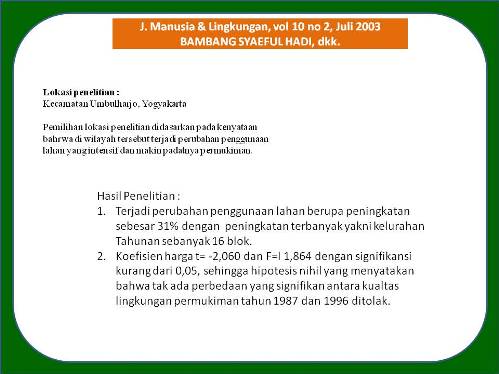 EVALUASI PERUBAHAN KUALITAS LINGKUNGAN PERMUKIMAN KOTA BERDASARKAN FOTO UDARA MULTITEMPORAL KASUS KECAMATAN UMBULHARJO DENGAN BANTUAN SISTEM INFORMASI GEOGRAFI (Evaluation on The Changes of The Environmental Quality of Urban Settlement)

https://doi.org/10.22146/jml.18604
Bambang Syaeful Hadi
(1*)
, Soewadi Mulyowiyono
(2)
(1)&nbspFakultas Ilmu Sosial Universitas Negeri Yogyakarta
(2)&nbspFakultas Geografi Universitas Gadjah Mada Yogyakarta
(*) Corresponding Author
Abstract
ABSTRAK
Daerah urban berubah dengan cepat. Hal tersebut juga rnenyangkut kualitas lingkungan permukiman urban, perubahan yang terjadi disebabkan oleh peningkatan jumlah penduduk. Penelitian ini bertujuan untuk mengetahui: (1) akurasi variable kualitas lingkungan daerah urban sepeni yang diinferensi dari foto udara skala besar tahun l986 dan 1995, (2) perubahan kualitas lingkungan permukiman urban, serta jenis perubahannya, dan (3) perbedaan secara spasial dan temporal antara kualitas lingkungan pemukiman. Akuisisi data dilaksanakan dengan menginterpretasi foto udara pankromatik hitam putih dengan menggunakan pendekatan fotomorpik. Akurasi variabel hasil interpretasi di uji dengan matriks konfusi. Perubahan kualitas lingkungan permukirnan urban dari tahun 1986 dan 1996 diperoleh melalui metode overlay dengan menggunakan sistim informasi geografis. Untuk mengetahui adanya perbedaan yang signifikan secara spasial digunakan uji t. Hasil penelitian ini menunjukkan bahwa: (1) akurasi menyeluruh dari variabel yang diinterpretasi dari foto udara multitemporal dapat diterima, tetapi akurasi variable yang diekstrak dari foto udara 1986 berada sedikit dibawah akurasi yang dapat diterima, (2) Perubahan kualitas lingkungan pemukiman urban rnencakup daerah seluas 238,95 ha, 159,30 ha dari luasan tersebut menuju ke perbaikan sedangkan sisanya 79,65 ha terjadi kerusakan, dan (3) perubahan kualitas lingkungan permukiman urban berbeda secara signifikan untuk tiap kalurahan, dengan koefisien t -2,06 dan koefisien F 11,840 pada tingkat signifikansi kurang dari 0,05.
ABSTRACT
Urban areas are changing quickly. It is also the case with environmental quality of urban settlement, the change of which occurs due to the increasing urban population. This research is aimed to find out: (1) the accuracy of the environmental quality variables of urban settlement as inferred from large scale airphotos of 1986 and 1995, (2) the changes of the environmental quality or urban settlement, the type of change as well as its area, and (3) the spatial and temporal differences of environmental qualities among kalurahans. Data acquisition was carried by interpreting black and white panchromatic airphotos of 1986 and 1996 using photomorphic approach. Interpretation was conducted on 330 block. The accuracy of interpreted variables was terted using a confusion matrix. The change of the environmental quality or urban settlement from 1986 to 1996 was acquired though an overlay method using geographic information system. In order to find out whether the change differs significantly in spatial terms, at test and one way ANOVA were adopted. The result of this research indicated that: (1) the overall accuracy of variables interpreted from the multitemporal airphotos is acceptable, but the accuracy of variable extracted from airphotos of 1986 falls slightly below the acceptable accuracy; (2) the change of environmental quality of urabn settlement covers an area of 238.95 hectare, 159.30 hectare of which underwent a betterment, whereas the rest of 79.65 deteriorated; and (3) the change of environmental quality of urban settlement differed significantly for each kalurahan, with t coefficient of -2.060 and F coefficient of 11.840 at a significant level of less than 0.05.

DOI:
https://doi.org/10.22146/jml.18604
---
Article Metrics

Abstract views : 2715 |

views : 1859
Refbacks
There are currently no refbacks.
Copyright (c) 2017 Jurnal Manusia dan Lingkungan
JML Indexed by:

View My Stats