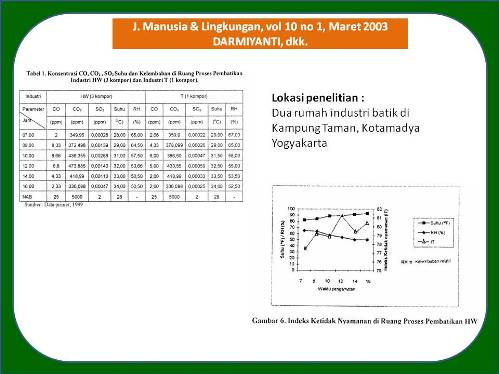 PENCEMARAN UDARA DI RUANG PROSES PEMBATIKAN INDUSTRI RUMAH TANGGA BATIK: STUDI KASUS INDUSTRI RUMAH TANGGA BATIK DI KAMPUNG TAMAN KOTAMADYA YOGYAKARTA (Indoor Air Polution in batik-Making Workrooms of Batik Home Industry:Case Study of Batik Home)

https://doi.org/10.22146/jml.18600
Darmiyanti Darmiyanti
(1*)
, Bardi Murachman
(2)
, Chafid Fandeli
(3)
(1)&nbspTeknik Kimia Tekstil Universitas Bandung Raya
(2)&nbspTeknik Kimia Universitas Gadjah Mada
(3)&nbspFakultas Kehutanan Universitas Gadjah Mada
(*) Corresponding Author
Abstract
ABSTRAK
Penelitian ini bertujuan untuk menginvestigasi konsentrasi karbon monoksida, karbon dioksida, sulfur dioksida, suhu, kelembaban dan bau ruang kerja pembuatan batik sebagai akibat dari proses pembuatan batik dalam lingkungan kerja. Studi kasus dilakukan di industri rumahan (home indyustry) di kampung Taman Yogyakarta. Penelitian ini dilakukan dari bulan desember 1999 sampai januari 2000. Pengukuran parameter dilakukan dalam 2 rumah industri batik yang masing-masing menggunakan satu dan tiga kompor sebagai pemanas. Metode analisis data adalah analisis times series dan analisis grafis. Konsentrasi karbon monoksida berkisar antara 2,00-8,66 ppm, karbondioksida berkisar antara 372,498-472,885 ppm. Sulfurdioksida berkisara antara 0,00028-0,00268 ppm. Temperatur berkisar antara 29 oC-34 oC, sedangkan kelembaban berkisar antara 50,5 %-67%. Penelitian mengindikasikan bahwa ruang kerja batik telah terkontaminasi karbon monoksida yang beresiko terhadap kesehatan para pekerja. Ruang kerja pembuatan batik tidak nyaman.
ABSTRACT
This research aims to investigate the concentrations of carbon monoxide, carbon dioxide, sulfur dioxide, temperature, humidity and smells batik-making workrooms as a result of the batik-making process on work environments. A case-study of home industries was conducted in Kampung Taman Yogyakarta Municipal City. The research was conducted from December 1999 to January 2000. Measurement of parameters under investigation was carried out in two batik home industries, each of which used stove and there stove as heaters. Methods of analyzing the data were time series analysis, and graphics analysis. The concentration of carbon monoxide in batik-making workrooms ranges between 2.00 ppm and 8.66 ppm carbon dioxide ranged between 372.498 ppm and 473.885 ppm. Sulfur dioxide ranged vetweeb0.00028 ppm and 0.00268 ppm. Temperature ranged between 29oC and 34oC. Humidity ranged from 50.5% to 67%.The research indicated that batik masking workrooms have been contaminated by carbon monoxide which is rather risk for batik worker's health. Batik making workroom were uncomfortable.

DOI:
https://doi.org/10.22146/jml.18600
---
Article Metrics

Abstract views : 1231 |

views : 572
Refbacks
There are currently no refbacks.
Copyright (c) 2017 Jurnal Manusia dan Lingkungan
JML Indexed by:

View My Stats