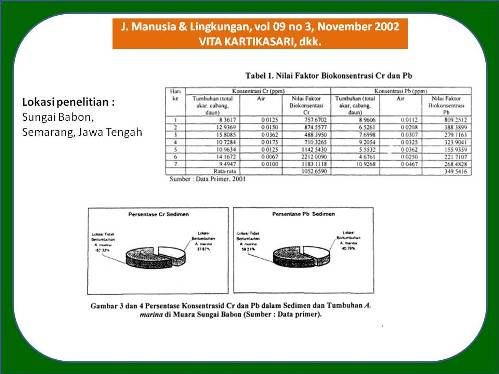 AKUMULASI LOGAM BERAT Cr DAN Pb PADA TUMBUHAN MANGROVE AVICENNIA MARINA DI MUARA SUNGAI BABON PERBATASAN KOTA SEMARANG DAN KABUPATEN DEMAK JAWA TENGAH (Accumulation of Heavy Metals Cr and Pb in Mangrove Plant Avicennia marina On Babon River's Estuari)

https://doi.org/10.22146/jml.18596
Vita Kartikasari
(1*)
, Shalihuddin Djalal Tandjung
(2)
, Sunarto Sunarto
(3)
(1)&nbspProgram Pascasarjana Universitas Gadjah Mada. Yogyakarta
(2)&nbspFakultas Biologi Universitas Gadjah Mada, Yogyakarta
(3)&nbspFakultas Geografi Universitas Gadjah Mada, Yogyakarta
(*) Corresponding Author
Abstract
ABSTRAK
Ekosistem mangrove cenderung dapat mengakumulasi unsur-unsur logam berat yang berada dalam perairan sekitar tumbuhan mengrove. Kajian ini dilakukan di muara sungai Babon, Semarang, Jawa Tengah. Tujuan penelitian untuk mengetahui kemampuan tumbuhan mangrove, Avicennia murina, dalam mengakumulasi unsur logam berat Cr dan Pb; mengetahui organ (akar, cabang, dan daun) yang paling banyak mengakumulasi unsur logam berat dan mengetahui peran tumbuhan mangrove dalam mengurangi kandungan logam berat (Cr dan Pb) yang ada di perairan muara sungai Babon. Penelitian ini dibagi menjadi dua tahap. Tahap observasi pendahuluan ditujukan untuk mengidentifikasi jenis-jenis tumbuhan yang hidup di ekosistem mangrove dan menentukan keberadaan unsur logam berat dalam organ tumbuhan mangrove. Setelah observasi pendahuluan dapat ditentukan lokasi sampling yang ada tumbuhan mangrove A. marina dan lokasi yang tidak ada tumbuhan tersebut. Penelitian utama ditujukan untuk memperoleh data primer konsentrasi Cr dan Pb dengan cara mencuplik dari organ tumbuhan (akar, cabang dan daun), sedimen dan air. Cuplikan dibawa ke laboratorium untuk dikeringkan dengan Microwave Digestion MLS-1200 MEGA dan ditentukan kadar Cr dan Pbnya. Data yang diperoleh kemudian dianalisis secara statistik Uji Non Parametric Kruskal Wallis dan Uji Two Test Kolmogorov Smimov. Hasil penelitian menampakkian Cr terakumulasi lebih banyak daripada Pb di tumbuhan mlangrove. Kecepatan faktor biokonsentrasi untuk Cr adalah 1052.66 dan Pb adalah 349.54. Tempat konsentrasi tertinggi Cr dan Pb dalam organ tumbuhan berturut-turut: akar, cabang dan dedaunan. Daun menyerap unsur Pb lebih besar daripada cabang. Hasil penelitian juga menunjukkan bahwa konsentrasi Cr dan Pb di sedimen yang perairannya ditumbuhi mangrove lebilr besar dari pada di sedimen yang perairannya tanpa ditumbuhi mangrove. Konsentrasi unsur logam berat dalam perairan yang ditumbuhi magrove.
ABSTRACT
Mangrove have a tendency to accumulate heavy metal elements, which exist in the water ecosystem surrounds this plant life. This study is conducted in Babon River's Estuari Semarang, Central Java and aimed to meet some goals as follows. First, to observe the mangrove plants capability, Avicennia marina, to accumulate heavy metal elements, e.g.: Cr and Pb. Second, to understand deeper observation of mangrove plant's organs: the roots, branches, and leaves, according to accumulate heavy metal elements. Third, to observe the role of mangrove plant due to reduce heavy metal elements (Cr and Pb), which may pollute in Babon rivers Estuaries. The Mangrove research and observation is divided into two major stages: Preliminary Observation and Main Observation. The preliminary observation is aimed to identify the variuous types of Mangrove plant and determine the heavy metal element contained in Mangrove plant organ. Based on preliminary observation result then decided the designated location sample point (contain heavy metal elements) which represent the Mangrova A. marina plant existence and the absence. The main observation is conducted in order to determine primary data of Cr and Pb concentration by taking sample plant organ's (roots, branches, and leaves), sediment, and water. The sample is then dried by Microwave Digestion MLS-1200 MEGA. The main data observation is analysed statistically by using Non parametric Kruskal Wallis test and Two sample Kolmogorov-Smirnov Test. The accumulating capability of Mangrove plant describe that Cr element is more accumulate by Mangrove plant comparing to Pb element. The rate of Bio-concentration factor for Cr and Pb are 1052.66 and 349.54. The highest concentration level of Cr and Pb in Mangrove plant's organ as in order : The roots, branches, and leaves. The leaves contain bigger Pb element in sediment, settled in the bottom of water, that present with Mangrove are quite bigger than location which Mangrove absences. On the other side, observation also describe that there is not significant metal element concentration differences in the water which present Mangrove or even in absence.

DOI:
https://doi.org/10.22146/jml.18596
---
Article Metrics

Abstract views : 2646 |

views : 2487
Refbacks
There are currently no refbacks.
Copyright (c) 2017 Jurnal Manusia dan Lingkungan
JML Indexed by:

View My Stats