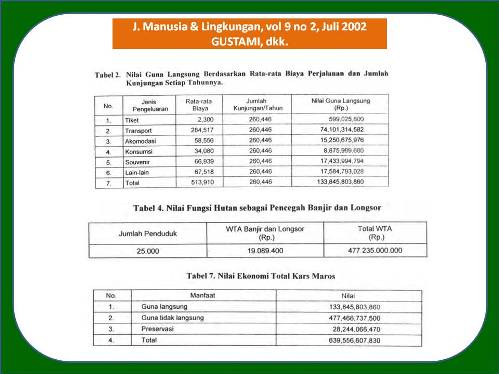 VALUASI EKONOMI BIODIVERSITY KARS: STUDI KASUS VALUASI EKONOMI KAWASAN KARS MAROS, SULAWESI SELATAN (Economic Valuation of Karst Biodiversity: A Case Study of Karst Region in Maros, South Sulawesi, Indonesia)

https://doi.org/10.22146/jml.18590
Gustami Gustami
(1*)
, Heru Waluyo
(2)
(1)&nbspKasubbid Tatalaksana Sumber Daya Pendanaan pada Asisten Deputi Urusan Pengembangan Kelembagaan Penunjang LH, Deputi I MENLH
(2)&nbspKasubbid Tatalaksana Sumber Daya Pendanaan pada Asisten Deputi Urusan Pengembangan Kelembagaan Penunjang LH, Deputi I MENLH
(*) Corresponding Author
Abstract
ABSTRAK
Studi ini bertujuan untuk menghitung nilai ekonomi total dari kawasan kars Maros Sulawesi Selatan. Studi berlokasi di Taman Wisata Alam bantimurung, Cagar Alam Karaenta, dan Taman Wisata Alam Gua Pattunang. Kegiatan ini merupakan kerjasama Kementerian Lingkungan Hidup dan Collaborative Environmental Project in Indonesia (CEPI) dengan melibatkan Staf Bapedal Regional III Makassar, Pemda Maros, Universitas Muhammadiyah dan Universitas Hasanuddin Ujung Pandang. Pendekatan biaya perjalanan adalah yang pertama dikaji untuk menghitung nilai guna langsung dari kegiatan rekreasi. Penghitungan nilai tidak langsung keberadaan kawasan kars beserta hutannya yang didasarkan pada nilai dari fungsinya sebagai sumber air dan pencegah terjadinya banjir dan longsor. Nilai preservasi kawasan kars yang dinilai dengan menghitung keinginan membayar pengunjung untuk konservasi kupu-kupu dan kumbang,perbaikan lingkungan terutama yang berkaitan dengan kebersihan, keindahan dan kesejukan dengan jumlah kunjungan pertahun. Berdasarkan hasil analisis, nilai ekonomi total yang terdiri dari nilai guna langsung, nilai guna tidak langsung serta nilai bukan guna (non use value) yang berupa nilai preservasi adalah Rp. 639,556,607,830,-. Walaupun kenyataannya masih banyak nilai ekonomi lain yang belum dikaji, namun studi ini telah mengungkapkan sebagian nilai ekonomi kawasan kars yang dimanfaatkan oleh masyarakat sekitar ataupun masyarakat di luar yang mengunjungi kawasan ini untuk menikmati fenomena "kars tropika klasik" Maros.
ABSTRACT
The objective of this study is to assess total economic values of karst region in Maros, South Sulawesi, spesifically at Taman wisata alam Bantimurung, Cagar alam Karaenta, and Taman Wisata Alam Gua Pattunuang. This activity was a joint project between the Ministry of Environmental Republic of Indonesia and the Collaborative Environmental Project in Indonesia (CEPI) involving staff of BAPEDAL Regional III, Makassar, local government of Maros, Muhammadiyah University and Hassanudin University in Makassar. A travel expenditure approach was firstly assessed to determine the direct use value of recreation activities. Indirect value determination abou the existence of karst region including its forest was conducted based lor the value of its function as water resources and prevention of flood and land slide. The preservation value of karst region was determined by computing visitors willingness to pay for butterfly conservation, environmental improvement, amenity, and also the number of visitors. Based on the result of the analysis, the total economic value consisted of the direct use value, indirect use value, and non-use value which formed the preservation value amounting Rp. 639.556.607,830,-. Even though there other economic values which have not been assessed, this study has addressed some parts of economic values of a karst region which was developed by both local and outside people who enjoy the classical tropical karst of Maros.

DOI:
https://doi.org/10.22146/jml.18590
---
Article Metrics

Abstract views : 2117 |

views : 1429
Refbacks
There are currently no refbacks.
Copyright (c) 2017 Jurnal Manusia dan Lingkungan
JML Indexed by:

View My Stats