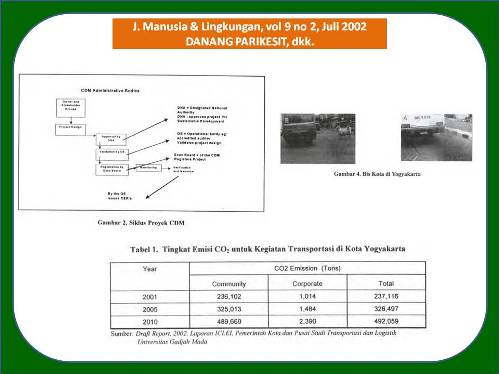 PEMBIAYAAN RESTRUKTURISASI INDUSTRI BUS PERKOTAAN SESUAI DENGAN KERANGKA KERJA PROTOKOL KYOTO (Funding for Industrial Restructuring Urban Bus Industry following Kyoto Protocol)

https://doi.org/10.22146/jml.18588
Danang Parikesit
(1*)
, Muchlich Z. Asikin
(2)
(1)&nbspPusat Studi Transportasi dan Logistik Universitas Gadjah Mada Yogyakarta
(2)&nbspPusat Studi Transportasi dan Logistik Universitas Gadjah Mada Yogyakarta
(*) Corresponding Author
Abstract
ABSTRAK
Sektor transportasi, khususnya sektor angkutan umum telah lama disadari sebagai kontributor utama emisi gas rumah kaca (Green House Gases Emissions). Investasi pada angkutan umum perkotaan sangat dibutuhkan walaupun pembiayaan yang konvensional sering sulit dilakukan karena tingginya tingkat investasi dan prioritas pemerintah saat ini. Angkutan perkotaan juga dilihat sebagai daerah kekuasaan sektor swasta yang membuat pemerintah sulit untuk mengeluarkan uang publik. Ratifikasi Kyoto Protocol telah memberi jalan untuk mengembangkan alternatif pembiayaan untuk pembangunan yang berkelanjutan. Clean Development Mechanism pada Kyoto Protocol telah membuka kesempatan bagi otoritas angkutan umum perkotaan dengan menggunakan prinsip carbon trading. Sumber daya untuk menerapkan proyek angkutan umum perkotaan dengan CDM sangat esensial. Pekerjaan di masa datang harus diarahkan untuk mempelajari metodologi dalam mengkombinasi soft measures dan melaksanakan proyek secara optimal. Pembiayaan dengan sistem CDM ini telah dimulai di Yogyakarta dengan judul The Green House Gases Emission Reduction Program for Urban Buses in Yogyakarta atau Program Penurunan Emisi Gas Rumah Kaca untuk Bus Perkotaan di Yogyakarta. Sebuah aliansi dengan nama YUPTA (Yogyakarta Urban Public Transport Alliance) telah dibentuk yang terdiri dari 3 lembaga yaitu Dinas Perhubungan Propinsi DIY, Pusat Studi Transportasi dan Logistik (PUSTRAL) UGM dan Koperasi Pengusaha Angkutan Kota Yogyakarta (KOPATA).
ABSTRACT
Transportation sector, especially public transportation, has been known as the main contributor to the green house hases emission. Investment to urban public transportation is needed but conventional funding is often difficult to be obtained because of the high investment level and the present government priority. Urban transportation is also seen as a private sector domain making the government difficult to use public fund. Kyoto protocol ratification has opened the way to develop funding alternative to sustainable development. Clean development mechanism of Kyoto Protocol provides opportunity for urban public transportation in developing countries to support urban public transportation project applying CDM is essential in which future tasks should be directed to study the methodology in combining soft measures and conducting the project optimally. Funding applying CDM system has been started in Yogyakarta under the title "the Green House Gases Emission Reduction Program for Urban Buses in Yogyakarta". An alliance called YUPTA (Yogyakarta Urban Public Transport Alliance) has been established which it consist of three institution, i.e, the Transportation office of Yogyakarta Province, study Center for Transportation and Logistic Gadjah Mada University and KOPATA (Cooperation of Urban Transportation Businessman of Yogyakarta)

DOI:
https://doi.org/10.22146/jml.18588
---
Article Metrics

Abstract views : 755 |

views : 540
Refbacks
There are currently no refbacks.
Copyright (c) 2017 Jurnal Manusia dan Lingkungan
JML Indexed by:

View My Stats