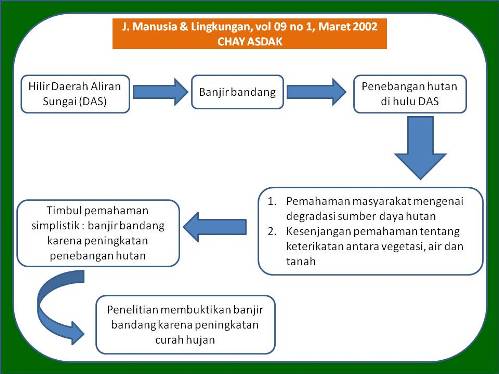 HUTAN DAN PERILAKU ALIRAN AIR: KLARIFIKASI KEBERADAAN HUTAN DAN PENGARUHNYA TERHADAP BANJIR DAN KEKURANGAN AIR (Forest and Stream Flow Behaviour: Clarification on Forest Relation With Flood and Drought Issues)

https://doi.org/10.22146/jml.18587
Chay Asdak
(1*)
(1)&nbspPPSDAL-lembaga Penelitian, Universitas Padjadjaran. Jl. Sekeloa Selatan I Bandung 40132
(*) Corresponding Author
Abstract
ABSTRAK
Banjir bandang di wilayah hilir Daerah Aliran Sungai (DAS) seringkali dihubungkan dengan penebangan hutan di wilayah hulu DAS. Hal ini terkait dengan dua hal: (1) perhatian masyarakat terhadap tingginya laju degradasi sumberdaya hutan di banyak tempat di Indonesia, dan (2) adanya kesenjangan pemahaman tentang keterkaitan antara vegetasi, air, dan tanah. kedua hal ini mendorong terbentuknya pemahaman bersama (masyarakat luas termasuk akademisi) yang cenderung bersifat simplistik bahwa banjir bandang tersebut terjadi karena mengingkatnya penebangan hutan. Apakah pemahaman tersebut di atas didukung oleh bukti-bukti ilmiah? Atau karena didorong oleh emosi bahwa kerusakan hutan makin meningkat. Tulisan ini mencoba untuk menunjukkan hasil penelitian bahwa, pada banyak kasus, banjir bandang lebih disebabkan oleh tingginya intensitas curah hujan.
ABSTRACT
Big floods found in downstream areas that occurred in the wettest months of rainy season are often said to be associated with forest cutting in the upper parts of a watershed. This is partly caused by an increasing strong concerned from many people on high rate of forest destruction in many parts of Indonesia. Partly by false perception on forest-water-soil interaction. In the mean time, there is a common perception among the people including some scientific communities that large floods with severe economic impact are closely linked with the increasing forest cutting. Does this allegation have scientific justification? Or is it just a public emotion driven by the fact that many forest stands are becoming degraded overtime. This article is trying to bring up some scientific findings that, in many cases, big floods were often associated with extreme rainfall. Some illustrations used in this article are mainly from research findings in the temperate climates, with small protions from tropical regions.

DOI:
https://doi.org/10.22146/jml.18587
---
Article Metrics

Abstract views : 613 |

views : 969
Refbacks
There are currently no refbacks.
Copyright (c) 2017 Jurnal Manusia dan Lingkungan
JML Indexed by:

View My Stats