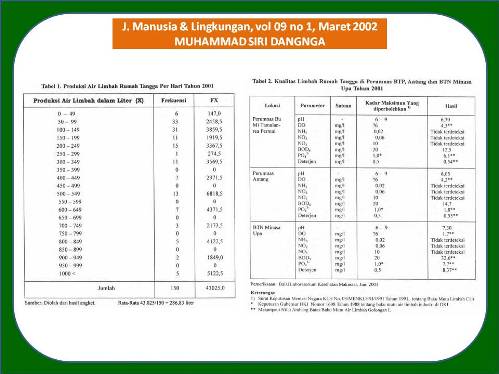 KAJIAN PENGELOLAAN KUALITAS LIMBAH RUMAH TANGGA DI KOTA MAKASSAR (Study of the Household Waste Quality Management in Makassar City)

https://doi.org/10.22146/jml.18584
Muhammad Siri Dangnga
(1*)
(1)&nbspJurusan Ilmu Pendidikan Fakultas Keguruan dan Ilmu Pendidikan Universitas Muhammadiyah Parepare, Sulawesi Selatan
(*) Corresponding Author
Abstract
ABSTRAK
Tujuan kajian ini adalah: (1). Untuk mengetahui kebijakan Pemerintah Daerah Kota Makassar mengnai sistm dan pengembangan prasarana serta langkah-langkah yang ditempuh dalam pembuangan limbah rumah tangga, dan (2). Untuk mengetahui konsentrasi sat pencemar pada limbah rumah tangga yang terdapat di saluran pembuangan yang akan dilepas ke lingkungan. Pengelolaan limbah rumah tangga yang diterapkan di Kota Makassar adalah: (1) meningkatkan sistem setempat dari lubang peresapan menjadi tangki septik yang dilengkapi lubang resapan, (2) mengembangkan organisasi pengelola sistem terpusat, (3) mengembangkan sistem jaringan pelayanan air limbah untuk bagian kota yang padat penduduknya, (4) membangun sebuah instalasi pengolahan air limbah (IPAL), (5) memotivasi partisipasi masyarakat dan swasta dalam sistem pengelolaan air limbah, dan (6) mengembangkan sistm interceptor di luar daerah yang dilayani oleh sistem pengelolaan air limbah.     Hasil pengukuran menunjukkan bahwa beberapa parameter kandungan limbah rumah tangga telah melampaui baku mutu atau nilai ambang batas untuk limbah Golongan I. Parameter tersebut adalah Oksigen terlarut (DO), fosfat, BOD, dan deterjen.
ABSTRACT
The objectives of the study are: (1) to know the government policies in Makassar city about system and infrastructure developing and efforts condacted in household waste disposal. (2) to understand the concentration of pollutant on household waste content which exists in disposal system discharge to the environment. The household waste management applied in Makassar City were to: (1) increase the spot system from infiltrate hole to septic tank equipped with absorption level. (2) develop the central system management organization, (3) develop the waste network system in densely populated city; (4) build the waste management installation, (5) motivate the participation of the general public and private in the waste management system; (6) develop the interceptor system outside territory served by the waste management system. The result of the measurement show that a small number of the household waste content has exceeded the standard quality. The parameters of household waste content that had surpassed the quality standard for the waste class I Dissolved Oxygen (DO), phosphate, Biochemical Oxygen Demand (BOD) and detergent.

DOI:
https://doi.org/10.22146/jml.18584
---
Article Metrics

Abstract views : 1458 |

views : 1266
Refbacks
There are currently no refbacks.
Copyright (c) 2017 Jurnal Manusia dan Lingkungan
JML Indexed by:

View My Stats