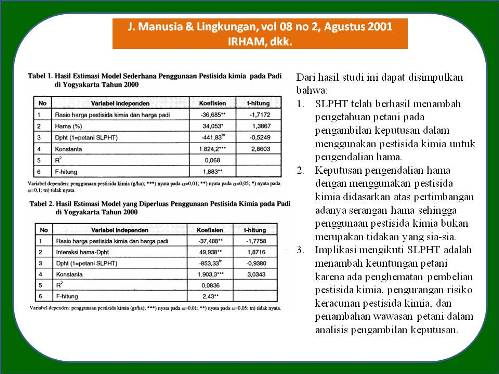 PERUBAHAN CARA PENGAMBILAN KEPUTUSAN OLEH PETANI PENGENDALIAN HAMA TERPADU (PHT) DALAM MENGGUNAKAN PESTISIDA KIMIA PADA PADI (The Change of Chemical Pesticides Use Decision Making in Rice by Intergrated Farms)

https://doi.org/10.22146/jml.18576
Irham Irham
(1*)
, Joko Mariyono
(2)
(1)&nbspFakultas Pertanian, Universitas Gadjah Mada, Yogyakarta
(2)&nbspFakultas Pertanian, Universitas Gunung Kidul, dan Yayasan Bahtera, Yogyakarta
(*) Corresponding Author
Abstract
ABSTRAK
Pestisida kimia merupakan salah satu masukan dalam produksi padi yang berfungsi untuk menekan kehilangan hasil oleh serangan hama dan penyakit. Penggunaan pestisida kimia harus bijaksana karena selain memberi manfaat juga menimbulkan bahaya terhadap kesehatan dan lingkungan. Banyak petani yang menggunakan pestisida kimia dengan dasar pencegahan, yaitu tanpa mempertimbangkan keadaan serangan hama dan penyakit sehingga penggunaannya cenderung berlebih. Pengendalian Hama Terpadu (PHT) diperkenalkan kepada petani melalui Sekolah Lapangan (SL) PHT, dengan tujuan untuk nrengurangi pestisida kimia,  dan hanya digunakan jika memang diperlukan. Hasil studi ini menunjukkan bahwa SLPHT telah mengubah cara pengambilan keputusan dalam menggunakan pestisida kimia. Keadaan ini menyebabkan penggunaan pestisida kimia menjadi berkurang.
ABSTRACT
Chemical pesticide is one of the inputs in rice production used to protect yield loss caused by pest attack. Chemical pesticides should be used wisely as they pose threat to human health and pollute environment. Many farmers use chemical pesticide based on prophylactic concept, that is using chemical pesticides without taking into consideration the level of pest attack, which leads to an excessive use. Integrated Pest Management (IPM) concept is introduced to farmers through Farmer's Field School (FFS) in order to reduce chemical pesticides use. According to the IPM principle, farmers can use chemical pesticides when necessary. Results of this study show that farmers have changed their decision-making in chemical pesticides use after adopting IPM concept through participation at FFS in IPM. This condition causes decline in chemical pesticide use.

DOI:
https://doi.org/10.22146/jml.18576
---
Article Metrics

Abstract views : 1932 |

views : 1621
Refbacks
There are currently no refbacks.
Copyright (c) 2017 Jurnal Manusia dan Lingkungan
JML Indexed by:

View My Stats