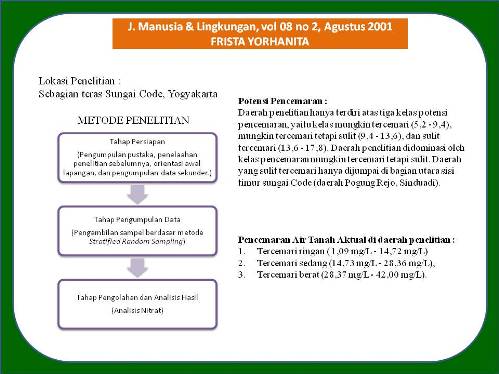 ZONASI POTENSI PENCEMARAN AIR TANAH PADA TERAS SUNGAI CODE YOGYAKARTA (Zoning The Potential Groundwater Pollution at Code River Terrace, Yogyakarta)

https://doi.org/10.22146/jml.18573
Frista Yorhanita
(1*)
(1)&nbspProgram Studi Ilmu Lingkungan, Program Pascasarjana Universitas Gadjah Mada, Yogyakarta
(*) Corresponding Author
Abstract
ABSTRAK
Tujuan penelitian ini ialah untuk membuktikan bahwa biomassa Fusarium sp dapat mereduksi Cr(VI), dan biomassa Aspergillus niger dapat digunakan untuk mengambil ion krom dari larutan. Fusarium.sp ditumbuhkan pada media cair kentang dekftosa cair, ditambah K2Cr2O7 atau sludge limbah penyamakan kulit. Selanjutnya diamati perubahan warnanya, bila terjadi perubahan warna dan oranye ke ungu atau tak berwarna maka telah terjadi reduksi krom valensi VI menjadi krom valensi Ill. Aspergillus niger ditumbuhkan pada media Potato dectrose agar (PDA) padat, dipindahkan ke media cair yang bensi bakto pepton, bakto dektrose dan srukronutrien. Produksi biomassa dilakukan pada labu erlenmeyer; setelah 5 hari dipanen dan dibuat bubuk. Bubuk ini digunakan untuk mengambil krom dari larutan. Hasil penelitian menunjukkan bahwa biomassa Fusarium sp dapat digunakan untuk mengambil krom dan larutan yang.mengandung KrCrrO, atau sludge limbah penyamakan kulit. Waktu inkubasi yang lebih lama meningkatkan absorbsi krom oleh biomassa Fascrium sp. Fusarium sp mampu mereduksi Cr(VI) menjadi Cr(Iii). Biomassa Aspergillus niger dapat digunakan untuk mengambil krom dari larutan. Hasil terbaik diperoleh pada konsentrasi awal 100 mg/I, pada pH 2,0, berat biomassa 0,1 g, dan waktu kontak 12 jam, yaitu 96,23% untuk Cr(II| dan96,3 % untuk Cr(VI). Fusarium sp. dan A. niger dapat digunakan sebagai bioremediator dalam penanganan limbah penyamakan kulit secara biologi.
ABSTRACT
The study area of this research was parts of the code river terraces, Yogyakarta. The aims of this research were as follows: (1) to determine the part of the code river terrace which has potential groundwater pollution; (2) to assess the natural physical factors (aquifer materials, depth of groundwater table, and the groundwater flow distance) and the non-natural physical factors of environmental sanitation (houses density, population density, horizontal distance between pollution source and well, and the number of water consumers) that influence groundwater pollution; and (3) to estimate the total amount of economical loss that caused by groundwater pollution. The determination of groundwater pollution potential area was done by overlaying aquifer material map, groundwater table depth map, groundwater table gradient map, and soil texture map. The result of the overlay was the potential groundwater pollution map. In order to find out the actual groundwater pollution, a quality test of the groundwater samples was conducted. The parameters of the water quality tested were temperature, electric conductivity, turbidity, CaCO3, NO2 NO3, Fe, Na, Cl, pH, and coli bacteria. Te result of the NO3 test was drawn in an actual groundwater pollution map. The actual groundwater map and the potential groundwater map were compared to know the difference between them. The result of this research showed that the area which had the potential groundwater pollution were those density populated and high houses density. Statistical analysis showed that a non-natural physical factors which has the most significant influence on the groundwater pollution was the groundwater flow distance. Population density and the number of water consumers significantly influence the groundwater pollution. The estimation of economical loss by PDA substitution costs indicated that area which suffered the most financial los was Kotabaru regionan (Rp.18.125.00/month/house).  The estimation of the economical loaa by health substitution costs showed that area suffered the most was Gowongan region (Rp.849.000/year).

DOI:
https://doi.org/10.22146/jml.18573
---
Article Metrics

Abstract views : 1558 |

views : 2104
Refbacks
There are currently no refbacks.
Copyright (c) 2017 Jurnal Manusia dan Lingkungan
JML Indexed by:

View My Stats