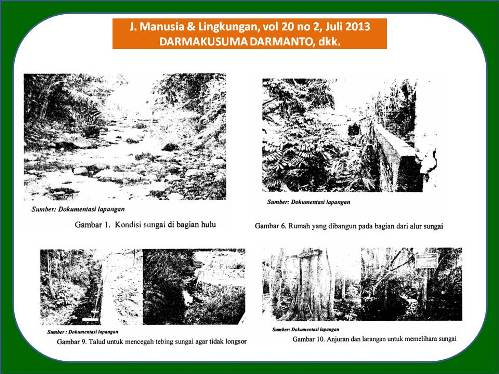 PENGELOLAAN SUNGAI BERBASIS MASYARAKAT LOKAL DI DAERAH LERENG SELATAN GUNUNGAPI MERAPI (River Management Based on Local Community in the Southern Slope of Marapi Volcano)

https://doi.org/10.22146/jml.18490
Darmakusuma Darmanto
(1*)
, Sudarmadji Sudarmadji
(2)
(1)&nbspJurusan Geografi Lingkungan Fakultas Geografi UGM
(2)&nbspProdi Ilmu Lingkungan Sekolah Pascasarjana UGM
(*) Corresponding Author
Abstract
ABSTRAK

Dalam kehidupan manusia, ternyata ada hubungan yang saling terkait antara manusia dengan sungai. Manusia memerlukan sungai untuk mendukung keperluan dan aktivitasnya, sebaliknya keberadaan sungai juga dapat dipengaruhi oleh aktivitas manusia. Dalam memanfaatkan dan memelihara sungai tidak terlepas dari pemanfaatan air di dalam sungai dan alur sungainya. Dalam memgelola sungai tidak terpisahkan antara pengelolaan air sungai dan alur sungainya. Hal tersebut juga tergantung dari karakteristik sungai dan kondisi sosial budaya masyarakat. Penelitian yang dilakukan di lereng selatan Gunungapi Merapi dengan cara survei di lapangan. Data dikumpulkan dengan observasi lapangan dan wawancara dengan masyarakat. Selanjutnya dikuti dengan analisis data secara deskriptif kualitatif. Sungai sungai besar di daerah penelitian telah dikelola oleh pemerintah, sedangkan masyarakat lebih berperan kepada pemanfaatan dan pemeliharaan sungai kecil. Berbagai penggunaan dilakukan terhadap sungai-sungai kecil, untuk keperluan rumah tangga, irigasi dan perikanan. Teknik pengambilan dan pemanfaatan air dilakukan dengan cara sederhana dengan beaya yang relatif murah, tetapi tetap mengedepankan azas kebersamaan dan keadilan. Pemeliharaan terhadap alur sungai terhadap kerusakkan lingkungan dilakukan berdasarkan atas kesadaran untuk keberlangsungan lingkungan dengan yang dilakukan secara perorangan dan berkelompok. Dalam pemeliharaan dikedepankan asas kegotongroyongan tanpa mengabaikan budaya masyarakat setempat.
ABSTRACT
In human life, there was a relationship between human activities with rivers. Humans need rivers to support their need and their activities; otherwise the existence of rivers can also be affected by human activities. The management of river cannot be separated from managing water in the river and its channels. It also depends on rivers characteristics as well as social and culture of the community. This research was conducted in the southern slopes of Merapi volcano using field survey. Data were collected through field observation and interviewing of local community, followed with descriptive- qualitative analyses. Big rivers in the study area have been managed by the government, while for smaller rivers the involvement in the utilization and maintenance by local community is dominant. Some small rivers are used for domestic, irrigation and fishery purposes. The way of managing rivers have been done in a simple way with relatively low cost of technique based on solidarity and local wisdom principles. Preventing the river from the environmental damage has been done individually or by groups, considering the awareness of the local community for environmental sustainability. It is also based on the principle of mutual cooperation without neglecting the characteristics of local culture.
Keywords
Alur sungai; pemanfaatan; pemeliharaan; masyarakat setempat; kebersamaan; kesadaran; river channel; usage; management; local community; mutual cooperation

DOI:
https://doi.org/10.22146/jml.18490
---
Article Metrics

Abstract views : 1591 |

views : 1496
Refbacks
There are currently no refbacks.
Copyright (c) 2017 Jurnal Manusia dan Lingkungan
JML Indexed by:

View My Stats