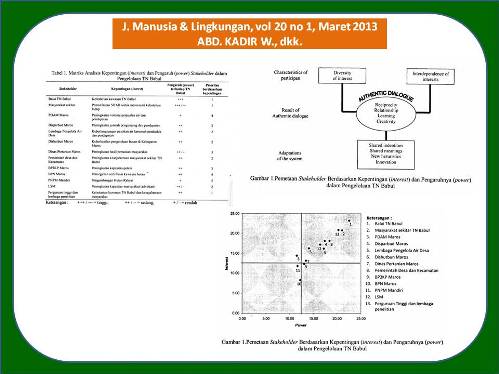 ANALISIS STAKEHOLDER PENGELOLAAN TAMAN NASIONAL BANTIMURUNG BULUSARAUNG, PROPVINSI SULAWESI SELATAN (Stakeholder Analysis of Bantimurung Bulusaraung National Park Management, South Sulawesi Province)

https://doi.org/10.22146/jml.18470
Abd. W Kadir
(1*)
, San Afri Awang
(2)
, San Afri Awang
(3)
, Ris Hadi Purwanto
(4)
, Ris Hadi Purwanto
(5)
, Erny Poedjirahajoe
(6)
, Erny Poedjirahajoe
(7)
(1)&nbspBalai Penelitian Kehutanan Makassar, Sulawesi Selatan
(2)&nbspFakultas Kehutanan Universitas Gadjah Mada, Yogyakarta
(3)&nbspFakultas Kehutanan Universitas Gadjah Mada, Yogyakarta
(4)&nbspFakultas Kehutanan Universitas Gadjah Mada, Yogyakarta
(5)&nbspFakultas Kehutanan Universitas Gadjah Mada, Yogyakarta
(6)&nbspFakultas Kehutanan Universitas Gadjah Mada, Yogyakarta
(7)&nbspFakultas Kehutanan Universitas Gadjah Mada, Yogyakarta
(*) Corresponding Author
Abstract
ABSTRAK
Para pihak (stakeholder) yang terkait dalam pengelolaan TN Babul memiliki kepentingan dan pengaruh yang beragam sehingga harus dapat dikelola dengan baik dalam mencapai tujuan pengelolaan TN Babul. Penelitian ini bertujuan untuk mengidentifikasi stakeholder dalam pengelolaan TN Babul, mendapatkan penjelasan tentang kepentingan dan pengaruh setiap stakeholder dalam pengelolaan TN Babul, serta peran stakeholder dalam mengakomodir kepentingan masyarakat sekitar TN Babul. Penelitian ini dilaksanakan di Kabupaten Maros pada Kawasan TN Babul, Propinsi Sulawesi Selatan. Pengumpulan data dilakukan melalui observasi dan wawancara kepada sejumlah informan kunci. Data dianalisis dengan teknik analisis deskriptif kualitatif. Hasil analisis stakeholder menunjukkan bahwa stakeholder primer dalam pengelolaan TN Babul terdiri dari Balai TN Babul, Masyarakat sekitar TN Babul, PDAM Maros, Disparbud Maros, Lembaga Pengelola Air Desa. Sedangkan stakeholder sekunder terdiri dari Dishutbun Maros, Dinas Pertanian Maros, Pemerintah desa dan kecamatan, BP2KP Maros, BPN Maros, PNPM Mandiri, LSM, dan Perguruan Tinggi dan lembaga penelitian. Keberadaan stakeholder tersebut dapat memberikan pengaruh positif dan negatif terhadap kawasan TN Babul. Peran yang dapat dilakukan oleh stakeholder dalam mengakomodir kepentingan masyarakat dapat berupa fungsi kontrol, bantuan fisik, bantuan teknis, dan dukungan penelitian. Pengelolaan kolaborasi dapat menjadi alternatif model pengelolaan TN Babul dalam mengakomodir kepentingan stakeholder yang beragam.
ABSTRACT
Stakeholders involved in management of the Babul National Park have diverse interest and power that must be managed well in achieving Babul National Park management objectives. This study aims to identify the stakeholders in Babul National Park management, an explanation of the intersest and power of each stakeholder, and the role of stakeholders in accommodating the interests of communities around Babul National Park. The research was conducted in Maros Regency in Babul National Park, South Sulawesi Province. Data collected through observation and interviews to a number key informants. Data were analyzed with qualitative descriptive analysis. The results showed that primary stakeholders in the Babul National Park management consist of Babul National Park Agency, Communities around National Park, PDAM Maros, Tourism Office, water management institutions in the village. While the secondary stakeholders consist of the Forestry and Plantation Office, Agriculture Office, village and district government, Information and Food Security Agency, the National Land Agency, PNPM Mandiri, local NGOs, universities and research institutions. The existence of these stakeholders can provide positive and negative effects of Babul National Park. The role that can be done of stakeholders in accommodating the interests of society can be a control function, physical assistance, technical assistance, and research support. Collaborative management can be an alternative management model in accommodating the diverse interests of stakeholders.
Keywords
TN Babul; analisis stakeholder; pengelolaan kolaboratif; Babul National Pqrk; Stakeholder Analysis; Collaborative Management

DOI:
https://doi.org/10.22146/jml.18470
---
Article Metrics

Abstract views : 4970 |

views : 4300
Refbacks
There are currently no refbacks.
Copyright (c) 2017 Jurnal Manusia dan Lingkungan
JML Indexed by:

View My Stats