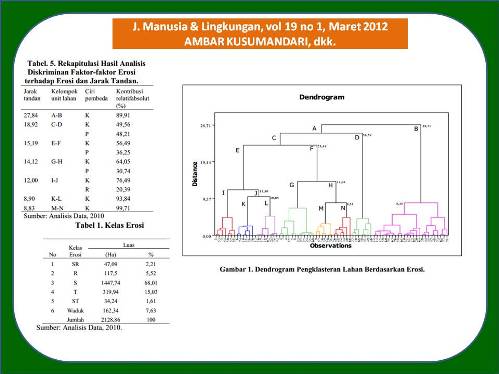 PENGKLASTERAN EROSI DI SUB DAS NGRANCAH KULONROGO (Soil Erosion Rates Clustering of Ngrancah Sub Watershed, Kulon Progo)

https://doi.org/10.22146/jml.18457
Ambar Kusumandari
(1*)
, Djoko Marsono
(2)
, Sambas Sabarnurdin
(3)
, Totok Gunawan
(4)
(1)&nbspFakultas Kehutanan, Universitas Gadjah Mada, Yogyakarta
(2)&nbspFakultas Kehutanan, Universitas Gadjah Mada, Yogyakarta
(3)&nbspFakultas Kehutanan, Universitas Gadjah Mada, Yogyakarta
(4)&nbspFakultas Geografi, Universitas Gadjah Mada, Yogyakarta
(*) Corresponding Author
Abstract
ABSTRAK
Penelitian ini dilakukan di Sub DAS Ngrancah yang merupakan daerah tangkapan air Waduk Sermo. Luas wilayah penelitian ini sekitar 2.200 ha. Mayoritas lahan di Sub DAS Ngrancah tergolong kritis yang ditunjukkan oleh tingginya tingkat erosi. Dengan demikian, wilayah ini sangat mendesak untuk dapat dikelola dengan benar agar degradasi lahan dapat dihambat. Untuk memprediksi erosi, diterapkan Model USLE, dengan rumus: A = RKLSCP. Wilayah studi dapat dipilahkan menjadi 77 unit lahan. Sampel tanah diambil dari seluruh unit lahan, demikian pula pengamatan lereng, vegetasi, dan penerapan konservasi tanah. Untuk menganalisis data digunakan analisis kluster. Hasil penelitian menunjukkan bahwa tingkat erosi bervariasi dari yang paling rendah sebesar 2,54 ton/ha/th sampai dengan yang tertinggi sebesar 489,30 ton/ha/th. Sekitar 68% wilayah studi termasuk dalam kelas erosi sedang dan sekitar 15% wilayah studi termasuk dalam kelas erosi tinggi. Pengklasteran unit lahan secara statistik menunjukkan bahwa pada jarak klaster terpendek terbentuk 8 klaster tingkat erosi. Uji diskriminan menunjukkan bahwa faktor K (erodibilitas) dan P (praktek konservasi tanah dan air) merupakan faktor yang paling dominan untuk terbentuknya klaster-klaster tersebut. Hasil penelitian ini diharapkan bermanfaat dalam merancang teknik konservasi tanah dan air untuk menangani erosi di Sub DAS Ngrancah.
ABSTRACT
The research was carried out at Ngrancah Sub Watershed which is located at the upper area of Sermo Dam and covers an area of almost 2.200 hectares.  The area is mostly critical showed by the high rates of erosion, so, it is  urgently required to manage properly in order to combat  land degradation. In this research, to study the erosion rates of the area, the USLE method was used, i.e. A = RxKxLSxCxP. The area was devided into 77 land units and the soil samples were taken from each land units as well as the observation of slopes, vegetation and soil conservation practices. Cluster analysis were applied to analyze the data.The research resulted that the erosion rates varies from the lowest rate of 2.54 ton/ha/yr to the highest rate of 489.30 ton/ha/yr and clasified as the moderate rate for the 68%  of the area and high rate for the 15% of the area. The cluster analysis showed that at the lowest cluster distance, the erosion rates of the subwatershed can be devided into 8 clusters. Furthermore, discriminant analysis was applied and resulted that the K and P factors are the most factors causing the difference beween clusters. This information can be considered in designing soil and water conservation techniques required for the study area. 
Keywords
soil; erosion; cluster; USLE; klaster; erosi

DOI:
https://doi.org/10.22146/jml.18457
---
Article Metrics

Abstract views : 1782 |

views : 1412
Refbacks
There are currently no refbacks.
Copyright (c) 2017 Jurnal Manusia dan Lingkungan
JML Indexed by:

View My Stats