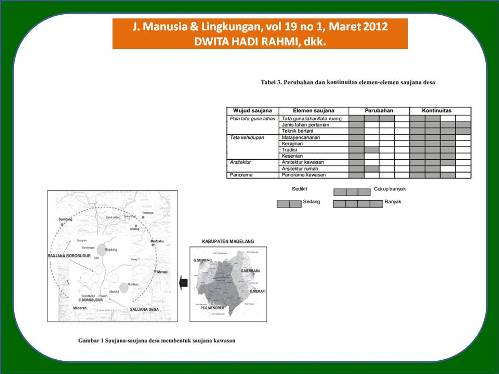 PUSAKA SAUJANA BOROBUDUR: PERUBAHAN DAN KONTINUITASNYA (Borobudur Cultural Landscape: Change and Continuity)

https://doi.org/10.22146/jml.18456
Dwita Hadi Rahmi
(1*)
, H.A Sudibyakto
(2)
, H. Sutikno
(3)
, Laretna T. Adishakti
(4)
(1)&nbspProgram Studi Ilmu Lingkungan, Pascasarjana, Universitas Gadjah Mada
(2)&nbspFakultas Geografi, Universitas Gadjah Mada
(3)&nbspFakultas Geografi, Universitas Gadjah Mada
(4)&nbspJurusan Arsitektur dan Perencanaan, Fakultas Teknik, Universitas Gadjah Mada
(*) Corresponding Author
Abstract
ABSTRAK
Penelitian ini dilakukan di kawasan Borobudur, Kabupaten Magelang, Jawa Tengah, untuk mengkaji potensi dan nilai keunggulan pusaka saujana Borobudur, serta mengetahui perubahan dan kontinuitasnya. Dengan interpretasi sejarah dan penjelasan secara naratif, wujud pusaka saujana Borobudur dapat diapresiasi dalam bentuk: a) pola pengolahan lahan; b) tata kehidupan; c) arsitektur tradisional kawasan; dan d) bentukan-bentukan alami. Potensi yang dimiliki pusaka saujana Borobudur meliputi potensi budaya, sejarah, bentukan-bentukan alami, dan panorama kawasan. Potensi-potensi yang dimiliki kawasan Borobudur, serta kontinuitas kondisi bentanglahan dan budayanya menjadikan kawasan Borobudur sebuah pusaka saujana yang unggul, dan nilai keunggulan ini meliputi: a) kandungan sejarah lingkungan kawasan, b) kawasan peninggalan benda-benda arkeologi, c) saujana-saujana desa yang menunjukkan kehidupan agraris masyarakatnya, dan d) panorama indah bentanglahan. Dalam lingkungan yang dinamis, pusaka saujana Borobudur terus mengalami perubahan yang dapat mengancam kontinuitasnya. Perubahan terjadi terutama pada tata guna lahan, kualitas visual, dan sebagian budaya masyarakat, sedangkan kontinuitas masih dapat ditemui pada kegiatan pertanian secara tradisional; sebagian tradisi atau adat istiadat yang berkaitan dengan pertanian, keagamaan, dan kepercayaan; arsitektur tradisional kawasan perdesaan; dan panorama indah bentanglahan. Sampai saat ini, perubahan-perubahan yang terjadi belum berdampak pada hilangnya atau menurunnya kontinuitas pusaka saujana Borobudur. Meskipun demikian, upaya-upaya pelestarian dan pengelolaannya diperlukan untuk menjaga kontinuitasnya.
ABSTRACT
This research was conducted in Borobudur area, Magelang Regency, Central Java, to examine the potencies and  outstanding values of Borobudur cultural landscape heritage, and to understand its changes and continuity. By historic interpretation and narrative explanation, the forms of Borobudur cultural landscape heritage are found, which are: a) land management pattern; b) way of living; c) traditional architecture; and d) natural features. The potencies of Borobudur cultural landscape heritage include cultural, historic, natural features, and panoramic potencies. Those potencies and continuity of the landscape and culture contribute to the Borobudur area  as an outstanding cultural landscape heritage with four outstanding values: a) rich environmental history, b) area with archaeological remains; c) village cultural landscapes with their agrarian community; and d) scenic beauty of the landscape. In a dynamic environment, changes are experienced by Borobudur cultural landscape heritage over time that can be a threat for its continuity. Changes happen particularly on land use, visual quality, and some community culture, whereas its continuity still can be found in traditional farming activity; some traditions relate to agriculture,  religion,  and  beliefs;  village  traditional  architecture;  and  scenic  beauty of  the  landscape. At present, impact of changes on Borobudur cultural landscape heritage has not influenced  the degradation of its continuity yet. Nevertheless, efforts in conservation and management are needed to maintain its continuity.
Keywords
pusaka saujana; Borobudur; perubahan; kontinuitas; cultural landscape heritage; change; continuity

DOI:
https://doi.org/10.22146/jml.18456
---
Article Metrics

Abstract views : 766 |

views : 1586
Refbacks
There are currently no refbacks.
Copyright (c) 2017 Jurnal Manusia dan Lingkungan
JML Indexed by:

View My Stats